Feature
SUNDAY CONVERSATION: NASCAR racer Jimmie Johnson on swapping seats with a two-time F1 champ
Jimmie Johnson was a busy boy in Abu Dhabi, during his first visit to a Grand Prix. The seven-time NASCAR Cup champion was taking a welcome weekend off after what he as described as his toughest year in the Monster Energy NASCAR Cup Series, and had come to the Middle East via the UK to enjoy not just the new experience of watching his beloved F1 at close quarters, but to try an F1 machine in a car swap at McLaren with Fernando Alonso.
At Yas Marina, he spectated with members of his Hendrick Motorsports NASCAR crew who had come over to help with the car swap in Bahrain the following Monday. He and Alonso were scheduled to make the 250-mile hop from Abu Dhabi to Bahrain later on Sunday evening, ready for the big day at the Bahrain International Circuit on Monday morning, when Jimmie would get to handle a 2013 2.4-litre Mercedes V8-powered MP4-28, while Fernando would try his Chevrolet Camaro ZL1 NASCAR Cup car.
The swing through the UK was so that he could have a seat fitting at the McLaren factory and a go in the simulator to get a feel for what he could expect in Bahrain.
"I love all of that!" he grinned at Yas Marina. "And I'm definitely excited. Wednesday in the simulator was a great experience, and then I spent a few days in Dubai with my family and now I'm here, taking it all in before we swap cars on Monday.
"Of course, we have simulators in NASCAR, but it's harder for us because we don't take data off the cars. So our simulation is usually a few steps behind, but we are working very hard on that. We get a lot of track time now but they are starting to limit all of that, like they do now in F1, so the more we can do with simulation, the better we will be. I know our simulator is close, but it's not the real thing, so until I get in the F1 car and feel it on Monday, I'll still have question marks."
But the McLaren simulator gave him a pretty decent idea of what to expect, and which way the track went.
"The vehicles are very different on the straights," he laughed. "The Formula 1 brakes and the speed in high-speed corners are amazing, while the NASCARs have huge engines and very little traction, so getting off the corners with our cars is a lot of fun."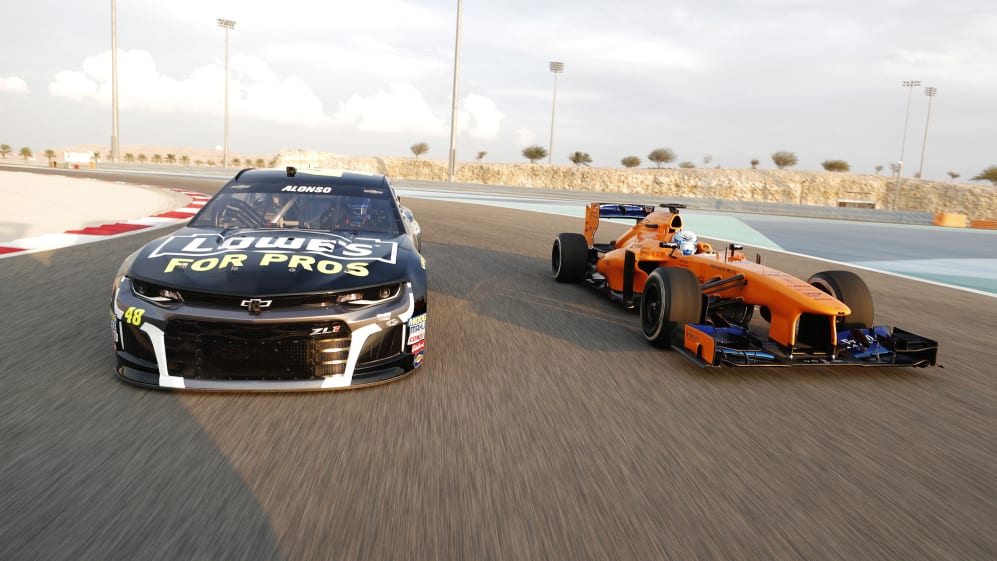 In an almost guilty admission, he revealed that the last time he'd sat in a car with only one seat, it wasn't even an open-wheel race car.
"It has probably been 20-25 years since I was in a pukka single-seater," he said. "It was a buggy in the desert, it wasn't even on the black top, so it's been a long time."
And what about a conventional open-wheeler?
"I drove a Skip Barber Formula Ford once," he smiled. "I was probably 15 when I did that. So, yeah, I have very limited single-seater experience, but I follow Formula 1 very closely. I love it all, from MotoGP to F1, to rally and my off-road stuff that I grew up in. I just love racing, so to be here watching Formula 1 so close to is really neat."
On Monday, each driver set a bogey time in their own car, getting to know how it felt round the Bahrain International Circuit. Jimmie lapped his No. 48 Hendrick Motorsports machine in 2m 14s, while Fernando took the McLaren round in 1m 40.204s, before swapping over and getting into the real meat of the day.
"I'd never driven a single-seater on a road course," Jimmie said, "so the sensation of speed was just mind-blowing. I ran five laps at a time, but had to come in for some adjustments early on. Literally on the first outing my helmet was trying to leave my head, and I was staring at the microphone in it, it was so high! I was like 'I don't want to stop, but I think I should...'
"After that I got my helmet more under control and then it was really about my eyes trying to find their way far enough ahead and far enough around the turns.
"Clearly the speed is so high. The simulator was a really nice experience, a great visual aid, but to have the wind moving by and the sensation of speed and the G forces, it takes a little while to absorb that and have the newness of that go away and focus on what you're doing.
"I felt like every time I went out, my surroundings moved slower and it was easier to piece together my braking points.
"At the end, I really quit focusing on the braking markers themselves and was able to look at the apex and had an idea of when to hit the brakes, and I think I was putting together some pretty good laps. It was fun."
Of course, that was what it was meant to be, but as Alonso noted, he was also pushing pretty hard and taking the actual driving very seriously.
"I didn't know how close I would get to Fernando's time," Jimmie admitted. "The racer in me was of course focused on that and I was straight away asking: 'What was his lap time? Can I look at the data and try and piece that together?' He had that same opportunity in my car to look at that data and go after it."
Oops! Error retrieving Twitter post
By the end of his runs, Jimmie had left a big impression by lapping the papaya orange McLaren in 1m 40.462s, only two-tenths slower than Fernando's time.
"He was impressive," said Alonso, who in turn had found the NASCAR Chevrolet a culture shock and a totally different proposition with its heavy steering, poor brakes, super-powerful engine and lack of traction. "He was really gaining time every run.
"Sometimes you put new tyres on these cars for the very first time and you are not able to extract the grip, but he was able to guess this extra grip that the new tyres are giving to you, and extract that grip into lap time, so I was very impressed with that.
"He had fun. But he took the test very seriously, as I did – probably I was a little bit busier in the last two to three weeks and especially the weekend in Abu Dhabi, but I think both came here with the intention of having fun, yes, swapping the cars, yes, but not a normal swap like we saw in other occasions when it was swapping cars, doing a photograph and have one run and that was it.
"We came for a full day of testing, I used four sets of tyres, I think he used three or four sets of tyres, and we were swapping the cars, having fun, but also we wanted to feel the new environment in a representative way and in a speed that we could feel something that was close to what they feel normally."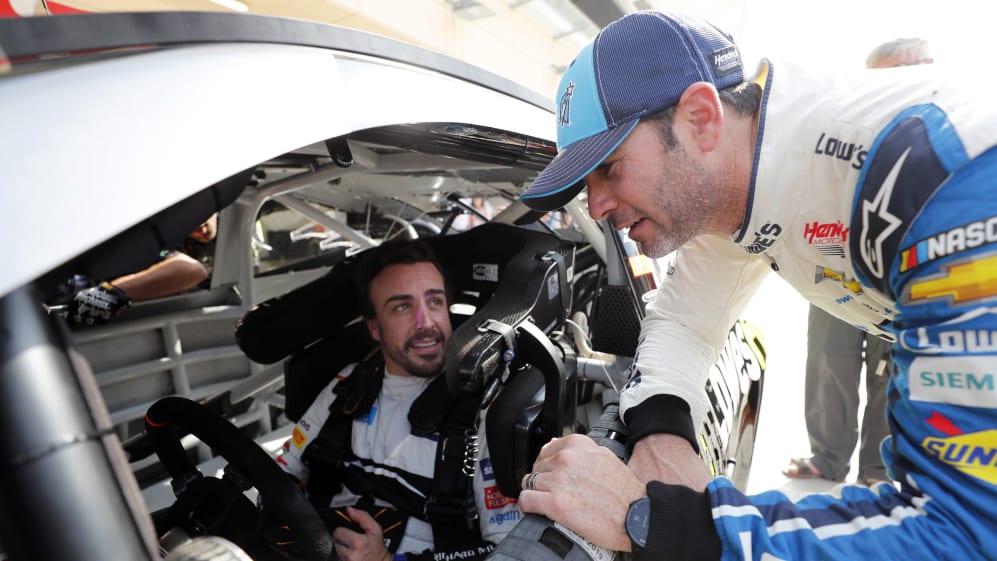 Jimmie, in turn, had nothing but praise for Fernando.
"I rode with him in a car in Abu Dhabi in hot laps and again today, and he should be a dirt racer! He loves to be sideways and smoking the tyres. Every time I saw him in the Cup car, the rear tyres were smoking, even on our little laps afterwards, for the cameras. I don't think he was ever straight on any of those laps either. He's a very talented driver and he can drive anything."
Indeed so, as Fernando lapped the Chevrolet in 2m 10.380s.
"Inside, it just feels good to be able to go out there and be able to be in the same second bracket as him, it's very cool," Jimmie continued. "If we could come for a day or two and get our gearing dialed in and do some suspension changes, with the proper tyre, the car [his Chevy] could have been quite a bit faster.
"I honestly think at the end of the day, I got a way better swap experience than he did!"
Like Fernando, Jimmie is one of those guys who will have a go in anything – and he had some intriguing news to share during his appearance in Bahrain. "Without a doubt, 2020 is my last year under contract with Hendrick, and I've been approached many times about the Indy 500.
"I'm not overly excited about those fast ovals, but I think with my status and relationships I could put together some road course races in IndyCar. I've done sportscar racing in the past, I've finished second in the Rolex 24 a couple of times in the Prototype division. I'd love to get back to doing that. Anything's open.
"I'm far from done. I want to keep driving and, hopefully, I can find some good opportunities.
"I look back at some of my heroes… When you look at Parnelli Jones, Mario [Andretti], Dan Gurney, Emmo [Emerson Fittipaldi], they raced anything. And I don't know where that got lost. In the 80s or 90s, it was, 'You're just open-wheel, or, you're just sedan.' I don't know why that's there. I feel like an open-minded driver, and one that's ready to work, could cross and go either direction."
Oops! Error retrieving Twitter post
One of his next ventures, meanwhile, might not have any wheels at all.
At one stage I mentioned to him a photograph I'd seen of the unlimited hydroplane legend Bill Muncey's Atlas Van Lines 'Blue Blaster', parked by the water's edge on San Diego's Mission Bay after a breakdown. Muncey was standing on the bow discoursing with fans, while on the transom a small four-year-old boy in a yellow sunhat sat with his feet dangling in the water.
Veteran photographer Bill Osborne captured the image back in 1979, and Jimmie remembered it the moment I mentioned it.
"Yes! One of my supporters dated Bill's daughter Laura for 11 years," he said, "and they had pulled me up on the boat that day."
The restored 'Blue Blaster' sits in the Hydroplane and Raceboat Museum in Seattle, ready to run in demonstrations alongside its old foe Miss Budweiser. Chip Hanauer, the aquatic version of Jim Clark, has been on at Jimmie to have a run in the Atlas Van Lines. The smile on his face in Yas Marina suggests that the idea is already taking hold in the NASCAR champion's mind.
Once a racer, always a racer.