Technical
TECH INSIGHT: How Mercedes have adapted for the unique challenges of Baku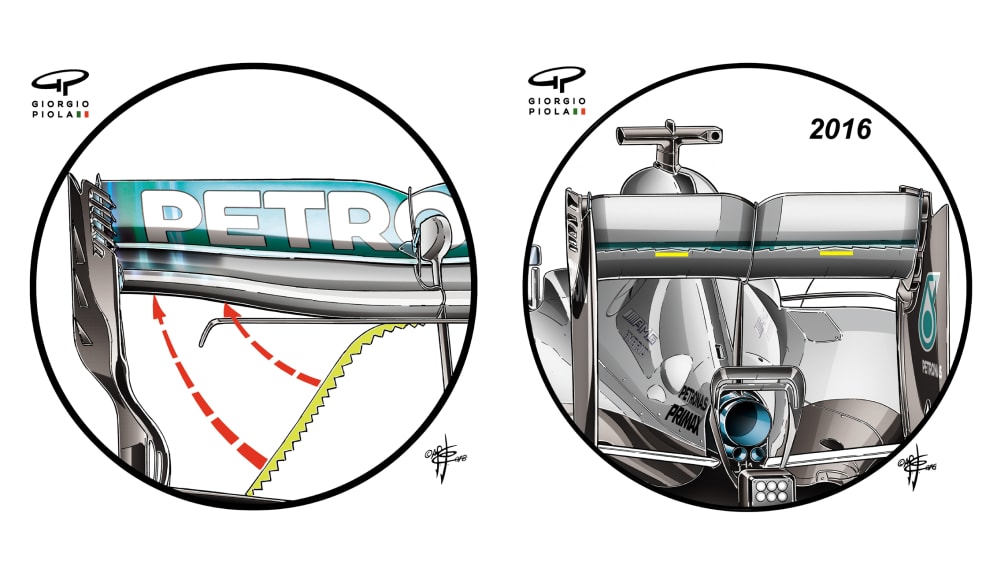 How have Mercedes responded to the challenge of the world's fastest street circuit? By showing their teeth, as Mark Hughes explains...
The picturesque Baku track is unique in many ways – not least because the kinking two-kilometre main 'straight' that runs alongside the Caspian Sea is the longest stretch of flat-out running F1 cars see all season.
In preparation for this particular challenge, Mercedes trialled an Azerbaijan-spec rear wing during practice in China, with a spoon-shaped central section and very distinctive vortex-generating serrations on the trailing edge of the main profile. This arrangement can be seen on the left-hand side of the picture below.
The reduced section of wing towards the outboard ends will reduce drag. It will also reduce downforce – but around Baku the theory is that this would cost less lap time than would be gained with the drag reduction system because of the long 'straight' (which actually features several flat-out kinks).
The jagged serrations, which are bonded to the wing underside, will energise the airflow there, trying to claw back some of the downforce lost to the narrower outboard ends. The wing wasn't ever intended to be used in Shanghai, but was trailed there just to check for correlation ahead of Baku.
A similar serrated underside arrangement was trialled by the team in Abu Dhabi testing at the end of the 2016 season (right-hand side of the picture above) but it has yet to be raced.
Will it give them the edge this weekend?