Video
The best onboard action from Canada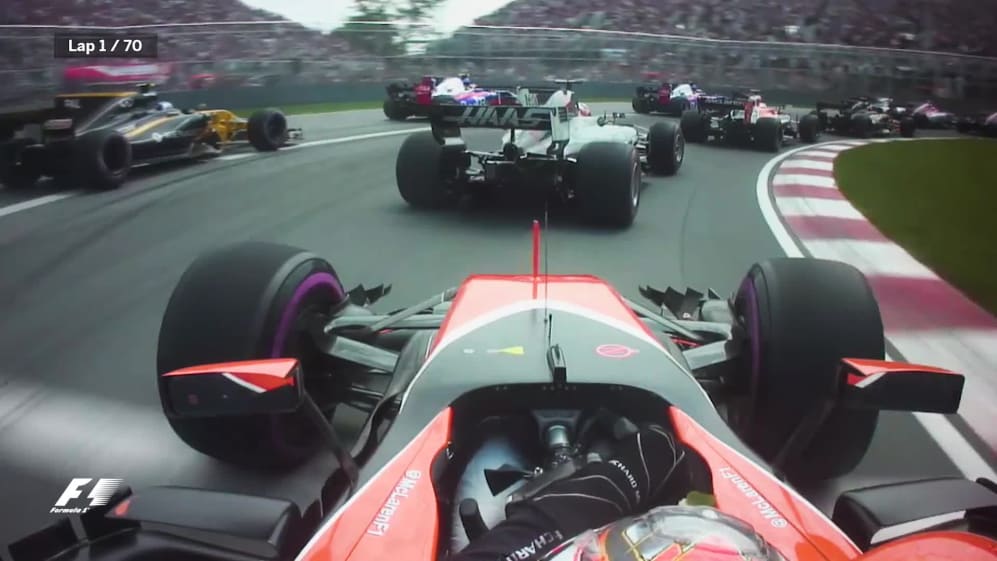 From the opening-lap chaos to late passes, we review the best action as captured by our onboard cameras in Montreal...
Verstappen gets lucky after flying start
The run down to the first corner in Montreal is the third shortest of the year, which makes Max Verstappen's incredible jump from fifth on the grid to second by the opening apex all the more remarkable. Yes, as this exclusive split screen video shows, the Dutchman ran over Sebastian Vettel's front wing in the process, but as the German himself later remarked, "I don't think he did it on purpose because normally you get a puncture, so in that regard he was lucky." Well, they do say fortune favours the brave…
Grosjean and Massa lose out as Sainz goes 'blind'
In the aftermath of this opening-lap crash with Carlos Sainz, Romain Grosjean likened the Spanish driver's move to the controversial first-lap incident that earned him a one-race ban at Spa in 2012. "If he sees me or not, I was there, I was well alongside him so it's the same type of thing," said the Frenchman. "I'm not saying it's a race ban, I'm not saying he needs a big fine as I had, but I'm saying I'm very unhappy with the way he behaved and I think it was very dangerous." Sainz, who later apologised to both Grosjean and the man he inadvertently took out, Felipe Massa, said that the Haas had been in his blind spot – but that didn't stop the stewards handing him a three-place grid drop for the next race in Azerbaijan for what they deemed a "careless and potentially dangerous" move.
Vandoorne's 'Days of Thunder' opening lap
Stoffel Vandoorne moved from 16th to 11th on the first lap, and as you can see in this video, he did it by skilfully negotiating the chaos that unfolded in front of him. Running behind Sainz and Grosjean as they came together approaching Turn 3, the young Belgian had to plough through clouds of dirt and then smoke before carefully threading his way through the corner, picking off delayed McLaren team mate Fernando Alonso in the process. However, Vandoorne wouldn't hold the upper hand over the Spaniard for long…
Perez profits from Raikkonen moment
Having dropped one place to sixth at the start, Kimi Raikkonen would lose another on lap four courtesy of this hairy moment coming out of Turn 7. Sergio Perez was the man to nip past the Ferrari – and the Mexican would stay in front all the way to the flag. Proof that small mistakes can have big consequences.
Alonso makes light work of Vandoorne
After falling behind McLaren team mate Stoffel Vandoorne on the opening lap as he took avoiding action at Turn 3, it took Fernando Alonso barely 10 laps to reassert his authority over the Belgian youngster – and in typically no-nonsense fashion. Having sized up Vandoorne into and out of the chicane at Turns 8/9 and then put him under pressure again at the hairpin, Alonso simply tucked into the former GP2 champion's slipstream before opening the DRS and easing past on the back straight. Now that's what we call making it look easy.
Verstappen struggles to hide his frustrations
They say pictures speak a thousand words, and it was certainly true in Max Verstappen's case in Sunday's race as he agonisingly gestured his frustrations from the cockpit of his Red Bull. The Dutchman's retirement with an energy store issue was his third in seven races, and was made all the more galling by the fact that he was running in a brilliant second place when it happened. "I've have had a lot of disappointments recently," Verstappen said whistfully after the race. "I guess that's racing but sometimes you get tired of it."
Magnussen leads epic three car scrap
None of the drivers swap position in the video above (at least not permanently), but it's no less exciting for the lack of overtaking. Our camera car is the eighth-placed Haas of Kevin Magnussen, who after holding off the advances of Lance Stroll into the final chicane then leads Nico Hulkenberg and the scrapping Canadian across the start-finish line and into Turn 1. An indication that overtaking is overrated? Perhaps.
Magnussen makes Kvyat work for his pass
Between them Daniil Kvyat and Kevin Magnussen were hit with three penalties during Sunday's race, though the latter almost offered the stewards a chance to give him another for this robust defence of his Russian counterpart on lap 30. As the video shows, Magnussen moved late to fend off Kvyat's DRS attack on the back straight before giving his rival more to think about coming out of the final chicane. The Toro Rosso driver was not to be denied, however, and calmly sealed the deal into Turn 1. Overall, hard but fair.
Alonso has a wobble
Fresh from his heroics at Indianapolis, Fernando Alonso produced another dazzling drive in Canada that would have netted him and McLaren their first point of the season, were it not for another power unit failure late in the race. But that's not to say Alonso was without fault, as this small moment at Turn 1 highlights. Unlike Pascal Wehrlein, who ended up in the barriers after making a similar mistake in qualifying, Alonso was able to hang onto his McLaren and continue on his way, albeit almost certainly with an elevated heart rate…
Raikkonen's brake loss is Vettel's gain
A freshly-shod Sebastian Vettel was always likely to catch and pass Kimi Raikkonen in the latter stages of Sunday's race, but as it was the Finn made his team mate's job a breeze as brake problems sent him straight on at the final chicane on lap 61. Momentum lost, Raikkonen was helpless to prevent Vettel pulling past, which probably saved Ferrari the awkward task of asking him to give way.
Vettel benefits from Force India infighting
Sebastian Vettel's do-or-die move on Esteban Ocon into Turn 1 was one of the highlights of Sunday's race, with the German laying it all on the line to go into fifth place. However, as this video shows, he was only able to make the move because of the momentum Ocon lost coming onto the pit straight following his failed attack on team mate Sergio Perez into the final chicane. If the Force Indias hadn't been squabbling amongst themselves, would Vettel still have got by? Quite probably, though the Ferrari driver admitted after the race that he'd struggled to keep up with the pink cars on the straights. But having been presented with the slightest of opportunities, he grasped it with both hands.