Video
The best onboard action from Japan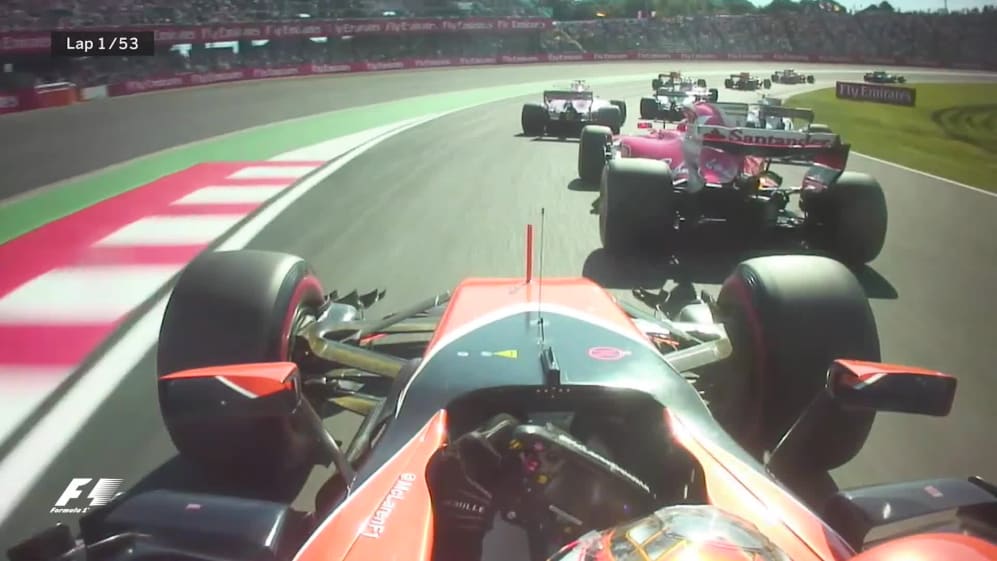 From to Verstappen's feisty pass on Vettel, to Magnussen muscling past Massa, we present the most dramatic moments from Suzuka - all from the driver's perspective...
Vandoorne slips on the Iceman
Stoffel Vandoorne makes a decent getaway from his P9 grid slot, but not quite as good as Kimi Raikkonen in P10, who quickly thrusts his Ferrari down the inside of the Belgian into Turn 1. Vandoorne tries to retaliate around the outside of Turn 2, but the Finn has track position and the merest touch with his left-rear wheel is enough to send the McLaren onto the grass. It's downhill from there for Vandoorne, as several more cars stream past and he suffers yet another minor contact, this time with the Sauber of Pascal Wehrlein. The only consolation for the rookie? He at least avoids the spinning Toro Rosso of Carlos Sainz ahead…
A sad start for Sainz
Carlos Sainz had promised to give it his all in his last Grand Prix for Toro Rosso (he will replace Jolyon Palmer at Renault from the United States Grand Prix) – in the end he gave it a little too much. After a poor getaway from 19th on the grid, we see fellow Spaniard Fernando Alonso quickly go past on the right. Then as the other McLaren of Vandoorne recovers from his trip across the grass, Sainz is forced to alter his trajectory slightly. Once you do that in Suzuka's notoriously tricky esses, it is remarkably difficult to recover the optimum racing line. Sainz tries just a little too hard to achieve it, deciding to go to the outside at Turn 6 in a bid to recover places – and the result is a race-ending trip across the gravel.
Verstappen makes quick work of Vettel
Yes, Sebastian Vettel's Ferrari was perhaps not fighting fit – a spark plug problem had already been detected on the grid – but this was still a superb move from Max Verstappen, during a typically aggressive opening lap from the Dutchman. Having already got the better of Red Bull team mate Daniel Ricciardo into Turn 1, he quickly set about the Ferrari, and caught Vettel napping at the hairpin, where normally a much bigger car advantage would be needed to pull off such a pass. Audacious stuff.
Hulkenberg refuses to Spoon feed Raikkonen
Starting a lowly tenth after a gearbox penalty, Kimi Raikkonen knew he needed to get a move on if he was to bag a decent result for Ferrari. Letting Renault's Nico Hulkenberg past so early on was not part of the plan, but in the run up to the challenging Spoon curve, Raikkonen looks to have a big enough power advantage to go around the outside of the German. But Hulkenberg knows all too well how ambitious that is, and justifiably gives his rival little room to manoeuvre – with an all too predictable result. As the yellow car continues on its merry way, Raikkonen finds himself down to 15th by the end of the opening lap.
Reality bites for Vettel
It was on lap 2 that Sebastian Vettel's technical woes became clear for all to see, as his Ferrari started to dramatically lose performance. Heading down the pit straight he finds himself suddenly swarmed from behind. First to shoot by are a battling Esteban Ocon and Daniel Ricciardo, the Red Bull driver trying to recover his early loss of position to the fast-starting Force India. A little way back, Valtteri Bottas keeps a watching brief on developments and sensing his opportunity, the Mercedes driver also darts past Vettel into Turn 1. The four-time world champion briefly tries to retaliate, but all too quickly it becomes clear that it's not going to be his day.
A Haas two-in-one for Raikkonen
After his early 'disagreement' with Hulkenberg, Kimi Raikkonen quickly set about making up lost ground – and this video clearly shows his level of determination, as he picks off both Haas cars in less than a lap. As luckless Ferrari team mate Vettel peels off into the pits (and retirement), Raikkonen gets a run on Romain Grosjean into Turn 1, finding enough pace to go around the outside of the Frenchman. From there he slowly but steadily reels in Kevin Magnussen, and by the time they speed through 130R he has the Dane firmly in his sights, executing a clean pass into the final chicane. Job done!
Ericsson ends Suzuka run
Sauber's Marcus Ericsson had never failed to finish in Japan – until this weekend. To be fair, plenty of topflight drivers have fallen foul of Suzuka's two challenging Degner turns. Running in a lonely 14th place on lap 8, Ericsson gets a bit too much kerb exiting Degner 1, which in turn upsets his car entering Degner 2, and from there the Swede is little more than a passenger.
Raikkonen's revenge
By lap 8 Kimi Raikkonen was firmly back on Nico Hulkenberg's tail – and this time there would be no denying the Finn. Lining up the Renault through 130R, he dives decisively down the inside approaching the final chicane. Hulkenberg momentarily defends, but quickly realises that resistance is futile. The Ferrari has to go deep, but it pays off and the place is his.
Persistance pays off for Ricciardo
Having got the jump on Daniel Ricciardo on lap 1, Esteban Ocon put up a staunch defence of his position – so staunch that it wasn't until lap 11 that Ricciardo finally found his way past the pesky pink car. Here we see the pair come – almost as one – on to the pit straight, after which Ocon quickly jinks right to try and fend off the impending attack. All that means, though, is that Ricciardo goes down the left, using the slipstream to launch a clean pass around the outside at Turn 1, thus seizing the third place that he would keep until the chequered flag.
Hulkenberg's lucky escape
Nico Hulkenberg's early skirmishes with Kimi Raikkonen were only the start of what would be an eventful – and ultimately frustrating – afternoon for the Renault driver. Running an encouraging sixth on lap 25, he almost repeats Ericssson's Degner error. Unlike the Swede, however, the Hulk just about gets away with it, running across the grass and gravel before rejoining the circuit without losing a place.
Kevin 'Good boy' Magnussen
This is the move that effectively unlocked a double points finish for Haas in Japan. Bottled up behind Felipe Massa, Kevin Magnussen was struggling to find a way past the slower, but oh-so-experienced Williams man. No surprise then that he doesn't pass up this opportunity. The rear-facing camera on Massa's car shows just how much pressure Magnussen is applying – enough to finally force an error from the Brazilian, who runs slightly wide at Turn 2. The Dane sees the gap in an instant and happily takes up the invitation. The two cars make minor contact, pushing Massa even wider and allowing a grateful Grosjean to follow Magnussen through.
Puncture ends Stroll's Suzuka hopes
This was the end of a forgettable afternoon for Lance Stroll. Running 14th in the race's latter stages, and with little chance of any points, the Canadian suffers a front-right car failure in the Esses, puncturing his tyre and sending him sliding off track. With little or no steering control, Stroll skates briefly back on to the circuit where he is lucky not to get collected by the fast-approaching Red Bull of Daniel Ricciardo.