Video
The best onboard action from Singapore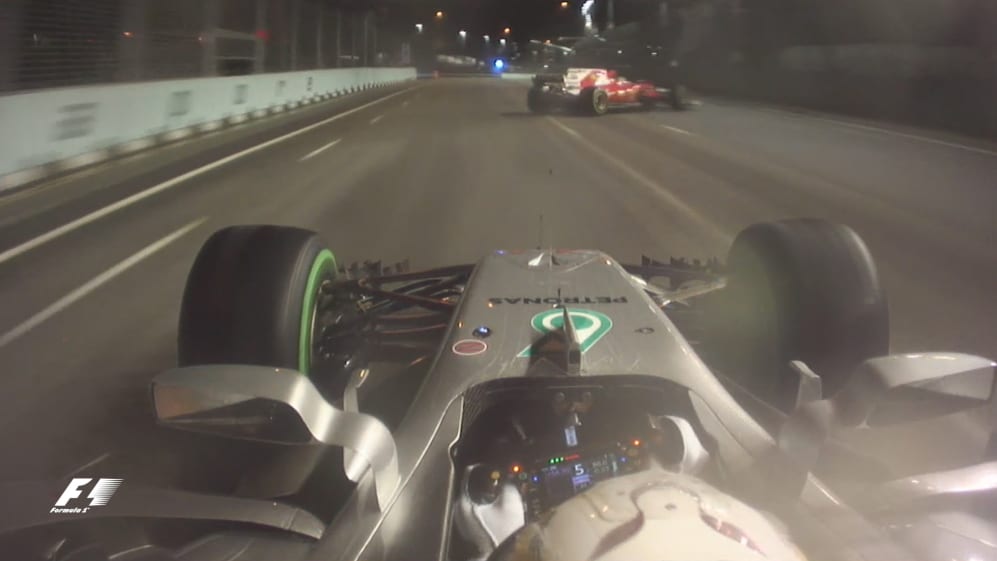 When the rain began to fall ahead of Sunday's Grand Prix in Singapore, it was clear we were set for a thrilling ride. Here's our pick of the best action - all from the driver's perspective...
After Ferrari had pointed the finger of blame at Max Verstappen, and the Dutchman had thrust it straight back in the direction of Sebastian Vettel, the stewards determined that no driver was 'wholly or predominantly' at fault for Sunday's dramatic start-line shunt. What's certain, as this unique three-way split shows, is that everything happened at lightning speed and once the touch paper had been lit there was no stopping the chain reaction of events that followed...
Sergio Perez has never qualified in the top ten in Singapore and yet on Sunday the Mexican kept up his remarkable record of having scored points in all seven races he's taken part in at Marina Bay. As shown above, an electric getaway was key in the Force India driver's eventual progress from P12 on the grid to P5 at the flag, though his rather experimental line through Turn 1 did him no harm either…
Having lined up P8, Fernando Alonso probably couldn't believe his luck as he turned into the first corner in third place, but then in a split second his world was spun quite literally on its axis as he was collected by a ricocheting Max Verstappen. Coming around the outside so quickly, Daniel Ricciardo, whose own slow getaway helped him avoid the melee, suggested Alonso was probably not fully aware of what was unfolding to his left. "I knew they [Raikkonen and Verstappen] were going to drift up the track," said the Australian, "but I don't think Fernando was quite sure or aware what was happening…" Without the crash, Alonso reckoned a podium was 'guaranteed'. As it was, it was yet another case of what might have been for McLaren.
Hamilton was left hoping for a Singapore miracle after qualifying four places back from title rival Sebastian Vettel, and in the end he got just that. Watching the video above, it's hard to see how things could have gone much better for the three-time world champion, who scampered off the line (in second gear no less) past Ricciardo and those squabbling to his left before serenely passing a spinning Vettel on the exit of Turn 2. On another day he might have been caught up in the start-line chaos or seen Vettel's Ferrari skew back in front of him, but on this night, Hamilton had lady luck on his side. Add in his ability and that's a formidible combination.
There haven't been too many moments for Jolyon Palmer fans to cheer in 2017, but this was sure to have got them on their feet. At the Safety Car re-start on lap 4, the opportunistic Renault man made full use of the superior traction afforded by his full wet tyres to jump ahead of Valtteri Bottas's intermediate-shod Mercedes into Turn 1 and take P5. After so much bad luck, this was shades of the Palmer that swept to the GP2 crown in 2014.
Full wets may have been the best tyres to be on at the very beginning of the race when there was standing water on the track, but those on the blue-marked rubber were soon struggling as conditions improved. Sensing Esteban Ocon was vulnerable, Toro Rosso's Carlos Sainz wasted no time in launching an assault on P8, putting full faith in the superior grip of his intermediate tyres as he sent one up the inside of the Force India into Turn 7. From then on the Spaniard only went forwards.
It says something about the way Daniil Kvyat's season is going that the Toro Rosso driver currently has more penalty points than championship points to his name. And if ever a clip encapsulated the best and most frustrating elements of the Russian's talents, it's this. Having made a good pass on Kevin Magnussen to move into tenth place, Kvyat then blows all his hard work barely five corners later by locking a wheel under braking for Turn 7 and sliding into the barriers. If it happened again, chances are Kvyat would have bailed out of the corner and headed for the escape road. But in his current run of form, the end result was par for the course.
There are few drivers on the grid as combative as Haas's Kevin Magnussen, and the Dane was at his fighting best during this early-race tussle with Felipe Massa which saw him bravely thread the needle between the wall and the Brazilian's encroaching Williams through the flat-out Turn 6. That he overcooked his braking for Turn 7 and gave Massa a chance to repass was unfortunate, though the situation was quickly resolved as Magnussen got his elbows out once more and muscled back ahead. And who was waiting to pick up the pieces as the duo fought it out? None other than Esteban Ocon, who stealthily slipped past Massa and tried to get a run on Magnussen, only to be rebuffed in no uncertain terms. Truly thrilling action.
Jolyon Palmer and Stoffel Vandoorne both achieved career-best finishes in Singapore, though for a time it was unclear who'd end up in front of who. As this video shows, Vandoorne did temporarily get his nose in front on lap 30 as Palmer, fresh out of the pits, worked to get his tyres up to speed. But with a coolness that might not necessarily have been expected from someone so desperate to pick up his first points of the season, the Briton cleverly ducked back underneath his Belgian rival to re-take P7. And that's the order they'd remain in at the flag.
The Singapore weekend was truly one to forget for Marcus Ericsson. Having backed his C36 into the wall in FP3, which necessitated a gearbox change that led to a five-place grid drop, the Swede went rear-first into the barriers again in the race – this time while crossing the narrow Anderson Bridge. "I was pushing hard to make up for lost time," explained Ericsson, who'd been delayed in his prior pit stop by a system error. "I went a bit over the limit and unfortunately that caused me to spin."