'The job's not done' says polesitter Hamilton as he fears Red Bull pace at 'physical' Barcelona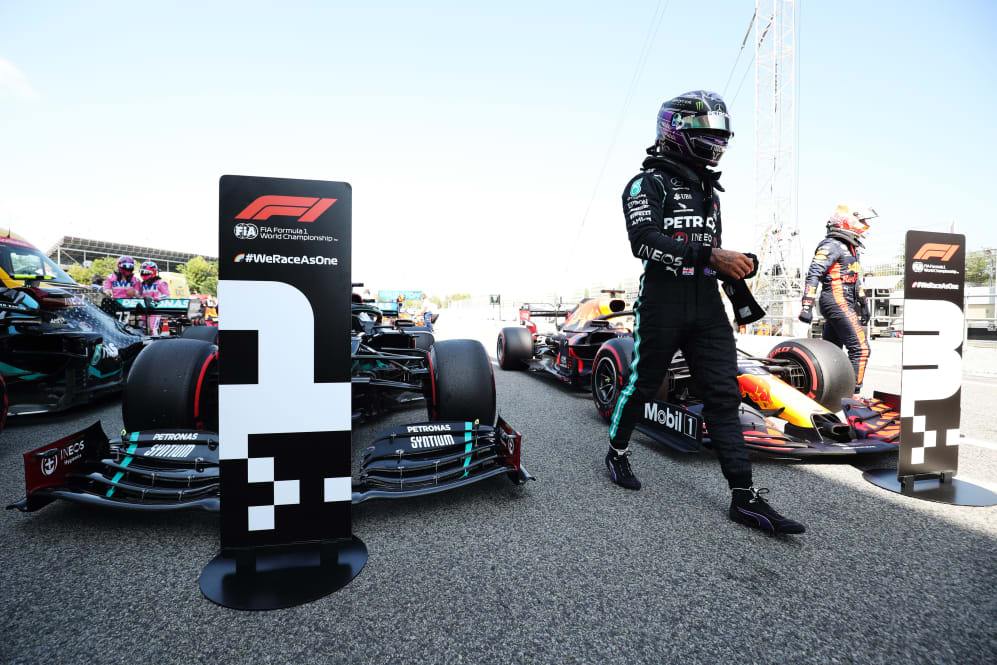 Lewis Hamilton's 92nd pole position was a tight one, as he outpaced his Mercedes team mate Valtteri Bottas by just 0.059s around the Circuit de Barcelona-Catalunya for his fifth pole position in Spain – one more than his hero Ayrton Senna. But while Hamilton was happy with his efforts on Saturday, the real work, he said, will start in Sunday's race.
Hamilton's first Q3 effort of 1m 15.584s was good enough to take pole position, with neither he nor Bottas managing to improve on their second runs on a "hot, tough" day at the Barcelona circuit, as Red Bull's Max Verstappen took third.
READ MORE: Hamilton beats Bottas to pole in sweltering Spanish GP qualifying as Verstappen takes P3
"This is the first time I've been here in Barcelona when it's this hot!" said Hamilton, who led all three segments of qualifying. "Physically it's tough – it's so fast around here.
"I couldn't go quicker on my second lap… Each first lap [in the qualifying segments] was strong, which I was really happy with. The one in Q3 was solid but felt like I could improve but wasn't able to do it on the second lap, but fortunately neither did the strong dude next to me [Bottas]. He's keeping me honest. It was obviously very close between us, so every millisecond counts.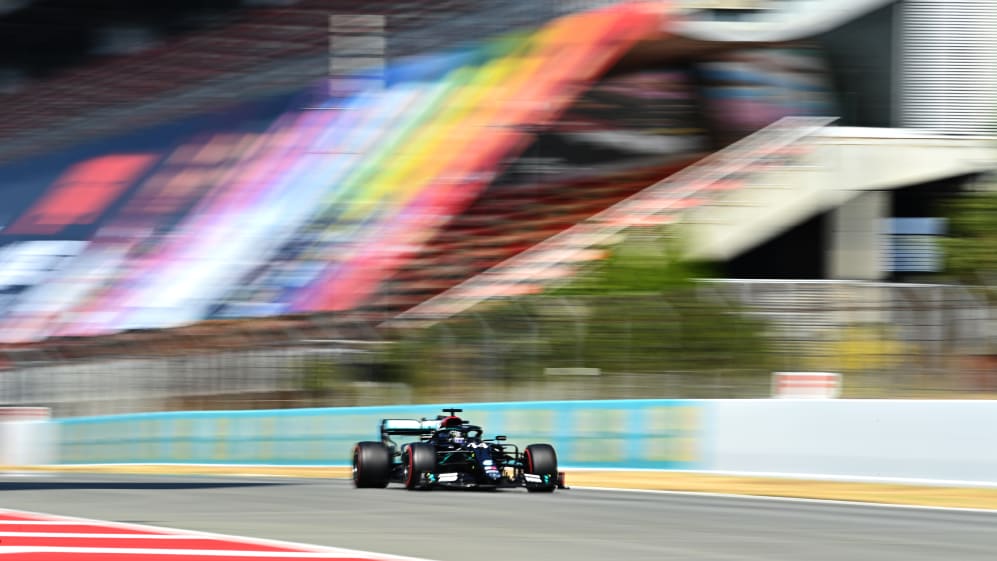 "Tomorrow's going to be tough when we get to the race," he added. "These Red Bulls are super-fast… [and] there is such a long way down to Turn 1 here, so the job is not done, that's for sure. It's very hard to follow here… It will be hard from pole position but that's what I've got to work on, try and get the best start I can.
"I think over a single lap we seem to have the advantage over the Red Bulls, but over the weekend, I think we're pretty much on par when it comes to race pace, so it's going to be a tough battle with Max tomorrow."
AS IT HAPPENED - Qualifying in Spain
Hamilton's 92nd pole position also meant that he secured his 150th front-row start in the sport, extending his current record – a statistic that even the normally statistic-averse Hamilton seemed impressed by…
"I don't know really what to say except that we [he and Bottas] are the ones who get to sit here and front all this incredible effort from so many people," said Hamilton.
"I've been really, really fortunate over the years, even back to my McLaren days, working with incredibly intelligent and driven people who have helped me sit in this room, so I'm just incredibly grateful to those that have helped and [I'm] blown away, still to this day, by the decision to move to this team and see the growth that we've had.
"I don't think we plateaued at the top with the championships we had. We continuously get better each year, as people see… I'm just another link in the big chain of so many people so I just try and play my part the best I can."
Hamilton, meanwhile, went on to discuss the physicality of driving around the Circuit de Barcelona-Catalunya in the middle of August – with Formula 1 tending to visit the track either in February for pre-season testing, or around early May for the race.
Friday Pace Analysis: Do Red Bull have the speed to get the better of Mercedes in Spain?
"The problems are all physical," he said. "The amount that you're able to brake now... is even more than it was before so there's a lot of stress through your core. You're flat-out through [Turn] 3 and through 9, so a lot of stress on your neck, the whole body just wants to move to the side of the car. And as it's so hot, you have to be even more careful on the throttle not to overheat the rear tyres.
"Balance-wise, it's quite windy... There's corners where you know you can push, and some you can't, and you're still trying to find that limit and that's when the car snaps away. But that's what we all do and I have a huge amount of respect here for all the guys who are battling the same if not similar issues."