Feature
Friday Pace Analysis: Do Red Bull have the speed to get the better of Mercedes in Spain?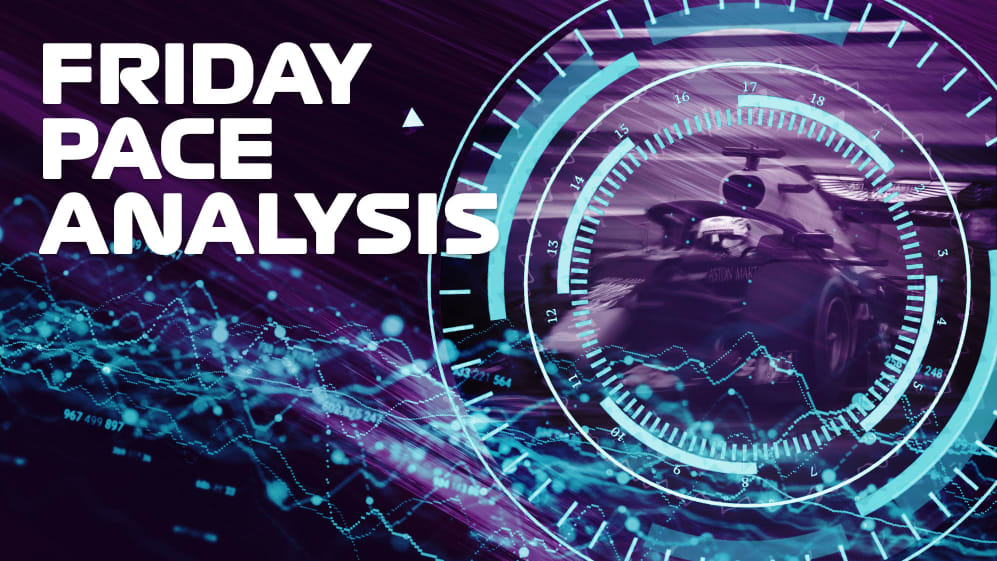 It was so sweaty at the Circuit de Barcelona-Catalunya on Friday that Romain Grosjean changed his underwear not once, not twice, but three times. Fortunately, the Frenchman didn't need any lucky smalls, either, showing a shock turn of pace to put his Haas sixth and then fifth in Friday practice for the Spanish Grand Prix. Is that pace real? And who are the ones to watch? Time to crunch the numbers…
One-lap pace
The foundation of a strong weekend for Mercedes is usually built on Saturday, their speed over one-lap taking pole position out of reach of their rivals, and paving the way for a private battle between Lewis Hamilton and Valtteri Bottas.
That pattern doesn't appear set to be broken this weekend, the Silver Arrows around one second clear on short run pace, with our data adjusted for estimated fuel loads and tyre compounds. That's a staggering advantage. "Our single-lap pace looks promising – we seem to be getting the soft tyre to work fairly well in particular," said Mercedes engineering chief Andrew Shovlin.
FP2 REPORT: Hamilton heads Bottas in Spain as Grosjean confirms Haas pace with P5
And Red Bull were suitably impressed too. "I think Mercedes' one-lap pace advantage you can see again here today, it looks very, very competitive," said Red Bull Team Principal Christian Horner.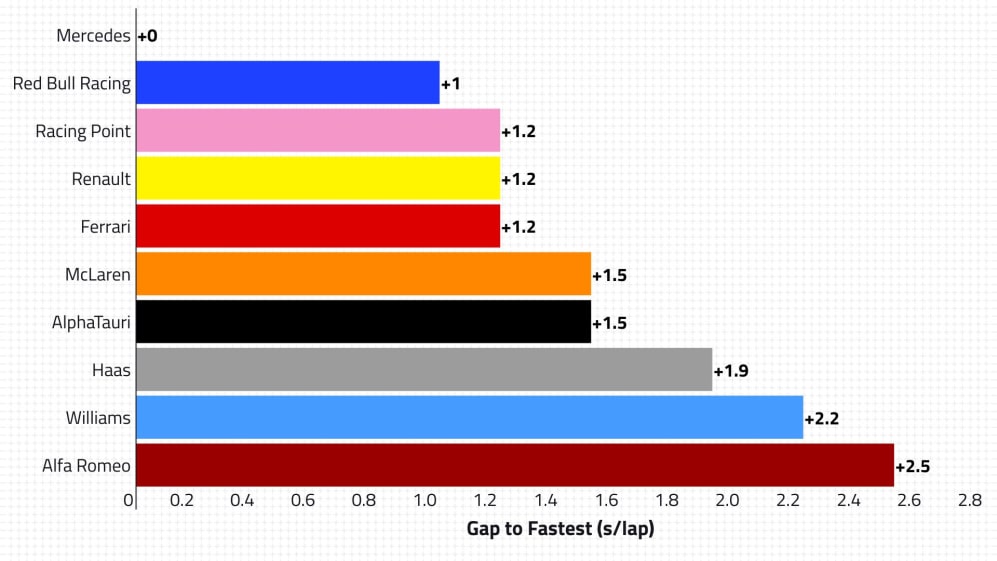 The Red Bulls were next best in our short run pace ranking, with Max Verstappen clearly the greatest threat to the Mercedes advantage. He is unlikely to have a car to fight the two Mercedes on pure pace in qualifying, but he'll certainly be there to pick up the pieces if either one of the silver cars slips up.
READ MORE: Perez 'back into rhythm quickly' and targeting 'big points' on F1 return
Behind them, it's intriguingly close between Racing Point, Renault and Ferrari. In fact, there's nothing to choose between the trio in the battle for the third row of the grid. The pink cars had the slight edge, with Sergio Perez hitting the ground running on his return to action following a positive test for Covid-19, and very much in the mix for a top-five grid slot.
Elsewhere, it was a moderately encouraging day for Ferrari's Sebastian Vettel. The German has a shiny new chassis this weekend, and while he hasn't made a giant step, not only did he say the one-lap pace was "generally a bit better" but also that overall "things are making a bit more sense". That's big, considering he said at Silverstone that he had run out of answers…
While Grosjean looked strong on the time sheets, our data doesn't suggest Haas will be able to fight for a place in Q3 come Saturday. In fact, it could be a tight fight to get out of Q1, with the American team 1.9s/lap slower than pace-setters Mercedes, with only Williams and Alfa Romeo – in that order, which is a shot in the arm for Williams – slower.
READ MORE: 'Is it real? Pinch me!' – Grosjean elated but bemused by Haas's Friday pace in Spain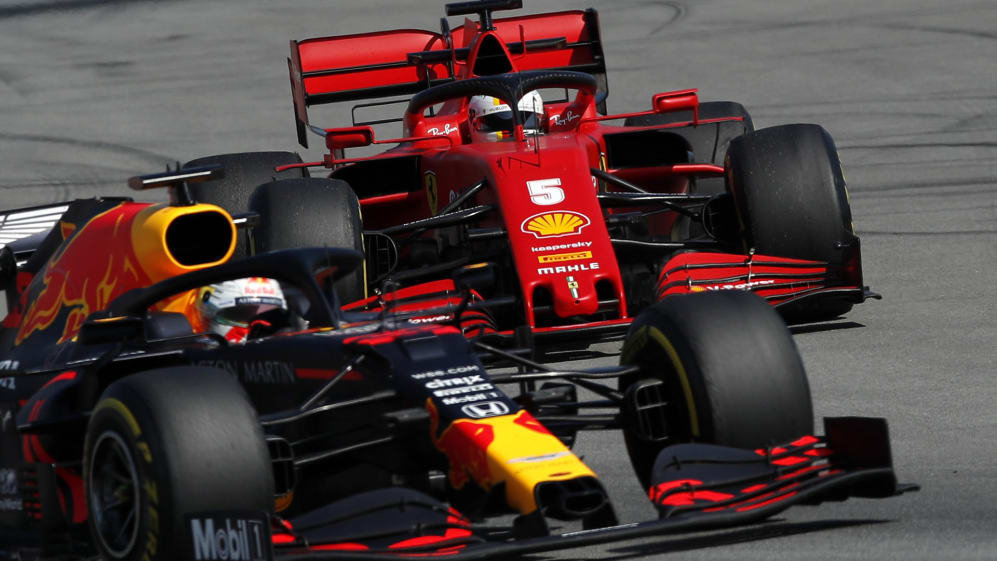 Race pace
It's here that Red Bull emerge at the party, for while Mercedes still lead the way in this metric, the deficit is just 0.2s/lap. That compares to a gap of 0.5s/lap on Friday at the last race at Silverstone, and we all know who had stronger race pace come Sunday. (It was Red Bull if you didn't watch).
That's perhaps why Horner was so buoyant about Red Bull's race prep. "I think we take encouragement from Max's longer runs, particularly on the medium tyre he looked really competitive," he said. "So that's encouraging for Sunday and we'll see what the weather does. But it looks like it's going to be another warm weekend."
READ MORE: Red Bull encouraged by 'really competitive' long run pace in Spanish GP practice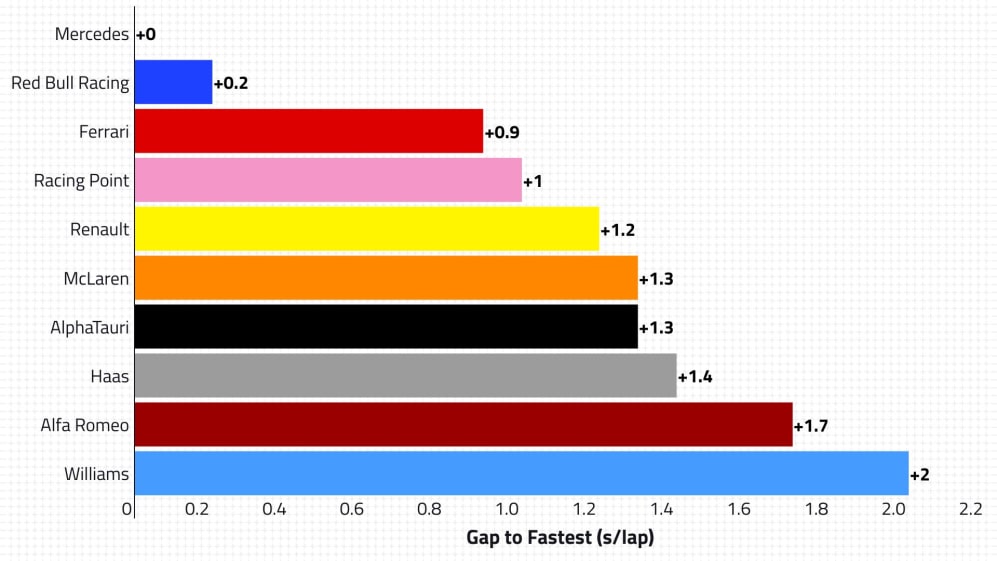 And it's not just bluster from Red Bull, as Mercedes are wary too. "The long run is more of a challenge and the area we need to work on tonight," said Shovlin. "The story looks similar to recent races; we're reasonable compared to all cars except Verstappen – with him it looks very close."
Verstappen, then, is very much in the mix to fight for top honours on Sunday. Of course, he didn't make any sweeping predictions, and as ever kept his cards close to his chest, but the fact he said he felt good with the car, particularly with fuel onboard, bodes very well for him come race day.
Ferrari slotted into third in this metric, Charles Leclerc declaring himself happy with the car on high fuel. The Sf1000 has been better in this trim so far this year, and there's a feeling inside the team that the signs are this should be the case again this weekend.
READ MORE: 'We're starting to run out of things to try' – Chassis change hasn't solved cooling issue, says Sainz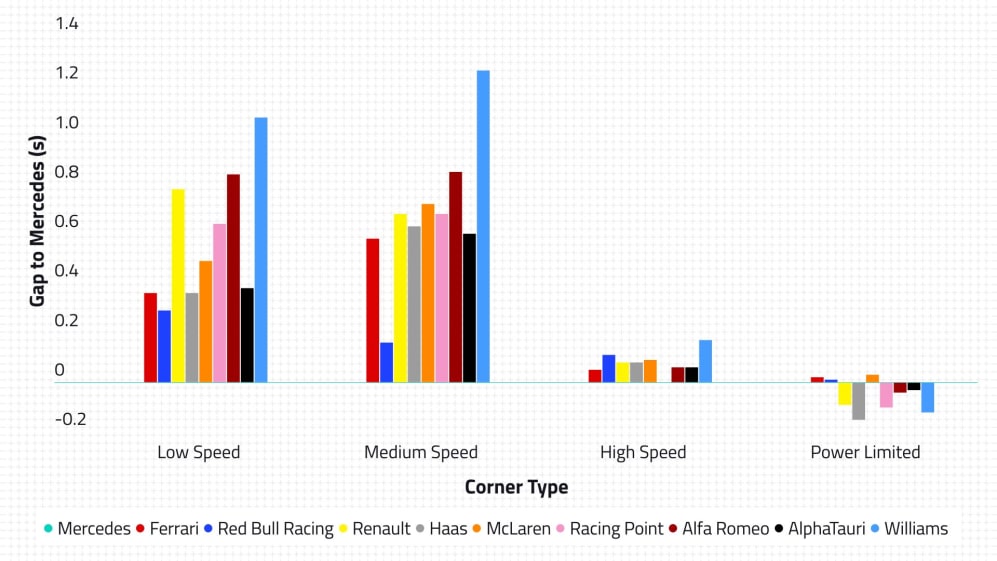 They could well have a fight on their hands from Racing Point, mind, the pink cars – particularly with Perez behind the wheel – looking pretty handy. The Mexican was buoyed by the "promising" pace the RP20 showed – and he'll certainly be keen to make up for lost time after missing the last two races.
Renault seem to be gaining the upper hand on engine customers McLaren of late. Daniel Ricciardo said the long run was "looking quite competitive", the Australian not too happy with the car in the morning but making a "good step" in the afternoon – as was the case last time out at Silverstone.
READ MORE: Ricciardo credits bold set-up changes for 'delicious' P4 in FP2 after Friday morning struggles
Verdict
The heat at the Circuit de Barcelona-Catalunya is unusual for F1 teams, as they are used to hitting the track in the cold of winter testing or the cool of spring when the Spanish Grand Prix rolls around.
The venue is already renowned for being tough on tyres, so the increased temperatures – they are set to be 31C on Saturday and a degree cooler on Sunday – will make managing them even trickier.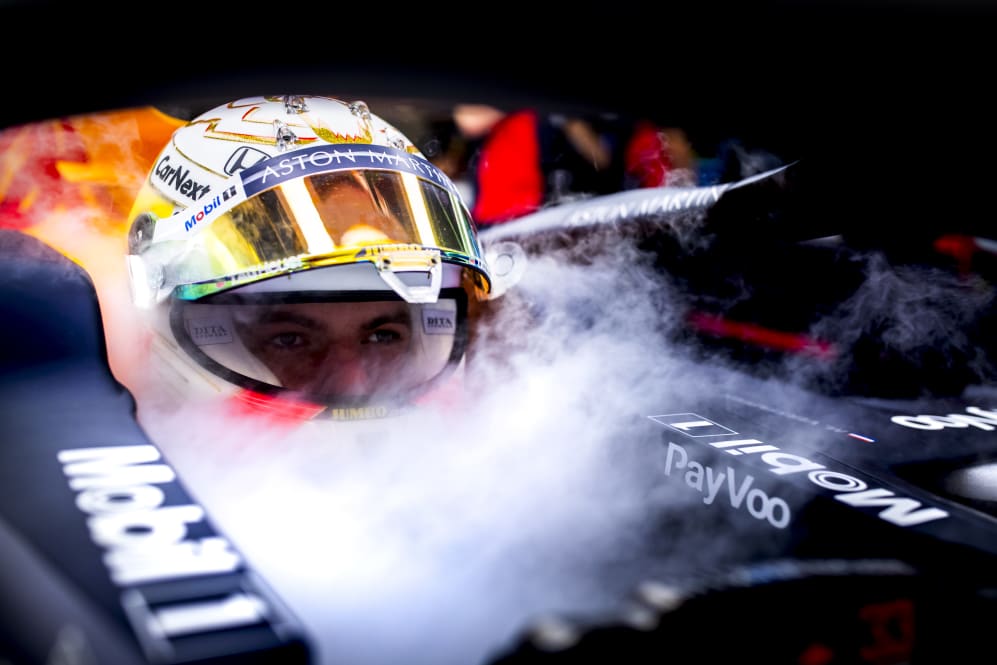 Pirelli tyre chief Mario Isola says there's a "distinct performance" gap between the soft and the hard tyre, which means it will be important for teams to understand "how to maximise the soft".
Right now, it's looking like a move away from a traditional one-stop in Barcelona to a two-stop, utilising the soft for one of the stints to make the most of the performance advantage, with the other two on the mediums. Judging by feedback from the drivers, the hard might not get much of a run.
READ MORE: Hamilton expecting close fight with Red Bull in 'killer' Spanish heat
But we saw last week that Red Bull made that compound work, with Verstappen the only driver in the top 10 to qualify on it, which in turn laid the foundation for his shock win.
"I think you can't rule anything out at the moment," said Horner, when asked if there was any chance of running the hard tyre in qualifying. "There's a lot of number crunching to go through today. Obviously we've got one more session to go in P3, so no assumptions yet."
Exciting times, then, for qualifying – where some teams will surely try a tyre gamble to offset their strategy for the race – and the Grand Prix itself, where the warm weather could put a premium on tyre management and present a multitude of strategy options.
The Spanish Grand Prix isn't always a hoot – but Friday practice suggests this one might well be.