Feature F1 Unlocked
THE STRATEGIST: With little data to go on thanks to the Sprint, who got their strategy spot on at Spa?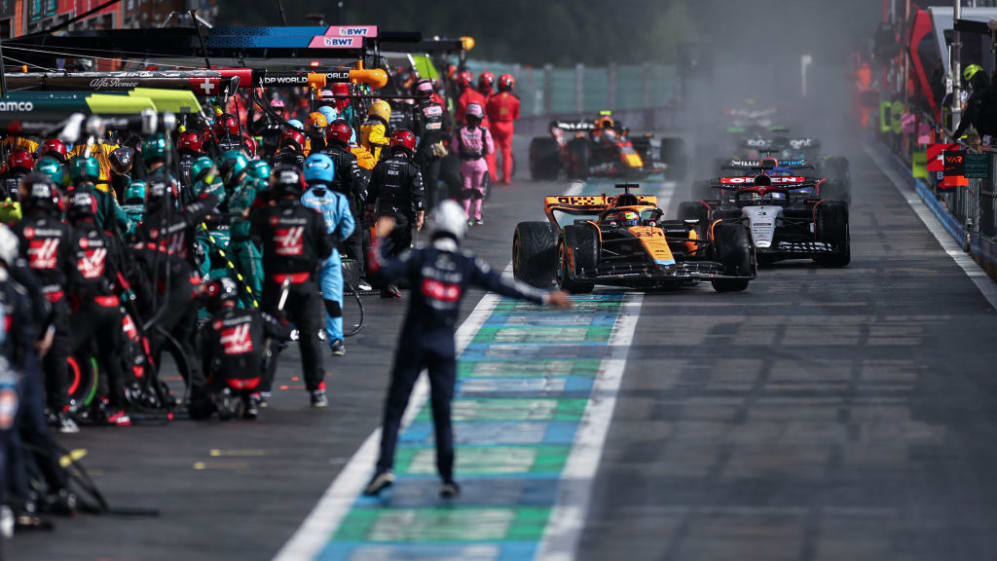 The Sprint weekend format we saw at the Belgian Grand Prix can cause headaches for the teams' strategy departments as there is only one practice session to gather crucial data, instead of the usual three. Former Aston Martin strategist Bernie Collins looks at who got it right – and wrong – on race day at Spa...
With the Sprint Shootout and then the Sprint itself replacing FP2 and FP3, the teams had fewer opportunities to either test upgrades or circuit-specific set-ups at Spa. The largest influence however can be found in the lack of high fuel running, resulting in a degree of strategy guesswork come Sunday's race.
READ MORE: How the mid-race rain rescued McLaren's Sunday in Belgium
In Spa, this was magnified by a lack of dry weather, with the only dry running coming in the later runs of both qualifying and the Sprint Shootout.
As a result, the teams went into the race on Sunday with relatively few updates to the pre-event tyre model and a very green track that had not been subject to the standard 'rubbering in' over the weekend.
On the starting grid, 13 drivers lined up on the soft tyres and seven on the medium. This split across softs and mediums shows the uncertainty among the drivers on the best strategy – although all were aligned on avoiding the hard tyre, initially at least.
The split across drivers and teams continued into the race. Three drivers committed to the one-stop strategy, Williams had both drivers on a three-stop strategy, while everyone else completed a two-stop strategy (including Hamilton, although he stopped a third time for fastest lap).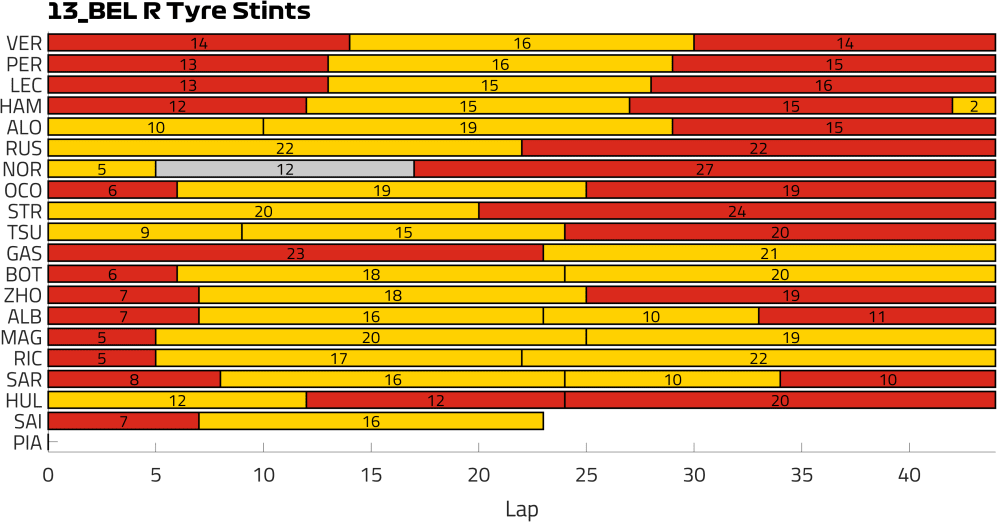 Based on the pre-race data, it was likely a close call for the teams between a one or two-stop strategy. Starting on either the soft or medium tyre allowed either to be completed.
In the opening stint of the race with a green track (that is a track that has not had much dry running and thus hasn't got extra grip from rubber laid down by the cars running on slicks) it is often difficult to quickly confirm a tyre model.
READ MORE: 6 Winners and 5 Losers from Belgium – Who mastered the ever-changing conditions in Spa?
The track may be improving rapidly such that tyre degradation appears low, encouraging those considering a one-stop. Additionally in Spa, with Carlos Sainz's slow pace (after his contact with Oscar Piastri on Lap 1) much of the field was stuck behind him for several laps meaning that many did not have any laps in free air to assess degradation or car performance.
Often the first indication of either track improvement or tyre degradation comes with the lap time set by those that have just boxed for fresh tyres. The first driver to do so was Lando Norris, who was immediately followed by several others, resulting again in no free air running for most.
Some of the best reads on track improvement and degradation came from Yuki Tsunoda and Fernando Alonso, who stopped on Laps 9 and 10 for fresh mediums and found around 1.5 seconds of lap time, indicating large improvement in this phase of the race, which is not unexpected given the initial track condition.
The chart below shows free air races with no influence from traffic or car pace. It simply shows the difference in race time though tyre selection and pit stop lap.
F1 NATION PODCAST: Red Bull on a roll as Piastri shines through the gloom – it's our Belgian GP review
The chart would show a flat horizontal line if a driver completed the same lap time every lap. Moving upwards shows a lap faster than this average lap and the sharp fall downwards represents a pit stop.
This shows that a two-stop strategy running soft and medium tyres (red) was fastest, saving around nine seconds over a one-stop strategy (yellow), and six seconds over a three-stop (grey). Any drivers stopping early or late compared to these optimum races would lose additional time with tyre degradation.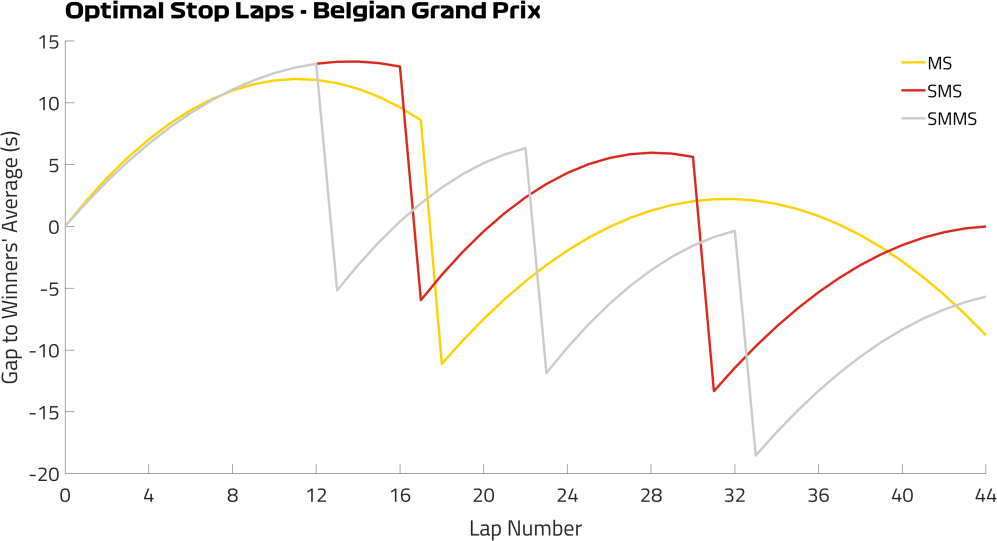 Norris stopped on Lap 5 while losing positions in an attempt to find free air. This was covered by many in the midfield, with 11 drivers stopping before the end of Lap 10. Then many went on to extend the middle stint hoping for rain, or at least keen to avoid stopping for dry tyres immediately before rain arrived.
Norris was again the first to stop, most likely at that point because he was planning to convert from a two to a three-stop strategy.
READ MORE – FACTS AND STATS: Win 12 for Red Bull heralds most successful season start in F1 history
The McLaren driver actually stopped for the second time before any of the one-stoppers had stopped at all, though he then abandoned a third stop once he was up in the points and actually completed his longest stint on the soft tyre to claim a points finish that looked unlikely when he was running at the back early in the race.
Conversely, both Williams stuck to their three-stop strategy. But having pitted very much in line with others for the first and second stop, they were left compromised and Albon's early running in the points would not last as he finished P14.
The final stop appears to have been driven by very high degradation for both drivers in the third stint on the medium. For Albon this was likely brought on through robust defending of his position from the faster Alpines during the early part of the stint.
The lack of dry running also affected other areas of car performance: many cars struggled with energy management and balancing the battery deployment around the lap in order to not run out of energy by the end. Others struggled for fuel or brake management. Many of them commented over the radio on their car set-up and overall balance.
TECH TUESDAY: The unwanted characteristic that returned on Mercedes' 2024-focused Spa updates
There is lots to be learned for the strategists from the 2023 Belgium Grand Prix. Many of the teams over-reacted to Sainz's slow pace causing a DRS train, and then to Norris's early stop lap and undercut threat, while others waited too long for rain that never arrived.
But as the contrasting examples of Lando Norris and Alex Albon show, two stops ended up being very much the optimum call, with three pit stops one too many on the day.
To read on, sign up to F1 Unlocked for free
You'll unlock this article and get access to:
Live leaderboard data
Epic experiences and rewards
Money-can't-buy competitions