The wait is over! Sainz celebrates his first F1 podium - and McLaren's first in 2,072 days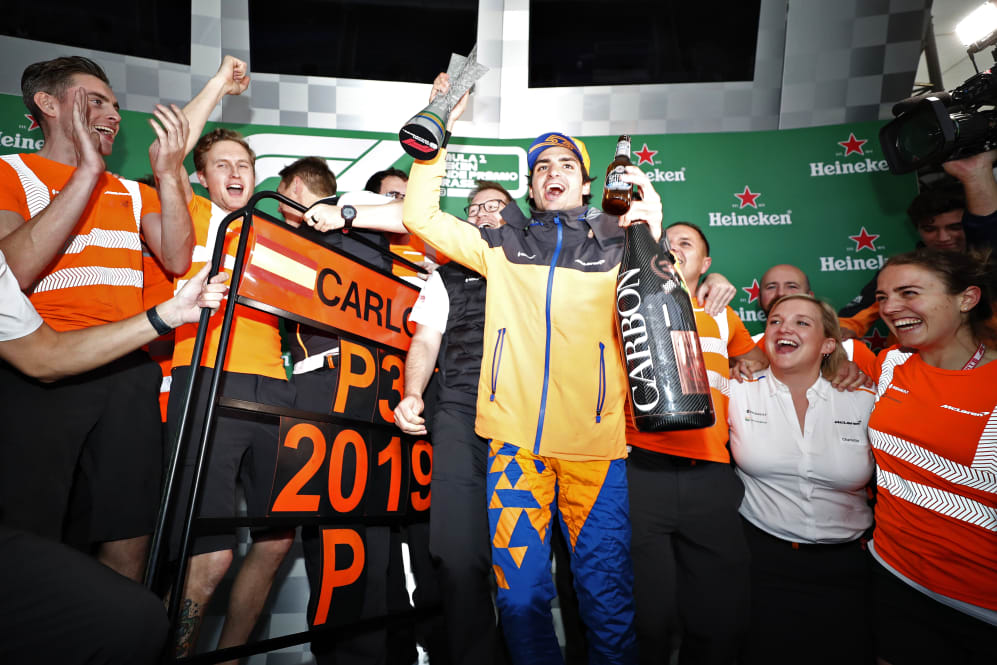 It probably wasn't how he envisaged taking his first F1 podium – but a post-race penalty handed down to Lewis Hamilton after the Brazilian Grand Prix meant that McLaren's Carlos Sainz officially claimed his first top-three finish in Formula 1, after getting promoted from P4 to P3. And just like that, McLaren's long wait for a podium - stretching back more than 2,000 days to the 2014 Australian Grand Prix - was over...
Even without the post-race development, Sainz's performance at Interlagos had been impressive, as he recovered from a power unit failure in qualifying, which left him last on the grid for Sunday's race, to be within touching distance of the top three at the chequered flag, having been the only one of 20 drivers to make a one-stop strategy work.
READ MORE: Hamilton admits Albon crash 'completely my fault'
But then when Hamilton was handed his penalty – for an optimistic move on Alex Albon into the Bico de Pato corner on the penultimate lap, which ironically cost Albon his own first podium, while guaranteeing Toro Rosso's Pierre Gasly his own maiden rostrum – Sainz's brilliant day got even better.
"Special," was how he summed up his performance in Brazil. "Today is a special day for me, for the team because we did everything we could do, we did it right because everything in our hands we did it very well.
"It was maximum attack from Lap 1, the moves on [Sergio] Perez, the Alfas, the Haas… I made it stick every time I could and it was one of those days as a driver that everything happens and clicks and I'm happy I made it happen.
"Congrats to the whole team, here and back in Woking! My first podium is obviously very special but we need to keep pushing to step up there on pure pace. That's what we're really here for, that has to be our goal."
Later, after being handed his third-place trophy and enjoying his own mini podium celebration with his McLaren team, Sainz went on to tweet a message to his followers on Twitter: "PODIUM! A bit weird not being there after the race, but still extremely happy. Today's race was just unbelievable. The one stop strategy was difficult but paid off. Congrats to the whole team!"
This tweet has been removed from Twitter
Meanwhile, it was also a special result for McLaren, who claimed their first podium since the 2014 Australian Grand Prix, 2,072 days ago.
"We woke up this morning after a difficult Saturday with a clear commitment to never give up and fight back," said Team Principal Andreas Seidl. "The achievement this year together with the podium today is the perfect motivation for all of us to keep working hard in order to score podiums again in the future for McLaren based on our own outright performance."
This tweet has been removed from Twitter