Feature
The Winners and Losers of the United States Grand Prix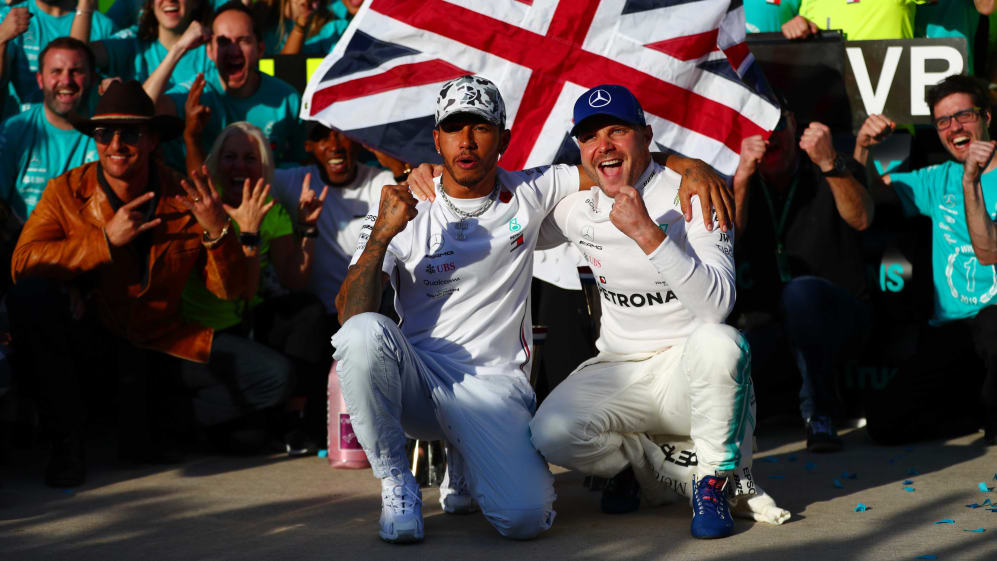 There was victory on both sides of the Mercedes garage in Austin, after an exciting race that went well for some and not so well for others. We pick out the winner and losers of the United States Grand Prix at the Circuit of The Americas…
Winner: Lewis Hamilton
How does 'Lewis Hamilton – six-time world champion' sound? "It sounds good," came the reply with a smile when we spoke in the TV pen after the United States Grand Prix. It's an extraordinary achievement by an extraordinary driver. The Briton only needed to finish eighth to secure the title, but he wanted more and promptly delivered a strong drive to second, impressively making a one-stop strategy work.
READ MORE: How the world reacted to Lewis Hamilton's sixth world championship
Hamilton is now a clear second on the all-time world championship list, one clear of Juan Manuel Fangio and one adrift of Michael Schumacher, the driver he replaced at Mercedes for 2013. Second was also his 150th podium, leaving him just five short of Schumacher's record in the 1000th world championship race to feature a British driver. It wasn't a victory in Austin – but for once second will likely have tasted just as good.
Loser: Daniil Kvyat
This has not been a great back-to-back for Daniil Kvyat, as he received his second successive post-race time penalty that stripped him of points. In Mexico, he was penalised for colliding with Nico Hulkenberg. In Austin, he clashed with Sergio Perez.
Kvyat had crossed the line 10th – for the final point – but he lost that when the time penalty dropped him two places to 12th. It means he remains 13th in the championship, having scored points just twice since his shock podium in Germany, nine races ago.
Winner: Valtteri Bottas
You might think it strange to feature Valtteri Bottas in the winners column on the weekend where his title hopes were finally extinguished, but the truth is, his hopes of the ultimate success were realistically over some time ago.
But it was his performance over the whole weekend – a brilliant pole position followed by the a race that was perfectly executed and required him to pass team mate Hamilton on track, even if he had a significant tyre advantage.
This was also his fourth win of the season – his biggest season haul ever – while his current points tally is also a career-best. After a mid-season slump, this win is exactly what the doctor ordered – and on a Hamilton track to boot.
READ MORE: US Facts and Stats - 2019 now officially Bottas's best-ever F1 season
Loser: Sebastian Vettel
Sebastian Vettel was impressive in qualifying, missing out on pole position by just 0.012s, and actually made a good getaway before things started to go pear-shaped. Something didn't feel right in the car and he started dropping down the field. Then on lap eight, his suspension broke – the cause as yet unidentified – and his race was over.
WATCH: Onboard with Sebastian Vettel's nightmare first lap in Austin
That was his first retirement in the United States Grand Prix in what was his ninth start, and his second retirement in the last four races due to a mechanical failure, which in turn dropped him to fifth in the drivers' standings, five points behind Max Verstappen.
Winner: Max Verstappen
Verstappen has failed to recapture the highs of his 2018 second-half of the season, where he was only outscored by Hamilton and even then only by a fraction.
But the Dutchman avoided a third first-lap collision on the bounce with a clean start in Austin and from there delivered the kind of performance that Red Bull have come to expect of him.
READ MORE: Horner praises Albon after Driver Of The Day recovery from Turn 1 'pincer'
Had there not been yellow flags for Kevin Magnussen's incident in the closing stages, there's a good chance Verstappen would have passed Hamilton for second. Third was only his second podium since the summer break, but his seventh of the year.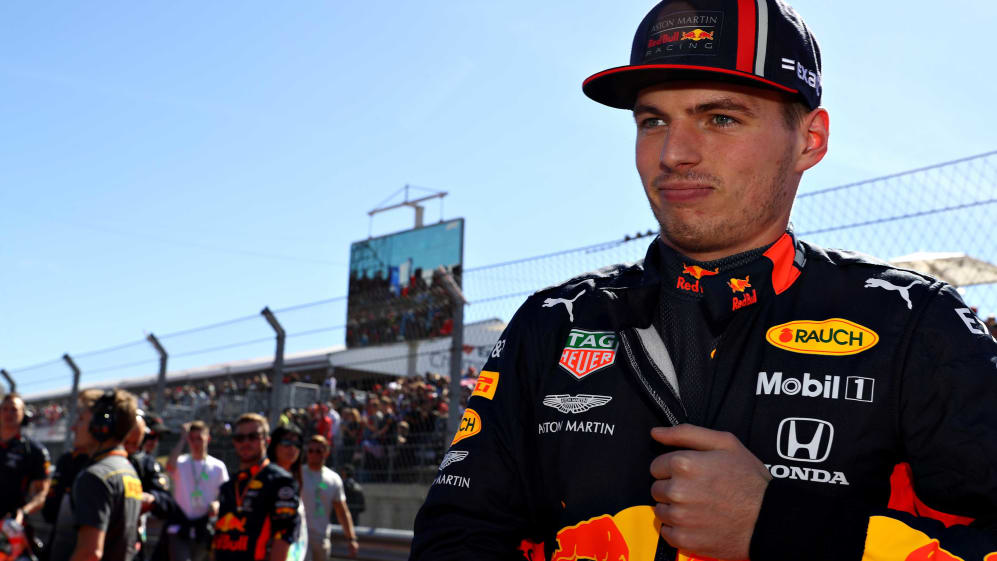 Losers: Haas
The end of the season can't come soon enough for Haas, the American team enduring a miserable home race as they failed to score with either car for the third successive race.
They knew it was going to be tough, and so it proved with both Romain Grosjean and Kevin Magnussen lacking grip and pace. Grosjean was never in contention for points while Magnussen's pain ended slightly earlier when he suffered a suspected brake issue.
If they continue like this Haas are in danger of delivering their worst points haul and constructors' championship position since they entered the sport in 2016.
Winners: McLaren
After the misery of Mexico, where they suffered a fifth double non-score of the season, McLaren were back to where they have become increasingly accustomed – the points.
Lando Norris scored for the first time since Russia to move to within three points of 10th-placed Sergio Perez in the drivers' standings, while Carlos Sainz made it three points finishes in four to keep him in the race for sixth in the championship.
McLaren, meanwhile, strengthened their grip on fourth place in the constructors' championship as they are now 38 clear of Renault with just two races to go.
Loser: Robert Kubica
Kubica may have been the only Williams driver to score a point in 2019 (somewhat fortuitously), but he's had very little else to be happy about, particularly in terms of one-lap pace, with team mate George Russell out-qualifying him for the 19th time in as many races.
Life didn't get any better come race day in Austin, the Pole lacking pace and struggling with the bumps, especially when the car was heavy on fuel, and then ultimately retiring the car courtesy of a hydraulic leak.
Winner: Daniel Ricciardo
For only the second time this season, Daniel Ricciardo has managed to score points in two successive races. His Austin performance was impressive and included a typically bullish pass on McLaren's Lando Norris from pretty far back.
Sixth equals Renault's best at the Circuit of The Americas and was the Honey Badger's first finish on American soil since 2016. It also moved him up into ninth in the drivers' standings, two points clear of Perez.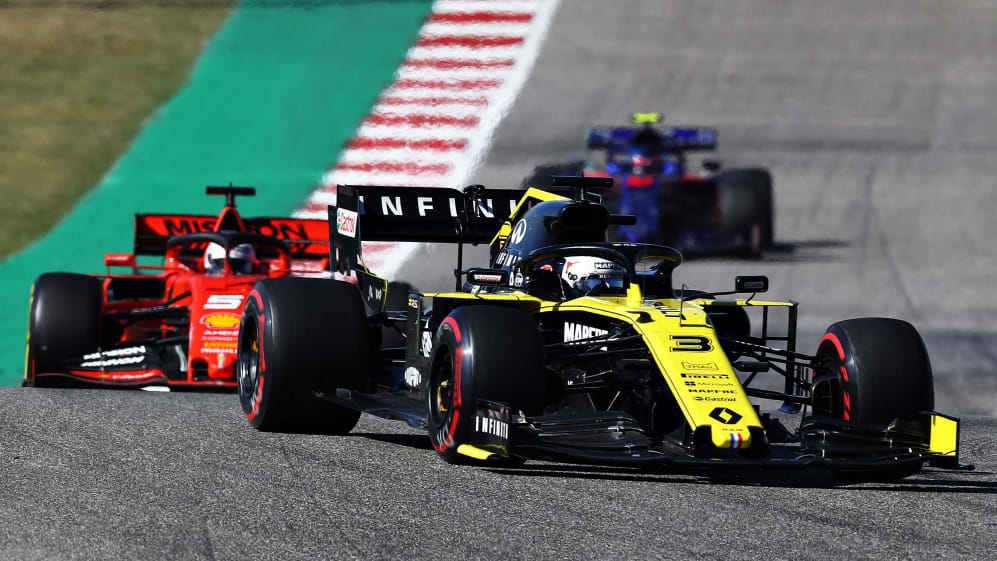 Loser: Pierre Gasly
Pierre Gasly has coped impressively with his demotion down to Toro Rosso from Red Bull, scoring points four times in six races. That was set to become five in seven, until Perez had a stab down the inside at Turn 13 when they were fighting for ninth.
The contact damaged Gasly's suspension and forced him to back to the pits where he retired the car. He dropped to eighth in the drivers' standings, but still has a chance of sixth if he can overcome the seven-point deficit.