'These things are sent to try us' says Hamilton after Mercedes endure tricky opening day in Bahrain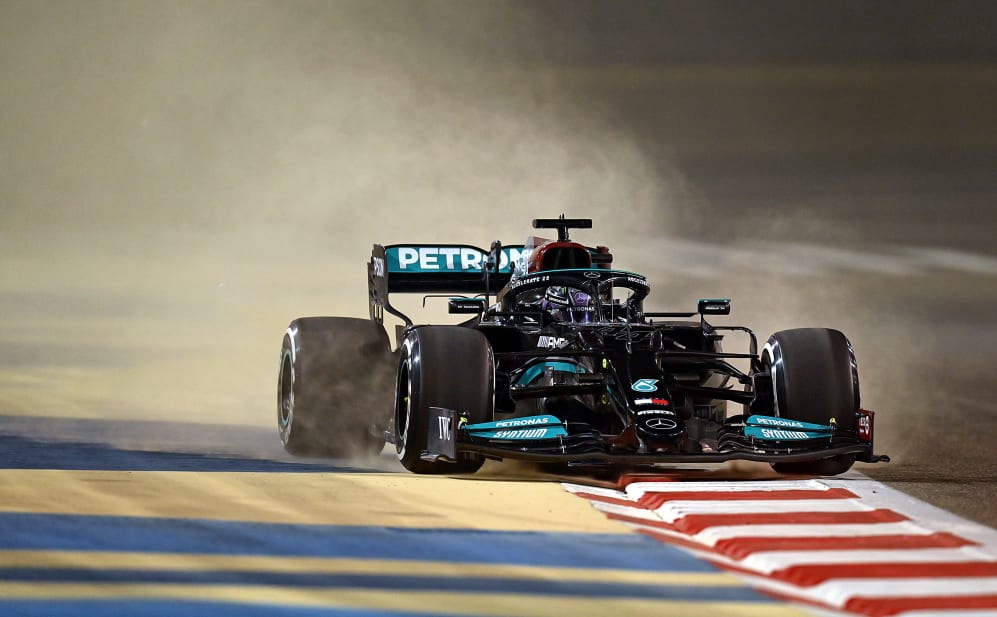 With the fewest laps completed of any team and neither Lewis Hamilton nor Valtteri Bottas within two seconds of Red Bull's leader Max Verstappen, day one of testing in Bahrain was far from ideal for Mercedes. And yet, both drivers said there were reasons to be optimistic for the Silver Arrows.
Gearbox issues limited Bottas to just six laps of running in the morning of day one, while Hamilton couldn't string together long runs in the afternoon sandstorm. The reigning champ explained that Mercedes are used to facing such tribulations, however.
READ MORE: Verstappen 'very happy' as Red Bull go faster and further than rivals on Day 1 of testing
"Yeah, these things are sent to try us," said Hamilton after the second session. "I think today definitely wasn't the cleanest of days that we've had. Everyone's worked incredibly hard to get us here and to be where we are and to have the car with us and obviously, we had the mishap in the morning; really unfortunate for Valtteri in terms of losing time on track.
"Definitely wasn't without its challenges, but we exist to find the solutions to the problems that we're faced with. So we just had a debrief and we'll keep churning away.
"We have to take positives out of every day but Of course we've all got our heads down; I don't think anyone's down about today," was his take on the day's running.
Hamilton explained that his afternoon session was not only hurt by the screen of sand in the air but a "horrible" seat in his Mercedes – the result of an experiment taken to try and increase his comfort during races.
READ MORE: Wolff warns Mercedes can't afford any more 'stumbling blocks' after ruined first morning in Bahrain
"Well I mean I made some quite big changes to the ergonomics of my seat and stuff just to try something different, and immediately it felt good… it felt like it was a good idea when I set it up at the factory, but driving a lap it was horrible, so I immediately got out of the car, changed things to where they were," said Hamilton.
"I've never seen the [sandstorm] come through here before. I don't think in all the years that I've come, I've never seen sand looking a bit like rain would move… but it definitely wasn't good; having the sand on the tyres is not good for the long runs. [It's a] disaster for that," he added.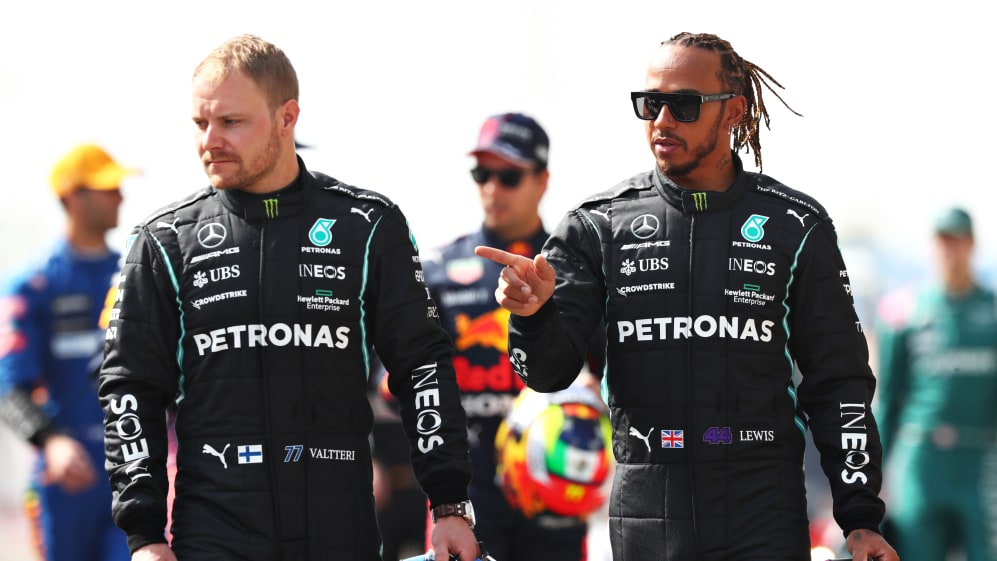 The reliability issue led Bottas to concede that Mercedes may have benefited from a shakedown in Bahrain ahead of testing after all – emulating Ferrari and Haas – having not shaken down the W12, as had been the norm in years previous.
"It's very easy to say afterwards, you know? Of course, now, yes we would have done it before [testing]" he said, "but in recent years everything has been pretty bulletproof and certain things have been already run in the dyno, etcetera, so yeah we could say now – but I'm sure that will be reviewed for next year."
WATCH: Take a first look at all the 2021 F1 cars in action for the first time in Bahrain
The Finn, who runs on Saturday afternoon as Hamilton takes over tomorrow morning, added his own reasons to be hopeful.
"I think actually the good thing this year is that if you miss some running we can actually catch up because of the mileage limitation and with all the efficiency and cost cut, etcetera, we're not running like a super busy schedule on the other days," he explained.
"So hopefully we can catch up and recover. If not everything at least… I look forward to two good days in the next coming days," concluded Bottas.