Wolff warns Mercedes can't afford any more 'stumbling blocks' after ruined first morning in Bahrain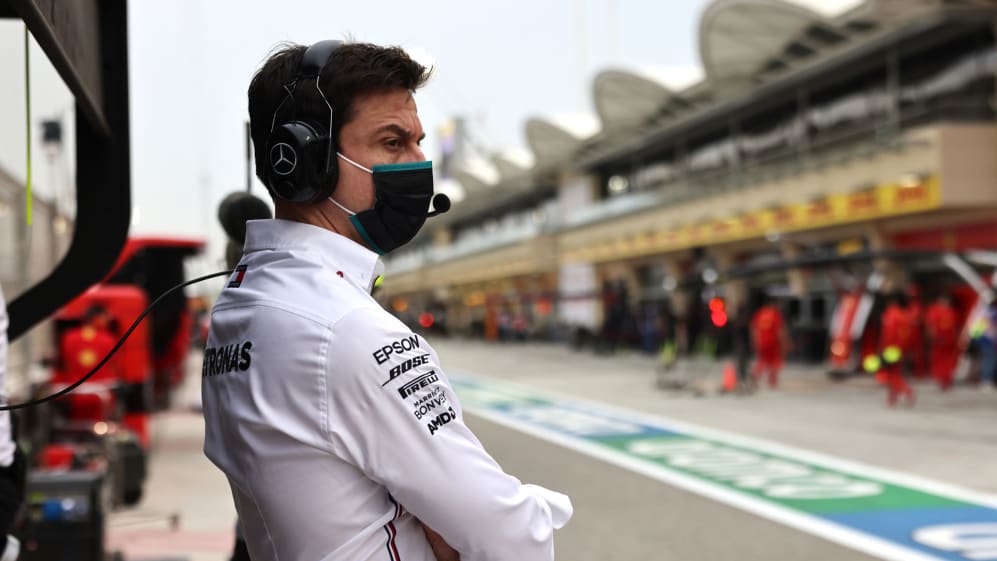 Mercedes boss Toto Wolff warned that his team needed to get their programme back on track after a gearbox issue in the new W12 car forced the reigning champions to miss out on almost the entire morning session on the first day of pre-season testing in Bahrain.
Valtteri Bottas's morning was restricted to just six laps as his W12's gearbox failed 45 minutes into the first session, requiring the full box to be replaced. That has set the alarm bells ringing in the Silver Arrows garage given that testing lasts just three days this season compared to six in 2020, meaning every moment of track time is precious. And Wolff was left unimpressed by his team's start.
READ MORE: Morning report – Mercedes hit gearbox trouble on Day 1 of testing as Ricciardo puts McLaren fastest
"We weren't very fast this morning because we did one lap with an aero rake. It wasn't a good start because we had a gearbox issue that came out of nowhere and that we haven't been ready to identify and understand," he said during the lunchtime break.
"So, I hope, if we are able to have a smoother ride from here onwards then I think we can recover. If we have more stumbling blocks then with three days there is not a lot you can do," he added.
Bottas finished the session slowest of all the runners, with 2020 champion Lewis Hamilton taking over in the afternoon – while Red Bull were third overall with Max Verstappen at the wheel – but Wolff said he was wary of setting too much store in the testing times as he said they present just a "vague picture" of rival teams' pace.
"We will see some kind of vague picture after the three days. I think Bahrain is representative, but the days are very gusty, the wind conditions change from one day to the other, and of course we don't know the fuel loads; there's quite a big difference just missing 10 kilograms.
GALLERY: Top shots from Day 1 of 2021 pre-season testing in Bahrain
"A vague picture, but on the first race weekend on qualifying we'll only know once the flag drops, bulls*** stops," he concluded tersely.
Another source of intrigue is the floor of the W12 that was revealed in the car's first public outing, after being kept under wraps at the car's launch. The likes of Red Bull boss Christian Horner will surely have their photographers capturing every angle of the car that is favourite to take the 2021 championship.