'This track bites when you push too hard' – Ocon has no regrets for overstepping limits in Q3
It proved a defining moment in the final part of qualifying for the Tuscan Grand Prix, not just for Esteban Ocon, but for Valtteri Bottas too – the Frenchman's spin through Turn 5 bringing out the yellow flags and preventing both him and Bottas improving their times.
Afterwards, Ocon had no regrets, saying he felt there was time to be gained and had simply gone over the limit pursuing it.
READ MORE: 'I really felt I had it' – Bottas says Ocon spin ruined chance of pole
"It's one of the sessions where you try to push the limit more and more throughout the qualifying session," said the Renault driver, who will start Sunday's race at Mugello from P10.
"I felt great, I felt there was a lot of time that could be gained from my Q2 time, so I thought it was the moment to do it. But unfortunately, it was a bit over the limit. I'm sorry to the other drivers that couldn't complete the lap, obviously.
"Everyone pushed hard on this track and it bites you when you go over."
Despite his spin, Ocon was positive about his race chances, saying "the car is performing well, so it's good times."
READ MORE: Gasly 'very frustrated' by Q1 exit less than a week on from Monza victory
Team mate Daniel Ricciardo, who will start P8, was in similarly good spirits after the session, especially given how far off the pace Renault appeared in final practice on Saturday morning.
"We changed the car after this morning – we were 17th and struggling," he said.
"We knew we had a bit to do. I felt already from Q1 the car was better, and I just had to find the limit of it. I think I got pretty close in Q2 - to put ourselves into Q3 on one set of tyres, I think that was unexpected after this morning. I think we were all relieved and happy with that one."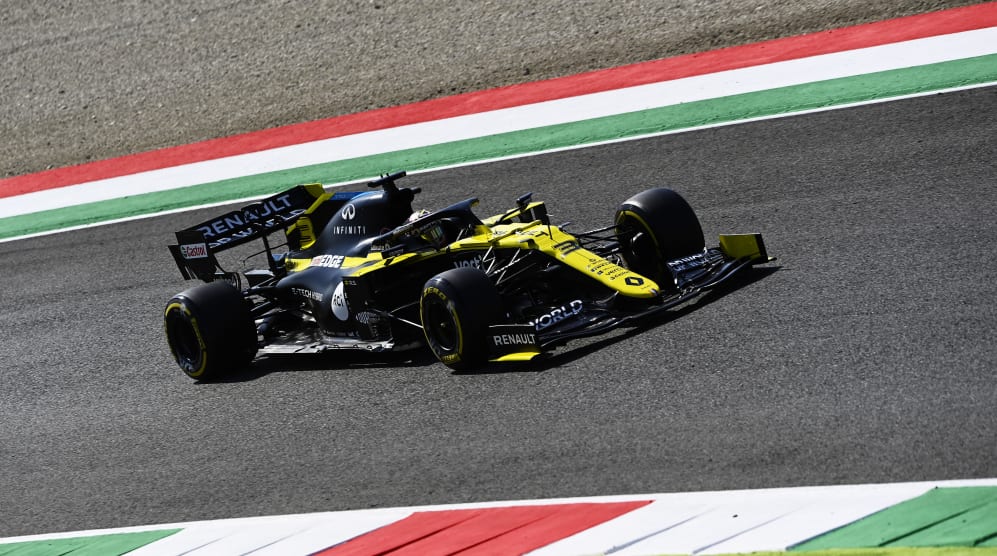 And Ricciardo, who has taken 21 points from the last two races, was hopeful that he'd be able to make up more ground from that eighth-place start, despite concerns about how tough it would be to overtake at Mugello.
"I hope so," said Ricciardo when asked whether he'd be able to make passes. "I watched the F3 race this morning and there were a lot of DRS moves and it looked like they could battle and follow.
"I think with Charles [Leclerc] in fifth… I'm not sure he's got a fifth-placed race car. So that in itself might create a bit of a battle for that top 5. Him qualifying there will hopefully make it a bit exciting."