Feature
Trailblazing racer Lella Lombardi remembered, 30 years on from her death
It was a deep irony that when Maria Grazia 'Lella' Lombardi became the only woman to score a World Championship point – in only her second GP, in Spain in a works March 751 in 1975 – it was actually only half a point. This was the race stopped prematurely at only 29 laps after Rolf Stommelen's leading Hill had lost its rear wing and crashed heavily, killing onlookers.
Lella was far from being the first female female pioneer in racing. In the pre-war days there were speedy heroines such as Elizabeth Junek, Kay Petre and Gwenda Hawkes, the latter duo starring on the daunting Brooklands concrete saucer.
And post-war, we had Maria Teresa de Filippis – a bold trailblazer herself – French sportscar racer and rallyist Marie-Claude Beaumont, Desire Wilson, Deborah Gregg, Olympic skier Davina Galica, Lella herself and Giovanna Amati. Janet Guthrie, Sarah Fisher, Lyn St James, Danica Patrick and Simona de Silvestro all raced in IndyCars, Danica winning a race at Motegi, and Simona showing a racer's courage after a fiery inversion at Indianapolis. Tatiana Calderon follows in their wheeltracks this season.
READ MORE: 'Finding a new challenge is my motivation' – Jamie Chadwick on what's next after clinching her second W Series title
Desire could have cut the F1 mustard in the right car, but I also thought Lella was better than fortune allowed her to look.
Born in Frugarolo, Italy, on March 21 1941, she reached adolescence understanding that two aspects of her nature were at odds with public opinion of the day: she loved cars and she was gay. After driving the delivery van for her family's butcher's shop, she raced karts briefly, before saving everything she could to buy her first car, which she drove in Formula Monza in 1965.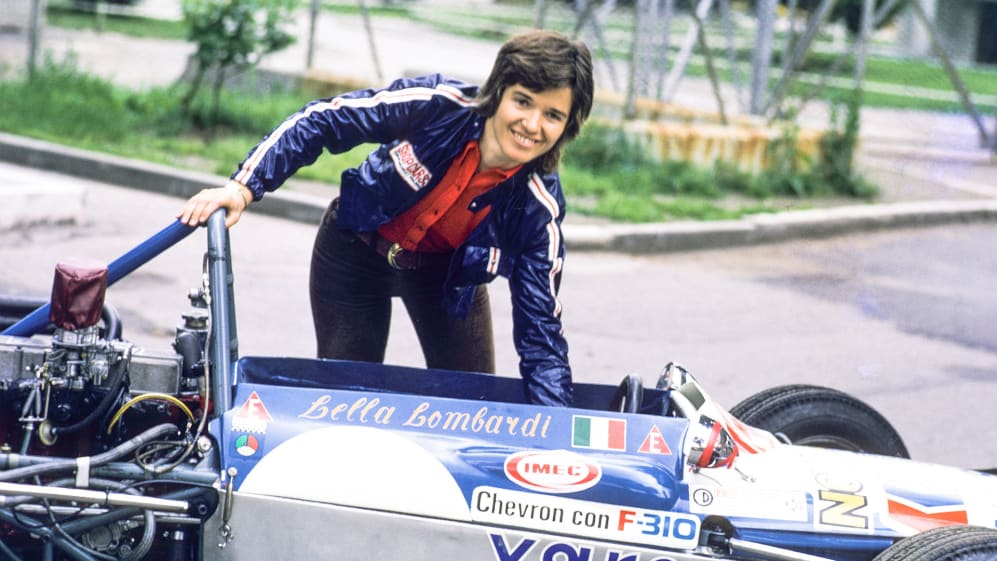 Her father found her passion for racing difficult to understand, but was secretly proud of her achievement when, in 1968, she finished runner-up to Franco Bernabei. Two years later she further proved her ability as she won four of the 10 Formula 850 races in a Biraghi, and went on to take the championship in 1971. She raced in Italian F3 for the next two years, finishing 10th in the championship both times and beating rated hotshoe Maurizio Flammini in a heat at Vallelunga.
After she had finished 12th in the prestigious Monaco F3 support race, an impressed John Webb of Brands Hatch fame put her in his Celebrity Escort Mexico series, where she beat Jacques Laffite and Mike Wilds. That led to a test in one of Jackie Epstein's ShellSPORT F5000 Lola T330s. She continued to impress, and ran the series in 1974.
READ MORE: F1's 'one-win wonders' – how many do you remember?
These were supposedly 'real man's' cars with their big 5.0-litre V8 motors, but she handled them adroitly. She finished fifth overall, with four fourth places, two fifths and three sixths. She was third behind Keith Holland and champion-elect Bob Evans when a race at Snetterton was temporarily halted after six laps because of rain, then finished fifth after a collision with Holland while fighting for the lead on the restart.
She also raced a Lola and an Eagle for Francisco Mir's team in the US F5000 series, as team mate to rising star James Hunt. Her best result was ninth at Riverside, but notably when James qualified 11th at Ontario, Lella was only two places behind the man who would be world champion in 1976.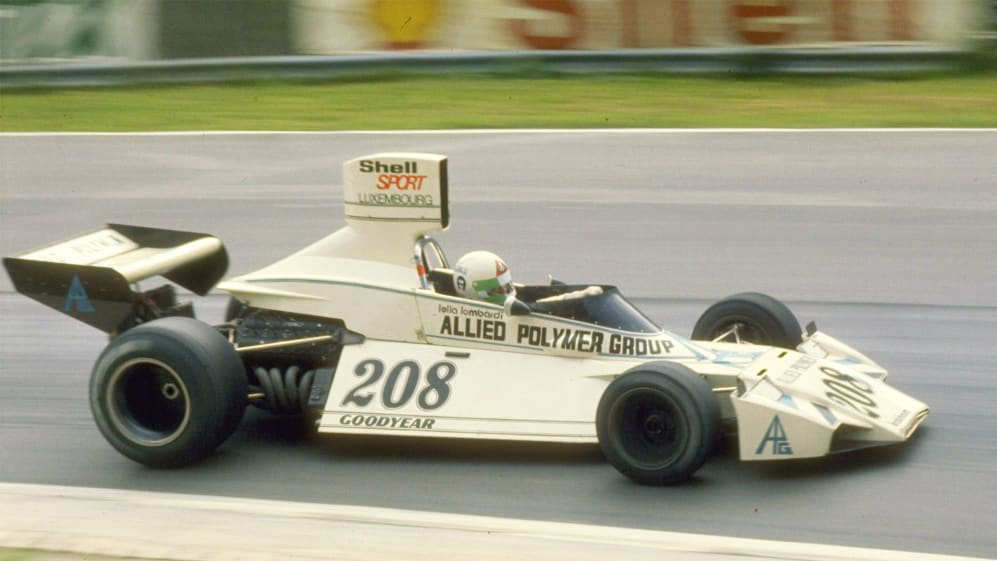 That same year she attempted to make her Grand Prix debut in the British GP at Brands Hatch, in a Brabham BT42 rented from Bernie Ecclestone for £5,000, entered by Hexagon of Highgate and sponsored by Allie Polymer Group. She wasn't far off team mate John Watson's times initially in a similar car, but failed to qualify by nine-tenths after a driveshaft failure. She was, however, ahead of fellow non-qualifiers Vern Schuppan, Howden Ganley, Mike Wilds and Leo Kinnunen…
She raced regularly for March in F1 in 1975 with backing from Count Googie Zanon, retiring an old 741 with fuel system problems on her debut in South Africa, when she became the only woman after de Filippis to qualify for an official GP (ahead of Wilson Fittipaldi and Graham Hill), then scored that half point in only her second outing, the controversial Spanish race.
READ MORE: 10 F1 cars we wish were as quick as they looked
She crashed in Monaco and didn't qualify, finished seventh in Germany, 14th in Holland, 17th in Austria and 18th in France, and non-started a Williams FW04 in America. She was regularly overshadowed by emergent team mate Vittorio Brambilla, never getting within two seconds of him in qualifying. But…
Much later, when her chassis was stripped down, the reason why she complained of persistent understeer that became snap oversteer became apparent, when it was discovered that the cast aluminium rear bulkhead had been cracked since Monaco. Brambilla, perhaps never really pushing that car whenever he was asked to try it, never mentioned the handling problem, but Ronnie Peterson quickly noted it in 1976…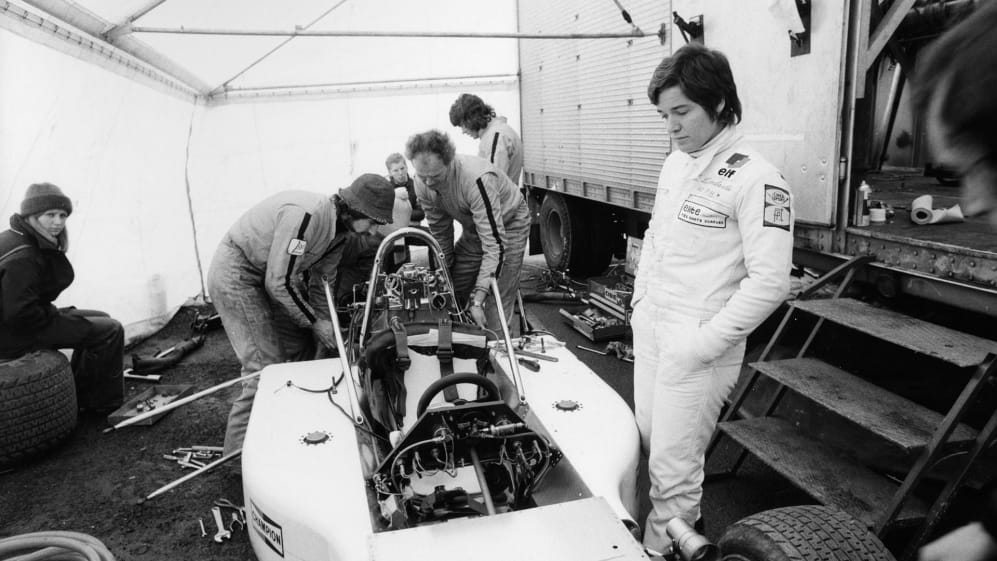 Robin Herd freely admitted in an interview we did in 2009 that he and Max Mosley had "had her over" in 1975, and said that he was most impressed with her performance finishing seventh at the Nurburgring in a race of attrition as she was battling with a puncture.
Later she would race in NASCAR, sharing a Chevrolet with Janet Guthrie in Daytona's Firecracker 400 in 1977 but being classified only 31st after transmission problems. She endeared herself to the media when she was asked how it felt to handle such big cars and replied: "I don't have to carry it, I just have to drive it."
WATCH: 10 iconic Williams moments as the team reach 750 GPs at Monaco
She raced with the talented racer/journalist Marie-Claude Beaumont in 1975 in an Alpine A441 under the far-sighted Francois Guiter's Ecurie Elf Ladies' Team, and later won the 1979 Enna Six Hours with Enrico Grimaldi (becoming the first woman to win an FIA Championship event). She won the race again in 1981 with Giorgio Francia, with whom she had also won the Vallelunga Six Hours. She also enjoyed success in the European Touring Car Championship in 1982, when a series of class victories helped Alfa Romeo to the title.
Marie-Claude believes that she and Lella could have won Le Mans in 1975. "Back then it was an endurance race rather than a sprint and we were quite competitive. There were only two drivers per car back then, and we managed the two-and-a-bit-hour stints easily." Unfortunately, a major miscalculation in the Jean Sage-run team led to their retirement, when they ran out of fuel.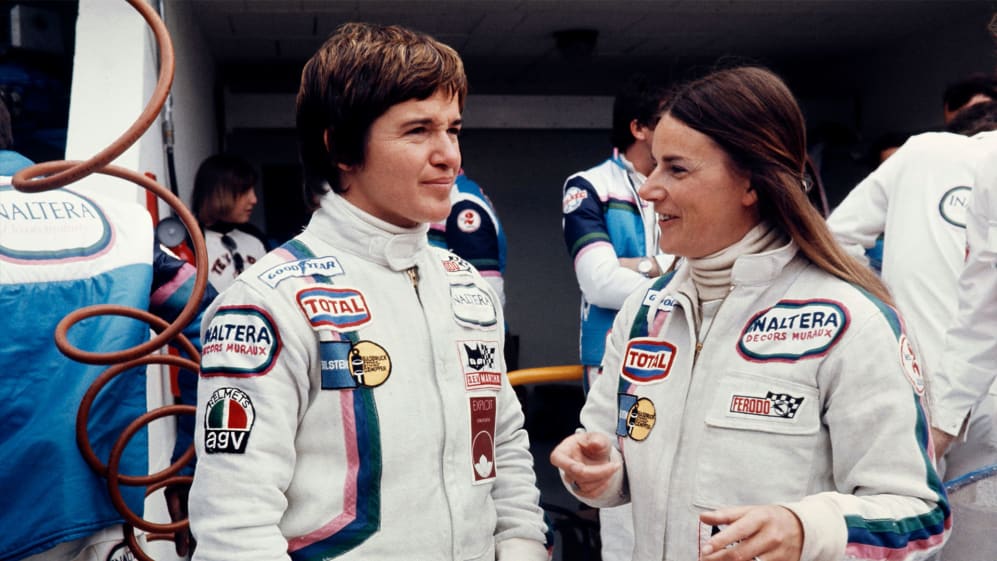 "I liked Lella a lot," Marie-Claude says. "She was really nice, and a good partner to share a car with, something I was not used to. We were quite close on lap times, and what was nice with her is that she would hand the car back to me exactly as it was when I had handed it to her. Some team mates will use up the car letting their ego get in the way trying to beat you, but she had no ego there.
"She was very good and very quick, but though we were very different characters, we spent an evening early on discussing all that sort of thing. We had a good relationship and we always agreed. We would never fight. That's why we were strong. She was a very good racer, it was very easy with her. Formula 1 was very important for her and her friend Fiorenza. She would just say to me, 'Marie, I have to do Formula 1.'"
READ MORE: 5 reasons F1 fans are still in awe of the legendary Gilles Villeneuve
Could Lella have made it, if Max and Robin had listened and believed her comments, and discovered that cracked rear bulkhead sooner? Certainly, she would have achieved better results.
I always regard the F5000 race she did with a Matich A50 at Sandown Park later in 1974 as a better indicator of her grit and potential. She was up against the cream of Australia's macho heroes, notably eventual winner Max Stewart and 'Big Rev' Kevin Bartlett in their Lolas. She gave them a good going over before finishing third, only two seconds behind Bartlett and sharing fastest lap with Stewart. That certainly got their attention. And their respect.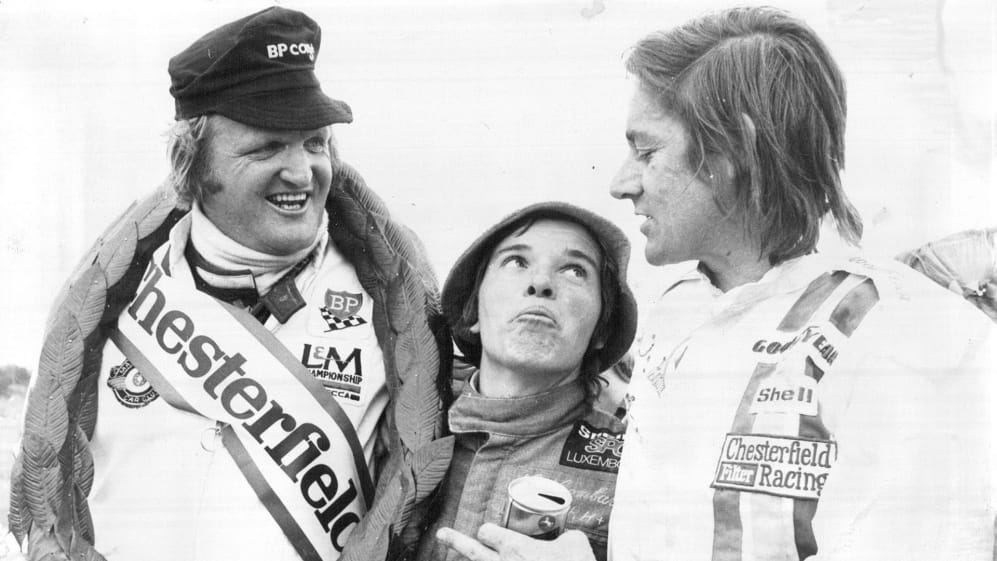 Sadly, after a breast injury in 1985 she started to suffer from the cancer that finally claimed her on March 3, 1992 in Milan's San Camillo Clinic, days short of her 51st birthday.
Others obsessed about her gender and sexuality, but Lella couldn't care less about any of that. Just her racing. And she left as her legacy her own racing team, Lella Lombardi Autosport, the question of what might have been, and a shining example of how to live life on your own terms, with your whole being focused on your target – and not what others think of you.