Feature
TREMAYNE: Why Sainz, Leclerc and Hamilton all deserved to triumph in the British Grand Prix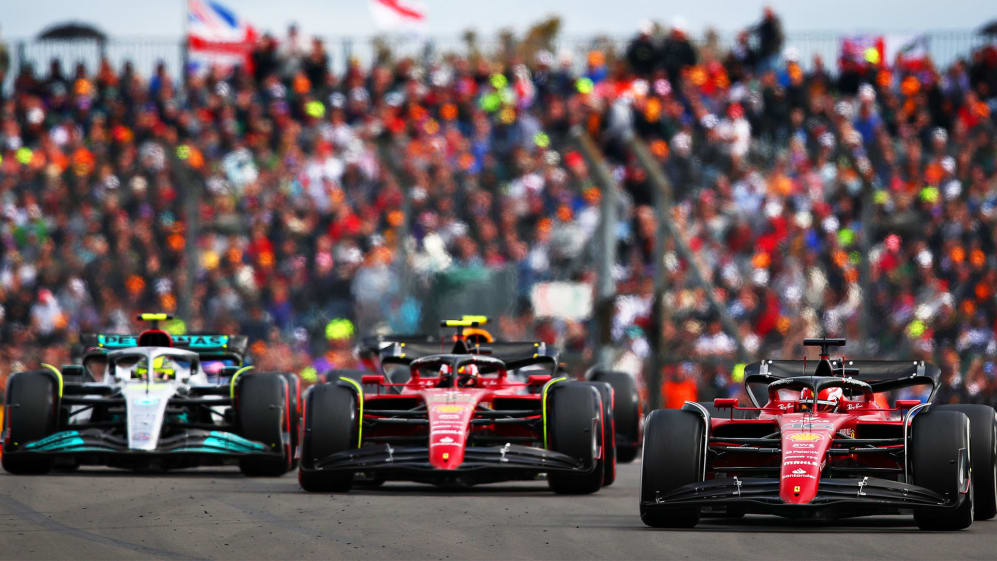 I'm bound to say that I was really happy for Carlos Sainz when, at his 150th attempt, he finally scored his first Grand Prix win. In our line of business, that's always a gratifying sight, when a young driver is finally savouring not just breaking through to victory, but savouring that warm flood of inner knowledge that all their faith and self-confidence really was justified.
But there was a degree of irony in that success, given that without the failure of Esteban Ocon's Alpine on Lap 38 there could have been a very different outcome. Or even with it, there was another driver who could have been the victor.
Let's deal with the latter first.
Despite losing five points of downforce after Sergio Perez rubbed him rather too tenderly on the run onto the Wellington Straight just after the restart (damaging his own car and almost writing himself out of the script), Charles Leclerc was a star yet again round Silverstone.
READ MORE: Hamilton 'would have won' British GP without Safety Car says Wolff, as he expects 'difficult' Austrian weekend
Carlos lost the lead in the first start, but regained it in the second that followed Zhou Guanyu's hefty crash as the rules demanded that the original grid order be retained since not all cars had crossed the SC2 line.
But it was soon clear, after Max Verstappen had ruled himself out by inadvertently running over a chunk of Pierre Gasly's rear wing endplate on the 12th lap, that the Spaniard lacked the pace at that stage of either his team mate or Lewis Hamilton, who was closing in fast in a Mercedes W13 that loved Silverstone's smooth surface.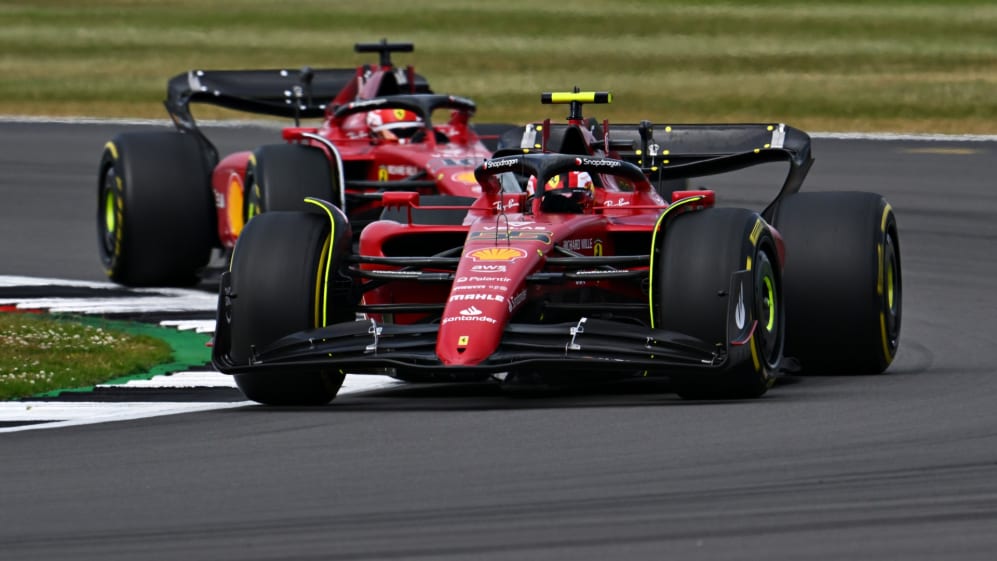 As early as the 16th lap, Charles had been asking Ferrari what to do, as he was being held up behind his team mate as Lewis edged ever closer, with Carlos missing his target lap time of 1m 32.9s by several tenths. A lap later Charles beseeched his team to "do something, please!" and make a decision on team order.
But it took them until Lap 30, by which time Lewis was leading after both Ferraris had made their first pit stops to switch from medium Pirellis to hards, Carlos on Lap 20, Charles on 25. When Lewis had not stopped by Lap 31, the order finally went out for the Ferraris to change places. Carlos, being a team player, complied immediately.
TECH TUESDAY: Analysing Red Bull's radical updates for the British Grand Prix
Thus, when Lewis finally switched to hards on Lap 33, and immediately started to close in again on the two red cars, Charles was ahead. Then came Esteban's demise, and the inevitable Safety Car deployment on Lap 39. But rather than bringing Charles in for softs, as Mercedes did with Lewis, as Red Bull did with the recovering Sergio Perez – who had suddenly been thrown an unexpected lifeline – and as Alpine did with Fernando Alonso, Ferrari kept their leader out and instead brought Carlos in.
That's the decision I just don't understand, because in my view, it left Charles as a sitting duck. Had they brought Charles in, Mercedes would still have pitted Lewis for softs as well, because keeping him out on hards wouldn't have made sense, either.
"For sure I can understand his frustration," team boss Mattia Binotto said of Charles on Monday. "When you're comfortably leading a race with just a few laps to go and you don't win, then it's natural to feel disappointment. But Charles's disappointment is also our disappointment – we win together and we lose together.
"We're as frustrated as he is about his result, because the way he drove yesterday was amazing and showcased once again how strong a driver he is. Charles thoroughly deserved to win the race, if it wouldn't have been for the Safety Car."
READ MORE: Ross Brawn on the 'fabulous racing' at Silverstone, his relief after Zhou's crash & why we're truly entering a new era of F1
The rationale that Mattia later gave was that at that moment it was common sense to prioritise the lead car by protecting track position, since Charles was on fresher tyres at that point, and that if he had pitted, rivals would have done the exact opposite and gained track position on almost new hard tyres.
At the same time, they decided to put Carlos on the opposite strategy in order to cover all opportunities, and he argued that if they hadn't split the strategy, they would have risked losing the race and handing the win to their opponents.
That's the bit I don't understand, since the Safety Car inevitably closed everything up, so there was no gap for the stoppers to have to reduce. Charles was immediately disadvantaged running on rubber that was two compounds harder than his immediate competition's, and they were all breathing down his neck by the time the racing restarted on Lap 43. He never had a chance.
And that other outcome? On race day, I had a sneaky suspicion that Lewis would win. And I firmly believe that, had it not been necessary for the race to be restarted, and had he kept hold of that early third place he had snatched off the line first time around, he would have been a very strong contender. And, notwithstanding that delay when he dropped to sixth at the restart, I still think he could have won without the Alpine's problem.
F1 NATION: British Grand Prix review featuring maiden winner Sainz and Ferrari boss Binotto
Okay, if Martha was Arthur your uncle would be your aunt, as the old expression has it. But in the early going he was consistently as fast as, if not faster than, the Ferraris. At that stage, a Mercedes victory still certainly looked possible, given that both Charles in his injured machine and Lewis were lapping in the 1m 31s as Carlos seemed stuck in the 1m 32s.
On Lap 38 when Esteban stopped, Charles did 1m 31.347s, Carlos 1m 32.072s and Lewis 1m 31.302s, and while Charles was 4.2s ahead of Carlos, Lewis was within 1.8s of the latter with 14 laps left. And once he'd cleared Carlos, he would surely have been faster than Charles on eight-lap older rubber and minus those five points of downforce…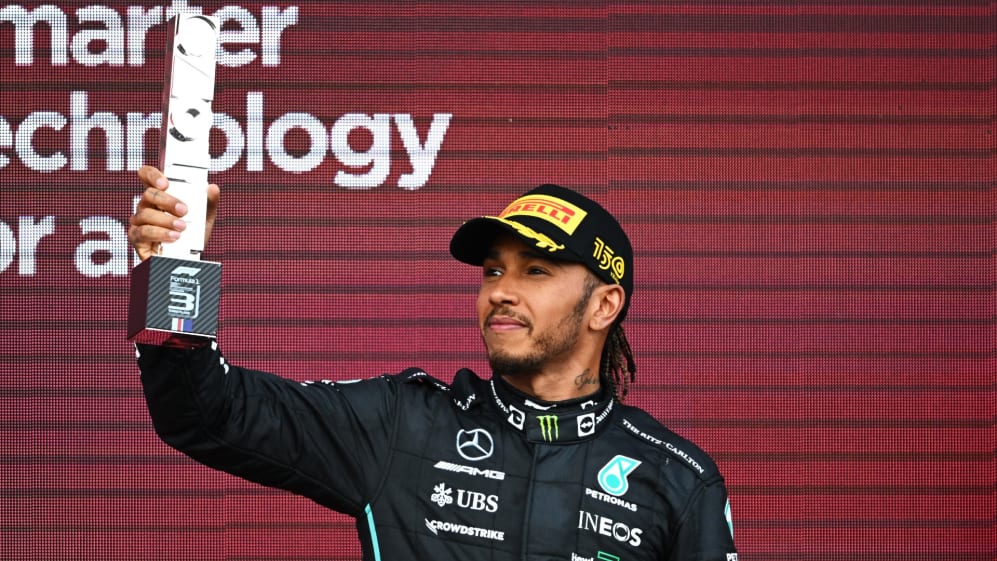 Of course, it didn't work out like that because of the Safety Car, but after leading a race for the first time this year (from Laps 26 to 33) and setting fastest lap in 1m 30.510s on the final tour, Lewis indicated that perhaps it isn't quite time to hang up his helmet, as some people in the paddock have been suggesting rather too often of late…
And Carlos? Well, he had a new lease of life on the softs, and regardless of the rights or wrongs of Ferrari's pitstop strategy, he got his elbows out at the final restart and simply checked out, leaving Charles to have that humungous scrap with Sergio and Lewis which was another feature of a great race.
MUST-SEE: Vettel drives Mansell's iconic 1992 Williams FW14B at Silverstone
And while he might have lacked pace earlier, now he had it in spades and made full use of it, even setting fastest lap in 1m 30.886s on Lap 43 before Lewis took that away. The Safety Car favoured both him and Sergio, as it disadvantaged Charles and Lewis, but in life you play the hands you are given, and Carlos held the Royal Flush at the end.
There were very few people in the paddock who begrudged him his success. He's a very popular man, just like his illustrious father, and after a fairly difficult season littered with incidents that have not always been his fault and that brave near-miss recently in Canada, he deserved a break.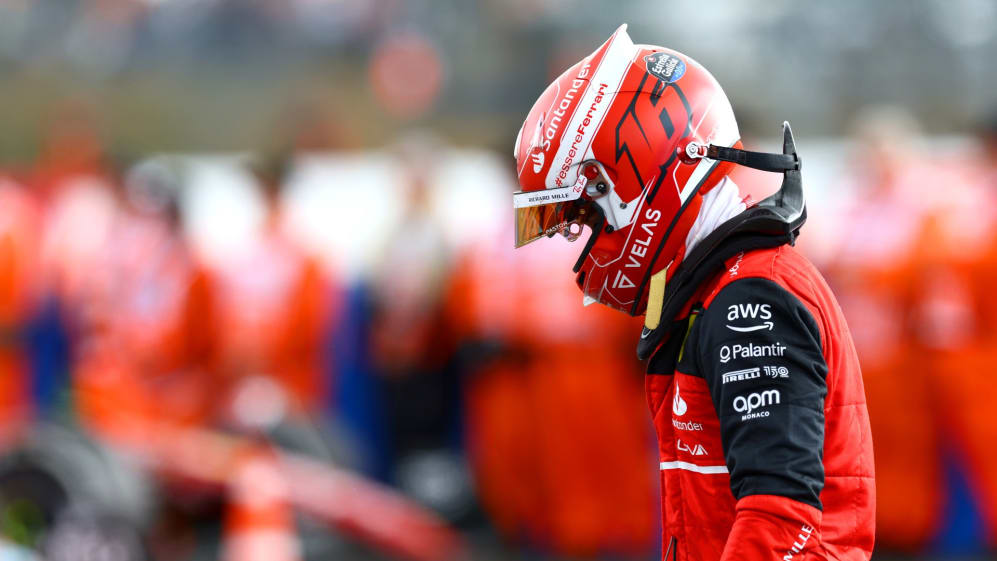 But I can't help wondering if this race might affect the relationship between and Charles and Mattia, after previous technical disappointments have cost the duo at least two races. Charles was as gracious as ever publicly, but he cannot be happy.
And he, more than anyone, will appreciate that with a different strategy, he could have secured 25 or 26 points on a day when Max only took six. And that their respective scores could have read 183 and 152 rather than 183 and 138.
Ferrari still won the race, of course, but losing the chance for your lead driver to score 14 more points doesn't strike me as the best way to fight opponents as fearsome as Max and Red Bull.