Opinion
TREMAYNE: Mercedes tried but couldn't overcome their issues in Jeddah – and now the climb looks even steeper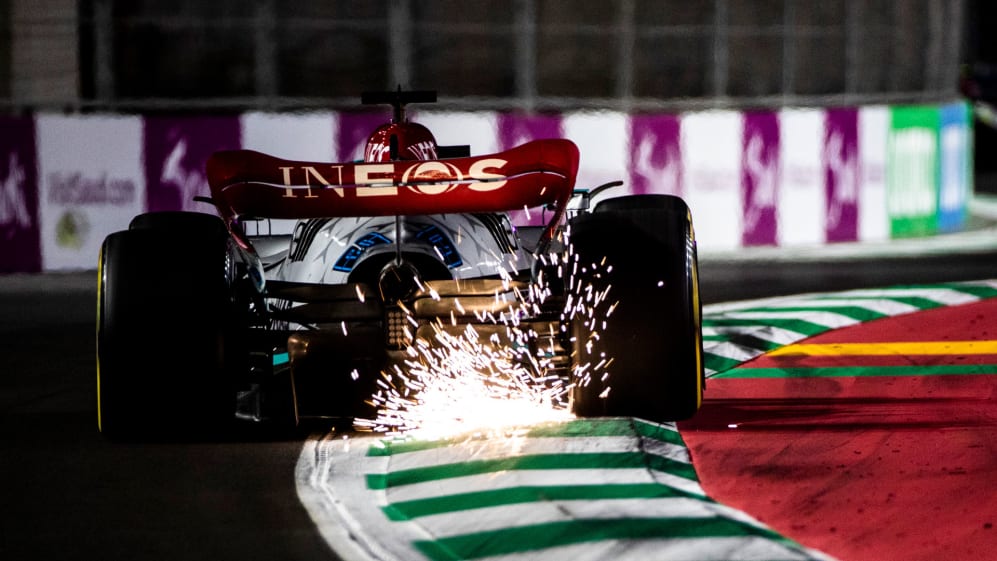 Toto Wolff has described Mercedes' current dire situation as "entirely unacceptable," "sobering", and "an exercise in humility". And there is certainly no doubt that the team that set records for winning eight consecutive Constructors' World Championships and dominating a formula for its entire duration have been seriously humbled by 2022's new regulations.
With George Russell driving the wheels off his W13 to finish only fifth, 32.732s behind the victorious Max Verstappen's Red Bull, and seven-time world champion Lewis Hamilton only 10th, 73.448s down in the race following his worst qualifying performance in 13 years, the scale of the champion team's problems was brutally exposed at the Jeddah Corniche Circuit on Sunday night.
PALMER: How bad timing stopped pole-sitter Perez adding to his win tally in Jeddah
One hundred and 12 days earlier, when the first Saudi Arabian GP was run, it developed into a controversial encounter in which Lewis emerged victorious over Max and set them up to head on equal points for that even more disputatious finale in Abu Dhabi. But if a week is a long time in politics, then 16 of them is an age in the fast-changing world of F1, especially when it has undergone one of the biggest technical rule overhauls in its history.
This time Lewis was almost invisible as Max fought wheel-to-wheel throughout the 50 laps to pip championship leader Charles Leclerc by half a second after a gripping contest.
We knew from Bahrain's test and race that Mercedes were in trouble, just as we also knew that there would be no miracle cure a few days later in Saudi Arabia. Magic bullets are as rare as hen's teeth in F1 these days. But Lewis's dramatic failure to get out of Q1 was a massive shock to everyone, especially as George managed sixth on the grid in the same car. But to paraphrase Mark Twain, rumours of Lewis's demise (as an F1 force) have been greatly exaggerated.
It was clear from the onboard cameras that Mercedes' #44 had a lack of rear-end grip, and on a circuit where driver confidence and commitment in all the high-speed curves are paramount, he had no chance. But it wasn't the driver at fault.
In all three free practice sessions, Lewis out-paced George. That's not mentioned as any kind of comment on George – just as an indication that the team mates were evenly matched prior to qualifying. But such were Mercedes' problems that they were forced to gamble. No longer are they a team who know exactly what to do; instead, their problems have forced them to scratch around in the dark, trying to make the best of a bad job while further crisis investigation is ongoing back at Brackley.
SAY WHAT: Enjoy the best radio messages from the 2022 Saudi Arabian Grand Prix
This all means that the set-up of the car has been a compromise from the outset. They can't run at the designed ride height without exacerbating the porpoising problem, which, in itself, is a deep irony given how well Mercedes have done with their low-rake philosophy in recent years. Now Red Bull and Ferrari, hitherto disciples of high-rake cars, have been quicker to master the low-rake art under the ground effect rules.
And because of this, Mercedes' engineers were forced to do something they have not had to do for many years: experiment. Thus, Lewis's car ran a different set-up to George's for Q1, something which Lewis loyally sought to play down, even if it left some believing that he'd simply failed to rise to the occasion.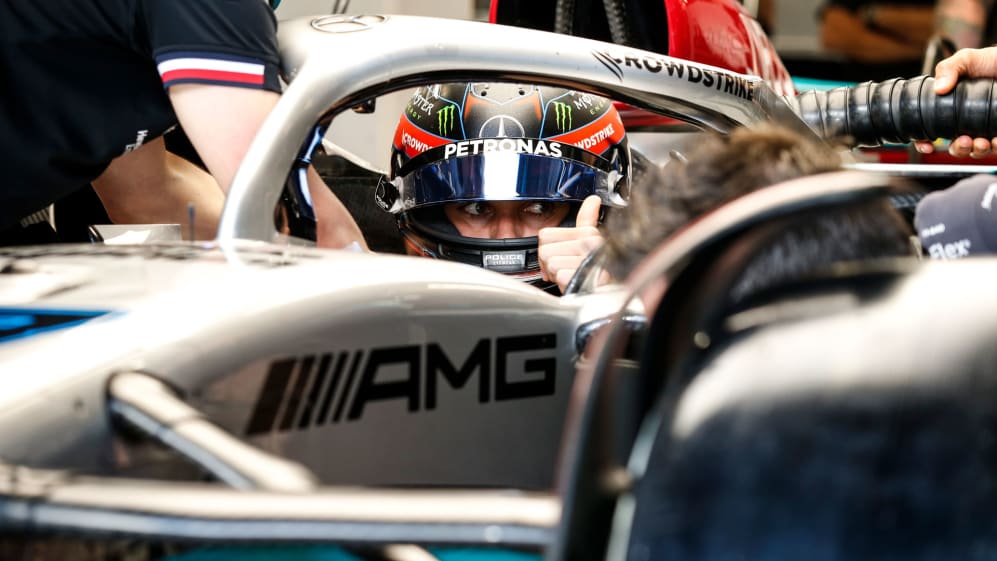 As everybody and their dog now knows, Mercedes have a bigger problem with porpoising, that horrible vertical flutter when the undercar flow of air is disturbed at high speed on the straights, than anyone else – and since the Bahrain test every action have been focused on finding ways to alleviate that while a full solution is sought at the factory. The experiment to tame it more on Lewis's car saw them go too far, and in the wrong direction.
The car was, to use the expression most associated with Michael Schumacher, so much 'on the nose' that rear-end grip suffered horribly. With the car oversteering on a track where you need plenty of turn-in allied to strong rear-end traction, Lewis was in trouble. Sweet spot, it wasn't.
POWER RANKINGS: The scores are in after the 2022 Saudi Arabian GP
So Mercedes started their cars sixth (George) and 15th (Lewis).
Interestingly the W13 ran a little better with a lower fuel load, and on his older tyres Lewis was all but matching George's lap times mid-race as they ran fifth and sixth. Lewis's stop then dropped him to 12th, but he overtook Alex Albon and then qualifying nemesis Lance Stroll (whose final lap had bumped Hamilton out of Q2), and thus claimed the final point for 10th place.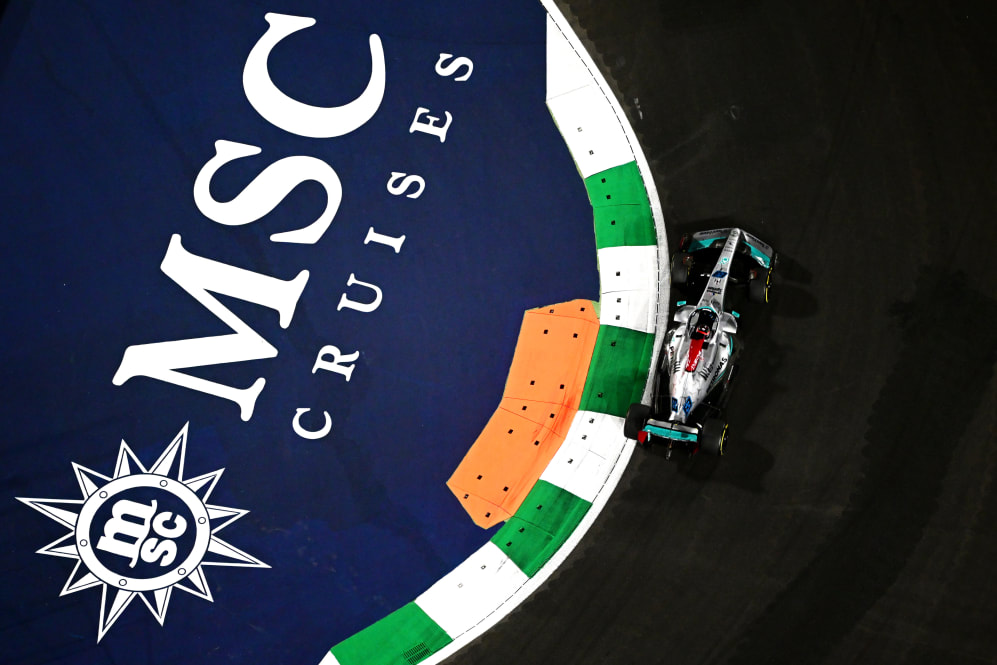 "Generally, I would say the porpoising isn't the single problem," team boss Toto Wolff admitted. "We have many parts of the car that don't work, that we don't understand, that don't perform enough. And this is not where we all expect the car to be. I would very much hope that the gap is much closer to what we've seen today. But there are deficits everywhere."
Besides the porpoising, it is believed by some that the W13 is overweight, has a draggy rear wing even after the Gurney flap was removed and, whisper it, a possible power deficit to the Red Bull Powertrains/Honda and Ferrari-powered cars. Toto hinted that there is more to come from the M13 E Performance power unit, which may have been affected more than other manufacturers' units by the switch to E10 fuel.
READ MORE: Mercedes engine chief explains why move to E10 fuel demanded 'fundamental relook' at power unit
It's interesting that all of the other Mercedes-powered teams seem to have been struggling one way or another in the opening two races and, worryingly for Brixworth, Lewis reported that he could not keep up with Kevin Magnussen's Ferrari-powered Haas, which was running on similar – albeit four-lap older – medium rubber. And the newly-returned-to-F1 Dane admitted afterwards that he had been struggling with his neck on a track with so many high-speed curves.
Valtteri Bottas also said over the weekend that he was "very happy" with his Ferrari engine.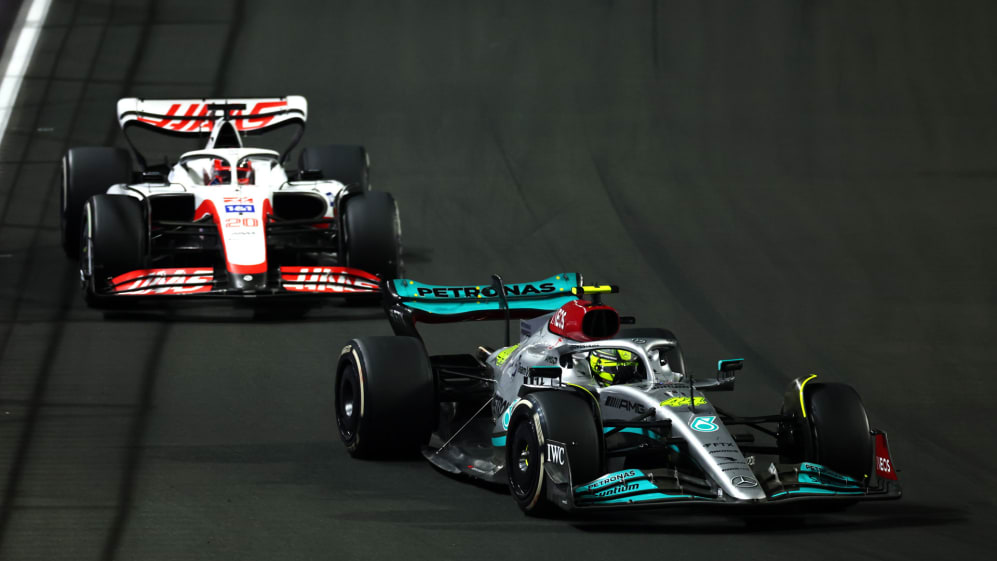 The eight fastest lap times made depressing reading for Brackley: Charles was fastest with 1m 31.634s, followed by Max on 1m 31.772s, Carlos Sainz on 1m 31.905s, Sergio Perez on 1m 32.042s, Lando Norris on 1m 32.753s, Kevin on 1m 32.729s, George on 1m 32.821s and Lewis on 1m 32.997s.
While Max and Charles waved happily to one another from their cockpits on the slowdown lap, then congratulated one another again in the paddock as they viewed the world from the top of the mountain, Lewis and George must be wondering just how soon Mercedes will be able to give them a car in which they can, at last, begin the long climb from base camp.
READ MORE: 6 Winners and 5 Losers from the 2022 Saudi Arabian Grand Prix – Who left Jeddah on a high?