Opinion
PALMER: How bad timing stopped pole-sitter Perez adding to his win tally in Jeddah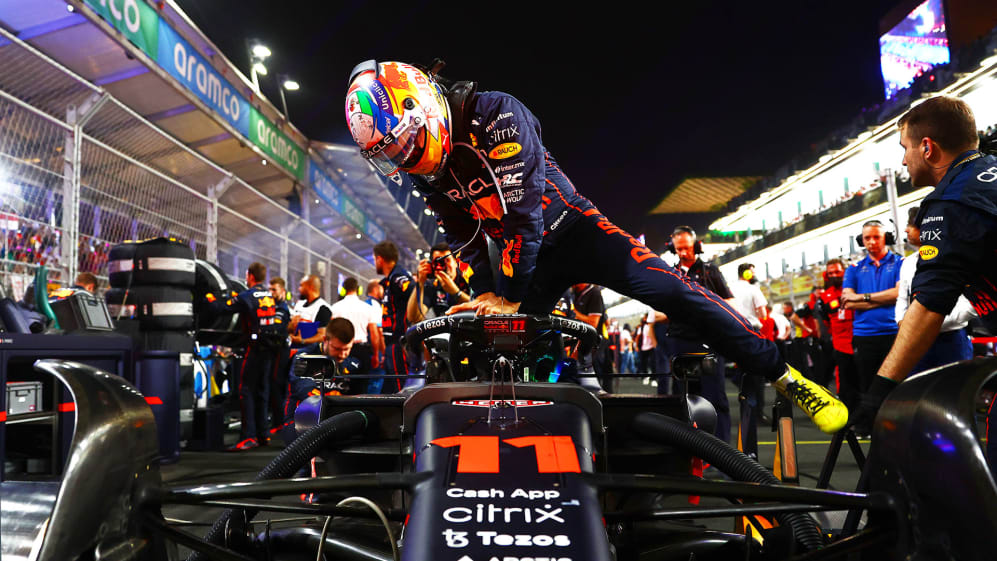 Race strategy is always a complicated matter in Formula 1, but on street circuits there are extra elements that can affect a race and throw all the planning out of the window – as we witnessed very clearly in last weekend's Saudi Arabian Grand Prix.
We saw last year how an innocuous crash further back can change the outcome of a race, or even a championship. On Sunday, poor Nicolas Latifi's fairly unexceptional crash on Lap 15 changed the race once again.
READ MORE: Perez says Safety Car 'ruined' his chance of victory from pole position at Jeddah
Sergio Perez was incredibly unlucky with the timing of it, having just pitted to cover off a 'box to undercut' radio message from Charles Leclerc and Ferrari.
Perez had controlled the race after qualifying with a superb maiden pole. He had a measured two-second lead for the early part, but because Leclerc was within undercut range, Red Bull had to take no risks and bring the Mexican in for new tyres.
Ferrari may well have been bluffing, in order to force Perez to pit as early as he did from the lead, but because the Mexican pitted it's hard to know. Would Leclerc have followed the orders from his team and pitted if Checo hadn't?
A 'box to overtake' radio call is one given to a driver which instructs them to pit in unless the driver ahead pits. It's a punchy attempt to get a strategic advantage – either by using the undercut in most circumstances, or by forcing the driver ahead to cover off that threat by pitting, and then you extend your own stint in clear air and have fresher tyres to attack later on.
TECH TUESDAY: Red Bull and Ferrari's wildly different solutions to the challenge of Jeddah
Latifi's crash couldn't have come at a worse time for Perez. Having just pitted half a lap earlier, he had no time to make the most of his fresh tyres, and with everyone else then able to pit the following lap under the VSC or full Safety Car, their pit stop costs were significantly reduced, because Perez wasn't able to take advantage by running at racing speed.
Perez then just about lost to Carlos Sainz as well, as he passed the Safety Car line fractionally behind, but contentiously kept the position initially – much to Sainz's clear frustration.
Eventually, Perez relinquished the position just after the restart, but it looked to me like a tactical play from Red Bull to not give the position back to Sainz sooner, which they should have done, having technically overtaken him under the Safety Car.
Red Bull keeping Perez in third meant he could act as a perfect rear gunner to Verstappen on the restart, and ensure Sainz couldn't pressure the Dutchman for second, exactly as he had done a week ago at the late Bahrain Grand Prix restart.
All in all, it meant that the top two were able to get a slight advantage over the Perez/Sainz duo, and from there they stretched their legs and made it a two-horse race for the lead.
READ MORE: Horner says it feels 'great to rebound' with Saudi Arabian win – but Perez 'desperately unlucky'
More wheel-to-wheel brilliance from Verstappen and Leclerc
Once again, the lead fight was majestic. What we are witnessing in wheel-to-wheel action so far in 2022 is a joy to behold – not just from the front-runners but all the way down the field.
Ultimately, this time Leclerc ran out of ideas after an initial double salvo to hold Max Verstappen back, and despite then harrying the Red Bull for the remainder of the Grand Prix, he could only settle for a close second this time – still a fine result for the championship-leading Monegasque.
READ MORE: Leclerc says 'every race should be like this' despite losing stunning Saudi Arabian GP to Verstappen
And when you think back to Perez and where he ended up, that could have easily been Leclerc, had Red Bull not called the race leader in all of those laps before.
If Leclerc hadn't seen Perez pit, then he may well have dived in himself in an undercut attempt and ended up inadvertently ruling himself out of contention – falling down to fourth, with Red Bull then leading a one-two at that point.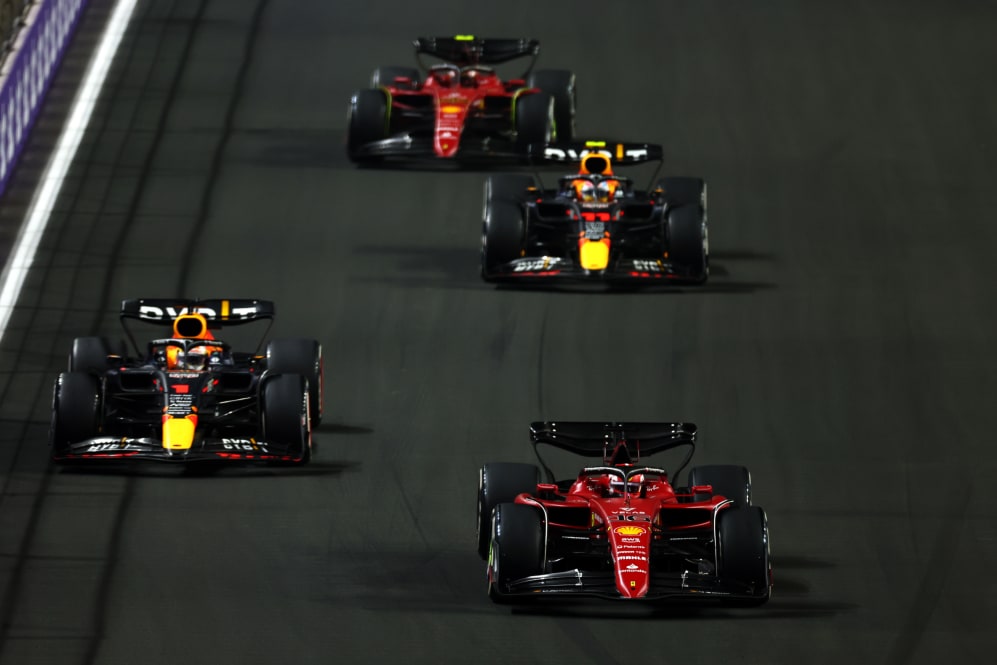 These are the fine margins at play in any Grand Prix, but particularly at street circuits where the margin for error is notoriously small, and the risk of Safety Cars are high, none more so at the Jeddah Corniche Circuit – the fastest street circuit in the world.
Perez wasn't the only driver to lose out with the Safety Car timing. Kevin Magnussen and Lewis Hamilton were also left in no-man's land for the rest of the race, because of their choice to start on the hard tyres.
READ MORE: Magnussen says Haas was 'phenomenal' after taking P9 in Jeddah – but admits neck strength was 'nowhere'
This was a choice that in theory meant they had a bit more flexibility with Safety Cars later on. They could run and run on a very durable hard tyre and look to pit during a late Safety Car, making effectively a quicker pit stop and emerging on medium tyres to attack at the end.
The theory seemed sensible for Haas and Mercedes, and if Latifi hadn't crashed then they might have been looking very clever by the time Daniel Ricciardo, Fernando Alonso and Valtteri Bottas all simultaneously stopped out on track.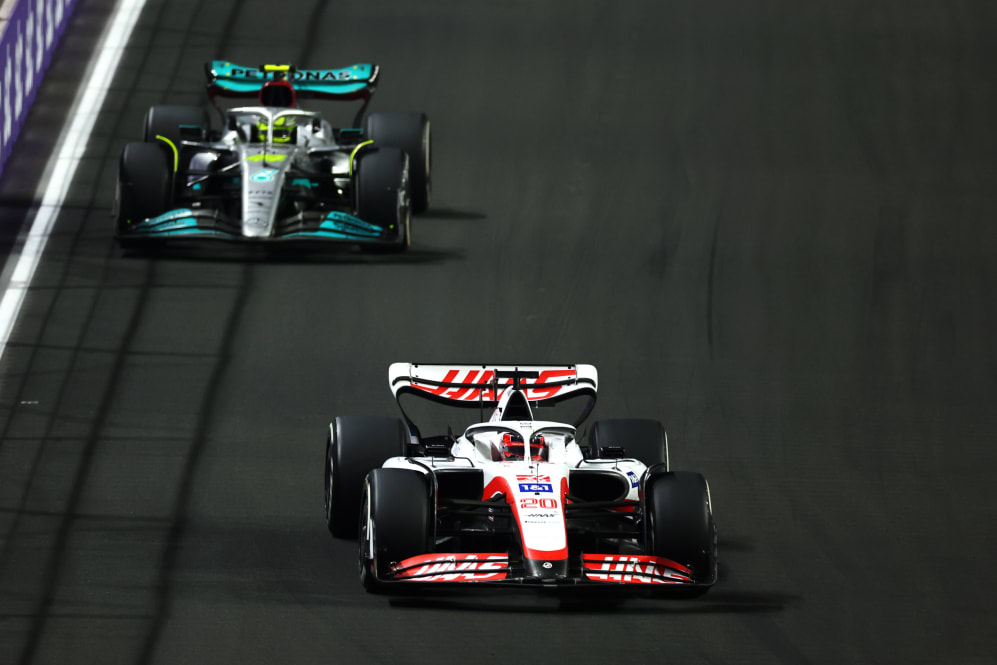 But the timing of Latifi's crash couldn't have been worse for them really. The medium-shod runners hadn't yet pitted, so it was they who could benefit by pitting to run hards to the end. It was too early still for Magnussen and Hamilton to expect to get mediums to the end – the tyre they would have had to switch to.
READ MORE: 'We've got a lot work to do' says Hamilton after scraping solitary point in Saudi Arabian Grand Prix
Had Latifi crashed five or six laps later, not only would Sergio Perez have still probably been favourite for the race, but Lewis Hamilton might not have been so downbeat with 10th, and we might have been hailing another epic result for Haas.
For those guys, it's deeply frustrating, but that's the nature of racing. You win some and you lose some, and they will have to hope that somewhere else down the line, they get the payback they deserved here.