Tsunoda apologises for 'huge mistake' after crashing out in opening minutes of qualifying in Imola
Yuki Tsunoda's qualifying session for the Emilia Romagna Grand Prix lasted less than one flying lap, after he crashed at the Variante Alta chicane at Imola in the first few minutes of Q1.
The Japanese driver, who tested extensively at the Italian circuit in pre-season, was into the final sector of his first flying run when he lost control of his AlphaTauri coming out of the chicane, the rear of the AT02 slamming into the tyre barrier before the car came to a halt.
REVEALED: See what really happened in Perez and Ocon's FP1 collision with new onboard footage
The 20-year-old - who scored points on his F1 debut after finishing ninth in the Bahrain Grand Prix three weeks ago - was unhurt, but his car looked to have sustained a significant amount of damage in the crash.
"First of all, the body feels OK - no issues," he said. "Just pushing too much in entry. I had massive instability in entry, massive slap and couldn't control that car and just spun into the barrier. I think until that, I think the pace was really good. I saw the sectors, it was quite good, potentially.
"The car was amazing and it was just a huge mistake. Really sorry for the team, and I'm just going to have to come back tomorrow."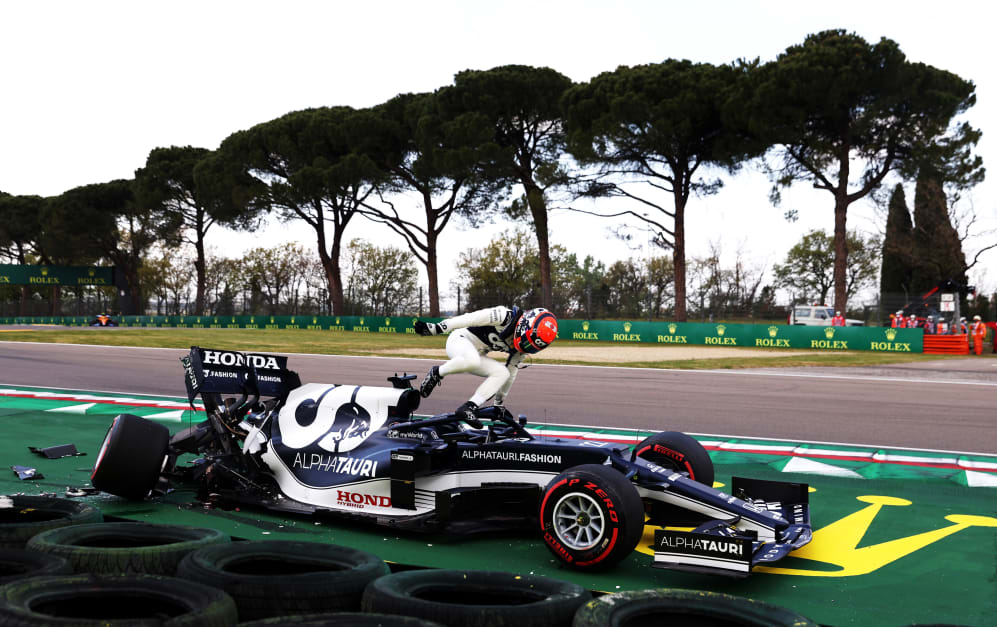 Of all the circuits to start at the back of the grid at, Imola is not one that you'd chose given the choice, with overtaking especially tricky.
Despite that, Tsunoda said he was still looking forward to the race, which takes place just down the road from his team's Faenza factory, despite having to start last in his repaired car.
"Yeah really [looking forward to it]," he enthused. "Until, really Free Practice 3, there was lots of issues in the engine and also the traffic, so I couldn't put it all together really. But the car feels great and I think also race pace tomorrow is going to be quite good for the AlphaTauris. Just analyse the data to improve myself and come, try my best tomorrow."