Video
'Use your head a bit more' – Relive the terse radio messages between Verstappen and engineer Gianpiero Lambiase at Spa
They'd already had a tempestuous radio exchange on Friday during qualifying – but come the Grand Prix Max Verstappen and his race engineer Gianpiero Lambiase were at it again, sparring on the airwaves as the Dutchman climbed up the order in Belgium.
Verstappen was able to extend his first stint on the soft compound tyres longer than his team mate Sergio Perez, and with rain coming, Lambiase wanted to know if there was enough life left in the tyres to make them last until the weather arrived. But Verstappen wasn't in the mood to discuss strategy, instead tersely replying that he couldn't exactly see the radar from his cockpit.
READ MORE: Verstappen opens up on radio exchange with engineer in Belgian GP after dominant recovery drive to 8th straight win
By the third stint, Lambiase was cajoling the Dutchman not to take too much life out his final set of tyres – only for Verstappen to retort that he could come in and give his team some extra pit stop practice.
"I know they don't want to do an extra pit stop so I just wanted to make them a little bit uncomfortable," joked Verstappen afterwards. "Maybe then they might think I'm going to push it to make another stop!"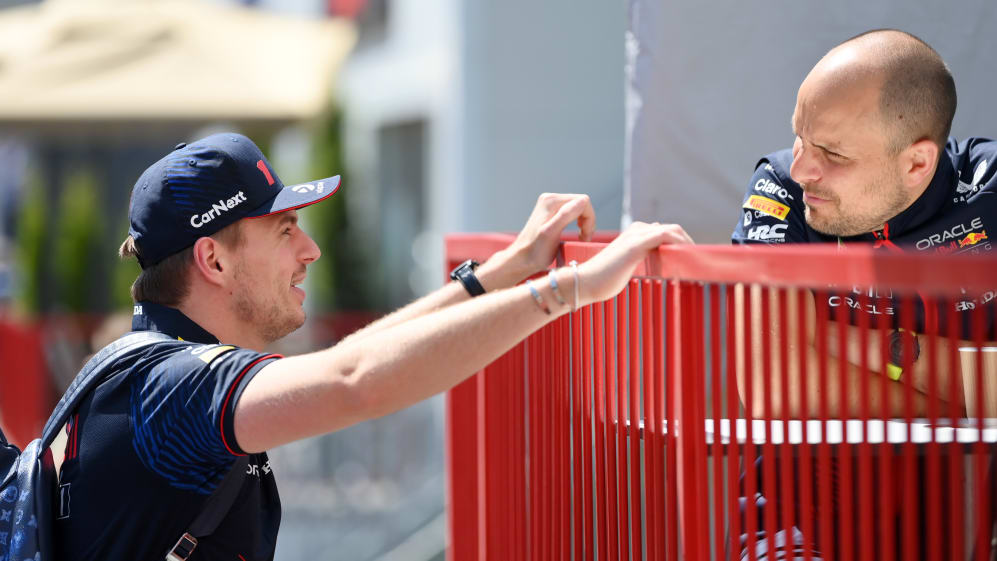 It made for some entertaining listening, and was a clear display of just how much pace Verstappen felt he had in hand and how relaxed he was once leading that he was able to think up one-liners whilst driving at speeds upwards of 300km/h.
FACTS AND STATS: Win 12 for Red Bull heralds most successful season start in F1 history
But on the subject of his race engineer 'GP', Verstappen was keen to dispel any rumours of a rift between the duo, stating: "That's how we operate, we know each other very well from all the years we have been working together already. The car is performing very well, of course they want to keep it under control but I'm the one in the car feeling how the tyres are behaving. They have the numbers but it's still also a feeling thing.
"As long as they tell me from their side what they are seeing, I can make my mind up in terms of how to push or not and that works out well."
To listen to those exchanges, hit play on the video above.