Verstappen 'almost stalled' behind Safety Car because of engine gremlins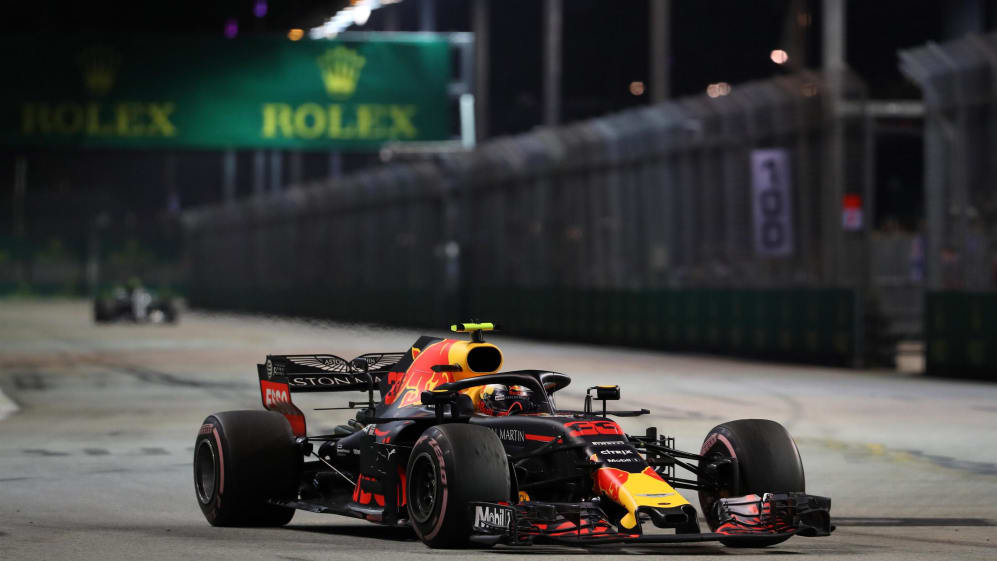 Max Verstappen was unhappy with the spec C Renault power unit in the back of his Red Bull RB14 at numerous points over the Singapore Grand Prix weekend. Yet while it gave him some headaches in the race, the Dutchman still managed to bring his car home in second place and maintain Red Bull's run of podiums in Singapore this decade.
Free Practice 3 had seen Verstappen consigned to the pits at various points with transmission and engine issues. Those managed to be resolved enough for Verstappen to produce what he called the lap of his career in qualifying, with the Dutchman ending up second on the grid behind Lewis Hamilton.
As the race got underway, Verstappen initially lost out to Sebastian Vettel, giving up P2 to the Ferrari on lap one after getting out-dragged down the Raffles Boulevard that leads to Marina Bay's Turn 7, before the Safety Car was deployed for the crash between the Force Indias of Esteban Ocon and Sergio Perez.
When the track went green again on lap five, Red Bull put their thinking caps on, managing to make the overcut on Vettel work in the pit stops and allowing Verstappen to re-take second, which he was then able to hold onto until the chequered flag. That might not have been the case had the Safety Car stayed out a lap longer than it did, however…
"I was very happy the Safety Car was gone because I was almost stalling on the track," Verstappen revealed, having been heard complaining on the radio of false neutrals while lapping behind the Safety Car. "Even in my pit stop it was not great."
Verstappen's result continued Red Bull's impressive run of form in Singapore, with the last time the team were off the podium here back in 2009. But did he feel pleased to claim second – or feel he had missed out on a chance for victory?
"No, you can't pass, it's impossible," said Verstappen flatly when the question was put to him. "On the first stint when we were all going quite slow, even if you wanted to push a bit more, you can't get close so you were just following in a train.
"You just have to do your own race, try and look after your tyres and that's what we did. That's why we could do the overcut, which of course was great. Once I was in second again, I just tried to follow Lewis to the end and bring it home."
Red Bull team boss Christian Horner was quick to praise Verstappen's efforts, while offering up an assessment of team mate Daniel Ricciardo's race, after the Australian finished a distant sixth – his first Singapore Grand Prix as a Red Bull driver where he hasn't made the podium.
"Max has driven the wheels off that car all weekend here," said Horner. "Daniel had pace in the race but we couldn't make the overcut work. Then obviously he had the pace in the car at the end but couldn't get close enough to do an overtake, which seemed a bit of a theme throughout."
Red Bull now look ahead to the final part of the season where there'll be limited chances for them to compete for victory. But Verstappen is targeting at least one strong result before his season's done...
"Looking forward now, I don't know which track will come up as maybe good again," said Verstappen. "Maybe Mexico a little bit, but we lose a lot on the straights so I'm not expecting it to be like last year [when Verstappen won] but we never know. You always have to be positive I guess and try to be there if something happens."