Verstappen blames high temperatures for making it 'tricky' and 'tough' for Red Bull to find pace in Spain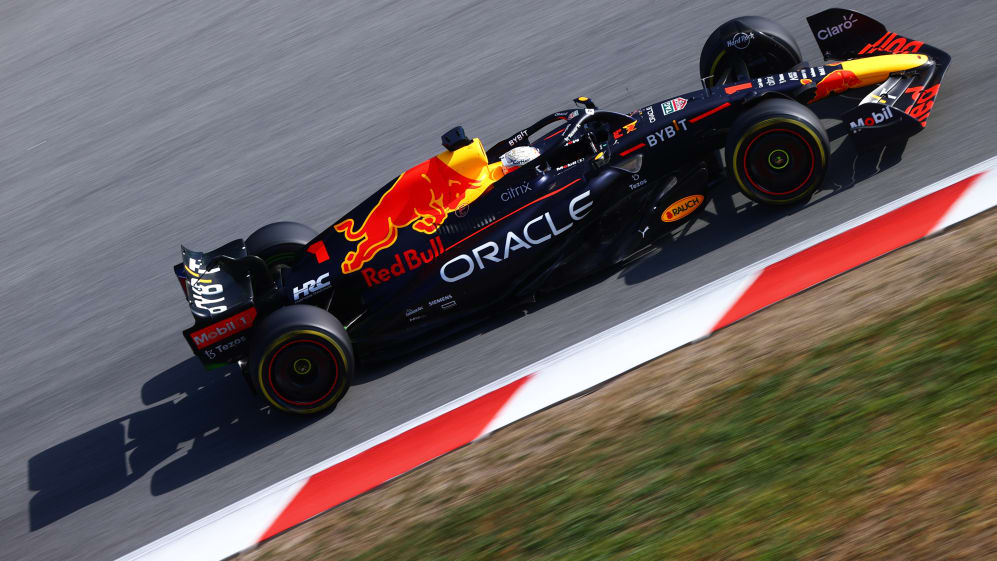 Red Bull are neither down nor out after a challenging opening day in Spain, but Max Verstappen said they have plenty of work to do to fight Ferrari in qualifying – and keep Mercedes in their mirrors.
The Dutch driver finished third in FP1 then fifth in FP2 on Friday as the 2022 Spanish Grand Prix weekend got under way – with his title rival Charles Leclerc topping both sessions for Ferrari. Verstappen was therefore pragmatic in his assessment of the RB18 after FP2, and pointed out the searing heat as the team's biggest obstacle.
READ MORE: 'We're on our way' – Hamilton 'super happy' after strong Friday for Mercedes
"A bit tricky to find the balance, with the heat as well," he said. "We clearly still have a bit of work to do over one lap but long runs – at least they look quite decent, so I'm happy with that, just to try and find the middle way.
"It's tough on the tyres of course around here. Clearly, we are not on top of that yet in terms of balance. At least we know that the weather is going to be consistent, so we can just work from here," he added.
With Mercedes having found a turn of pace in FP2, as they finished P2 and P3, Verstappen was asked if he was concerned about the silver cars. But he replied: "I mean, I've got my sheet, so I could see where we are, that's why I also said we have to work a bit on the one-lap pace."
Team mate Sergio Perez didn't take part in FP1 as F2 driver Juri Vips stepped in, but the Mexican returned for FP2 and finished seventh, behind home hero Fernando Alonso. He also cited high temperatures when explaining why his practice session was so difficult.
WATCH: Juri Vips makes Formula 1 race weekend debut
"Everything comes really fast you know, getting up to speed, the tyre degrading straight away, so you basically have two laps. Because it's not a track where the tyre stays new, you basically have one lap to have a read on the balance and then after that you're just getting up to speed, but you don't have really the peak grip. So, in that regard a bit difficult," said Perez.