Verstappen escapes grid penalty for impeding as he reflects on 'shocking' double Q2 exit for Red Bull in Singapore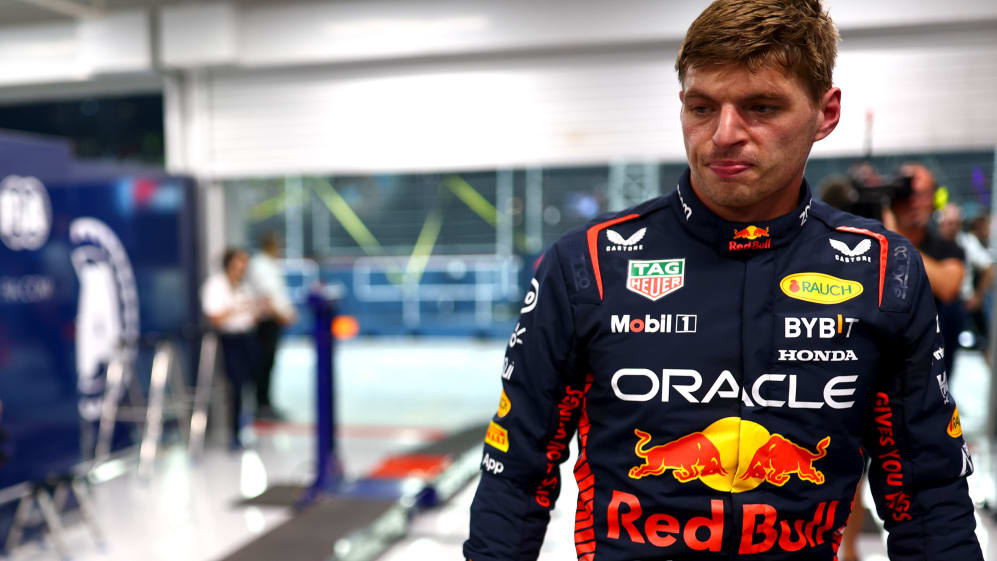 In the midst of their unbeaten season, a shocked and frustrated Red Bull team watched on as both Max Verstappen and Sergio Perez dropped out of qualifying for the Singapore Grand Prix in Q2 – giving the drivers a mountain to climb in Sunday's race at the famously hard to overtake at Marina Bay Street Circuit if they want to keep their streak of wins going.
Red Bull had seen their uncharacteristically uncompetitive form from Friday practice continue on into Saturday, with Verstappen and Perez off the pace in FP3 – and with the previously all-conquering RB19 not looking much better come qualifying.
READ MORE: Sainz pips Russell and Leclerc in ultra-tight qualifying battle in Singapore after shock double Q2 exit for Red Bull
With the clock ticking down in Q2, Verstappen was shown struggling with the balance of his car out on track before failing to set a time sufficient to make it into Q3 – the Dutchman pushed into the drop zone by the sister AlphaTauri car of Daniel Ricciardo stand-in Liam Lawson – while Perez spun his own car on his final lap at Turn 3, leaving Red Bull without a car in Q3 for the first time since 2018.
Asked how much of a struggle qualifying had been, championship leader Verstappen replied: "I mean, FP3 was already a little bit better and I think we were heading in the right direction actually, but we changed a few more things, thinking we could do it in the set-up… but it ended up being too aggressive where I was just sliding around a lot in every corner. I lost a lot of front grip as well every time in the big braking zones.
"I was bottoming out a lot, and that was unloading the front tyres so I couldn't really hit the brakes like I wanted to – I basically had to do like a really gentle approach, otherwise the car would go down too much, and that doesn't work on a street circuit, so it was really, really difficult."
AS IT HAPPENED: Follow all the action from qualifying for the Singapore Grand Prix
With Verstappen set to start P11 – the stewards having investigated three incidents of impeding relating to the Dutchman, and handing Verstappen a pair of reprimands, along with a €5,000 fine for Red Bull – Verstappen was then asked what sort of progress he felt he could make in the race, as he looks to take a record-extending 11th Grand Prix victory.
"I don't think we'll be able to do much," he replied. "Around here, it will most likely be a one-stop [race] if nothing crazy happens. Passing, you need to be a lot faster and I don't think we are. So, a very shocking experience."
Meanwhile, Perez explained his Q2 spin, while echoing his team mate's pessimism over Red Bull's race day prospects, as the team aim to maintain their streak of claiming every race win in 2023.
"In my final attempt, I had a massive under-delivery from the engine," said Perez, who's slated to start P13. "Big lag, then it came back, which meant I locked [the wheels and spun] and couldn't have a final attempt on that last lap.
MUST-SEE: Stroll walks away from huge Q1 crash in Singapore
"Yesterday the [race] pace looked really good, but I don't expect great things to be honest," he added on his Sunday prospects. "Given where we're starting, it's going to be pretty difficult to make progress from there."
Red Bull now face the real danger of having their magnificent unbeaten season ended, Verstappen still without a Singapore Grand Prix victory to his name while Perez won here 12 months ago.