Report
Verstappen claims dominant Monaco victory over Sainz and Norris, after polesitter Leclerc fails to take start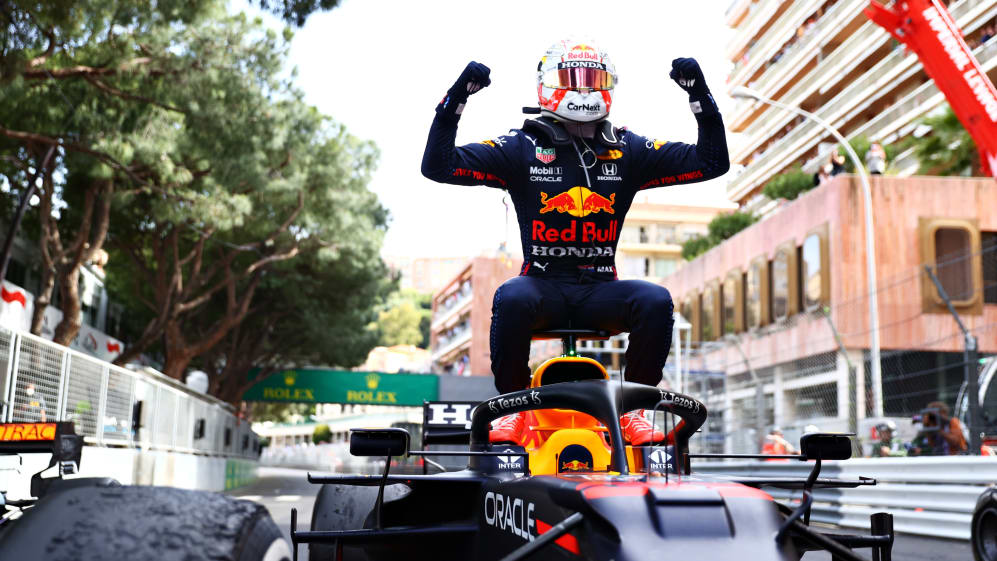 Red Bull's Max Verstappen breezed to his maiden Monaco Grand Prix win over the Ferrari of Carlos Sainz and McLaren's Lando Norris, with Ferrari polesitter and home hero Charles Leclerc failing to take the start after suffering a pre-race driveshaft issue – Verstappen also claiming the lead of the drivers' championship for the first time in his career after Lewis Hamilton finished a disappointed P7.
Starting effectively from pole after Leclerc's cruel side-lining, Verstappen out-muscled Mercedes' Valtteri Bottas off the line to take a lead that he would only briefly relinquish in the pit stops, Verstappen claiming his second win of the season, and his first ever podium in Monaco.
READ MORE: 'It's a difficult one to take' – Leclerc 'hurting' after technical issue prevents him taking Monaco start
In an off-day for world champions Mercedes, a disgruntled Hamilton could do no better than seventh (the same position he started) to lose his lead of the championship to Verstappen – who now heads Hamilton 105 points to 101 – while Bottas had even worse luck, after a stuck right-front tyre in his pit stop forced him into retirement.
That left former McLaren team mates Sainz and Norris P2 and P3, Sainz now at Ferrari salvaging the day for the Scuderia to take his first podium in red, while some brilliant strategy from Red Bull allowed Sergio Perez to overcut his way from P8 to P4 in the pit stops.
FORMULA 1 GRAND PRIX DE MONACO 2021
Monaco
2021
Race results
POSITION
TIME
POINTS

1

Max

Verstappen VER

Red Bull Racing

1:38:56.820

25

2

Carlos

Sainz SAI

Ferrari

+8.968s

18

3

Lando

Norris NOR

McLaren

+19.427s

15

4

Sergio

Perez PER

Red Bull Racing

+20.490s

12

5

Sebastian

Vettel VET

Aston Martin

+52.591s

10
Aston Martin's Sebastian Vettel did similar to take P5, for by far his and his team's best finish of the year – Vettel maintaining his record of never being classified lower than P5 in a race he's finished in Monaco – while AlphaTauri's Pierre Gasly was able to hold off Hamilton's Mercedes to claim P6, Hamilton salvaging a bonus point for fastest lap after a late second stop.
WATCH: Heartbreak for polesitter Leclerc as he is ruled out of the Monaco GP before the start
Starting on hard tyres from P13 paid dividends for Lance Stroll, who made a 58-lap stint work to claim P8 and add to Aston Martin's joy in Monte Carlo. He finished ahead of the Alpine of Esteban Ocon, while Alfa Romeo's Antonio Giovinazzi took Alfa Romeo's first point of the season after claiming 10th.
For Verstappen, though, Leclerc's DNS in Monaco provided him with a golden opportunity – and the Dutchman didn't falter, defiantly hitting back in the title fight against Hamilton, and adding a Monaco Grand Prix win to his CV for good measure.
AS IT HAPPENED
The drama in Monaco began even before the race start as polesitter Charles Leclerc – given a clean bill of gearbox health by Ferrari on Sunday morning after his crash in Q3 yesterday – suffered an issue with his left-hand driveshaft on his laps to the grid. Ferrari's Sporting Director Laurent Mekies duly radioed to FIA Race Director Michael Masi half an hour before the Grand Prix was due to get under way to say that Leclerc would not be starting the race – Leclerc's hometown curse appearing to strike again.
That meant Max Verstappen lined up at the head of the field in front of a broken-hearted partisan crowd, with Valtteri Bottas bumped up to P2, while Ferrari's sole hopes of a result rested on Carlos Sainz, now in third.
As the lights went out, Verstappen's rear wheels slewed off the line as he unleashed his Honda power unit's torque – but the Dutchman got going enough to move aggressively over on Bottas, using the threat of Armco to arrest the Finn's progress and maintain his advantage, the order staying the same as Bottas led Sainz, McLaren's Lando Norris, AlphaTauri's Pierre Gasly and the Mercedes of Lewis Hamilton through Sainte Devote.
READ MORE: All the reaction to Verstappen's victory in Monaco
Behind, it was one of the more polite Monaco starts in recent memory, the best action on Lap 1 being an adventurous dive by Mick Schumacher on his Haas team mate Nikita Mazepin at the hairpin to move up to P18 – Schumacher seeking to make up for missing Saturday's qualifying, while Mazepin was fair in the fight. George Russell, meanwhile, got squeezed into Sainte Devote and was forced to dive across the run-off, costing him a position to Alpine's Fernando Alonso, who jumped from a net 16th to 14th.
Ricciardo, meanwhile, was passed by Lance Stroll and Kimi Raikkonen, falling to 13th as the Australian's tricky weekend continued.
With the field lapping in formation in the early part of the race, Verstappen was able to set the pace, and by Lap 25 of 78 had built up a cushion of over four seconds over Bottas – who was starting to complain that it felt like he was driving in the wet on his worn softs. That was preventing him from shaking off the Ferrari of Sainz, who'd pulled his own five-second gap over former McLaren team mate Norris – although Norris may have been slowed by a threatening black and white flag, shown for two transgressions at the chicane…
Now all eyes were trained on the pit crews, and which of the frontrunners would roll the dice on strategy. Despite attesting that his tyres were still up to scratch, Hamilton was the first driver to pit on Lap 29 for hards.
Norris, Gasly and Bottas were the next in a lap later – but there was disaster for Bottas, as his right-front refused to come off the car, to the extent that Mercedes had no choice but to retire him from his net P2, confirming later that the wheel gun had machined the nut onto the car's axle, in a cruel turn for the Finn.
WATCH: Bottas forced to retire from second place after pit stop disaster in Monaco
Mercedes' chagrin was then completed by Hamilton being overcut by Gasly, Vettel and Sergio Perez in the stops – the wily Vettel jumping two places in front of both Gasly and Hamilton, while Perez did even better, moving up from eighth to fourth in a brilliant piece of strategy from Red Bull. "How did this happen?" Hamilton berated Mercedes on the team radio – and you could understand his pain.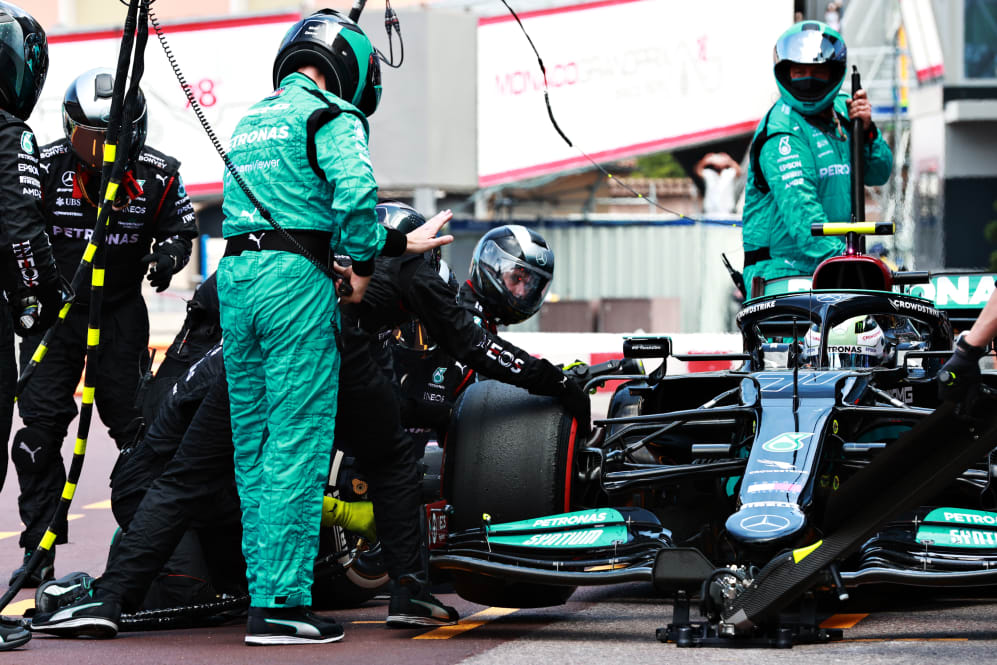 Verstappen and Sainz, meanwhile, enjoyed problem-free stops to retain their net lead and P2 respectively, with Bottas now out of the picture.
That meant that by Lap 40 of 78, it was Verstappen from Sainz, Norris, Perez, Vettel, Gasly and Hamilton, with Lance Stroll and Kimi Raikkonen P8 and P9 but yet to stop.
Ten laps to go and with leader Verstappen managing the gap to Sainz, the action was focused on the charging Perez, who had his eyes on the Norris' P3, Norris telling his McLaren team that his MCL35M felt undriveable on his hard tyres – although not so undriveable that he couldn't lap team mate and 2018 Monaco winner Daniel Ricciardo on Lap 52, in a moment of pathos for the Australian.
WATCH: Norris waves as he laps McLaren team mate Ricciardo
Perez tried, bringing the gap down to just 1.5s as Norris ordered radio silence. Ultimately, though, Norris' pace settled down enough to allow him to rebuild the gap and hold off the Mexican. Sainz, meanwhile, had been encouraged by his Ferrari team on Lap 55 to get after Verstappen, Sainz acquiescing with a slightly unconvinced "who knows?"
Verstappen, though, wouldn't be headed, stretching the gap over Sainz to 9s by the time he swished over the line at the end of Lap 78 to claim his first ever Monaco win – make that first ever Monaco podium – and swing the momentum in the title fight decisively back in his favour.
That was because Hamilton could only take seventh – stopping on Lap 67 to take on used softs and claim the fastest lap bonus point, a small consolation ahead of what will doubtless be a big debrief at Mercedes after a nightmarish day in the Principality.
Behind, Sainz did the job he had to for Ferrari, claiming his first podium since the 2020 Italian Grand Prix, and his first ever in red – Sainz sportingly congratulated in parc ferme by team mate Leclerc – as he was joined on the podium by his emotional former McLaren team mate Norris, who moved back up to P3 in the drivers' standings thanks to his second podium of the year coupled to Bottas' misfortunes.
Starting ninth had been sub-optimal for Perez, but his efforts to overcut the pack gifted him fourth, while Sebastian Vettel flashed the old magic to take fifth thanks to that Aston Martin strategy, ahead of Gasly and Hamilton. Stroll's 58-lap run on hards at the start of the race was good enough to lift him to eighth at the flag ahead of Esteban Ocon, with Giovinazzi converting Alfa Romeos' first Q3 of the year on Saturday into their first point of the year on Sunday.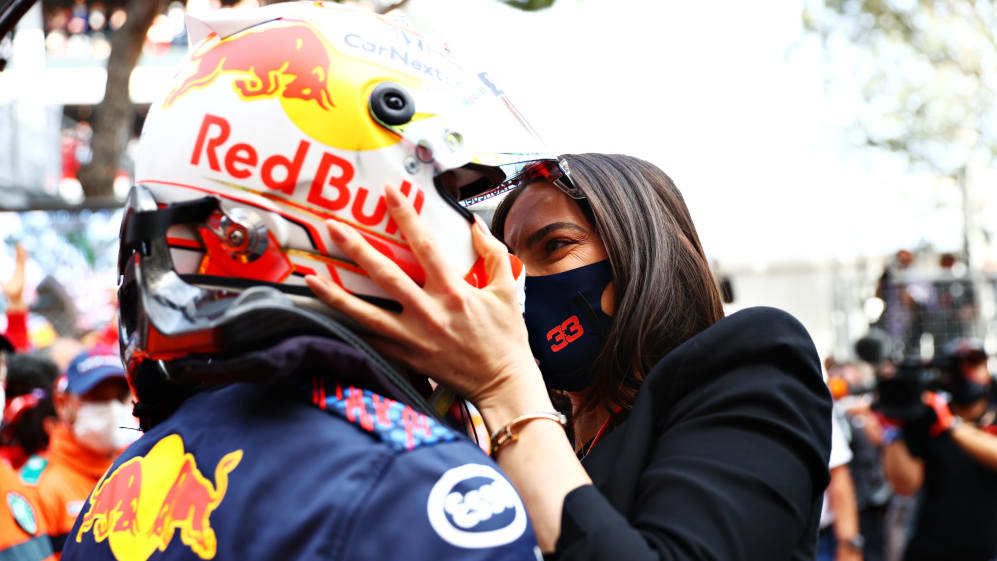 Outside the top 10 came a trio of former Monaco winners, Kimi Raikkonen 11th, ahead of Ricciardo and Fernando Alonso, with the two Williams of George Russell and Nicholas Latifi 14th and 15th on the team's 750th Grand Prix.
Yuki Tsunoda, on his first ever visit to Monaco in any category, took P16 – narrowly avoiding smashing into Latifi at Rascasse at the tail-end of the race after outbraking himself – while Mazepin was able to make it back past Schumacher to claim P17, his joint-best finish of the year.
So, an unusual podium in Monaco, with Mercedes notable by their absence. Spare a thought for Leclerc, who was so unfortunately robbed of a chance to take a memorable home win. But take nothing away from Max Verstappen, who did everything asked of him to claim his 12th career victory, and wrestle the lead of the championship away from Hamilton.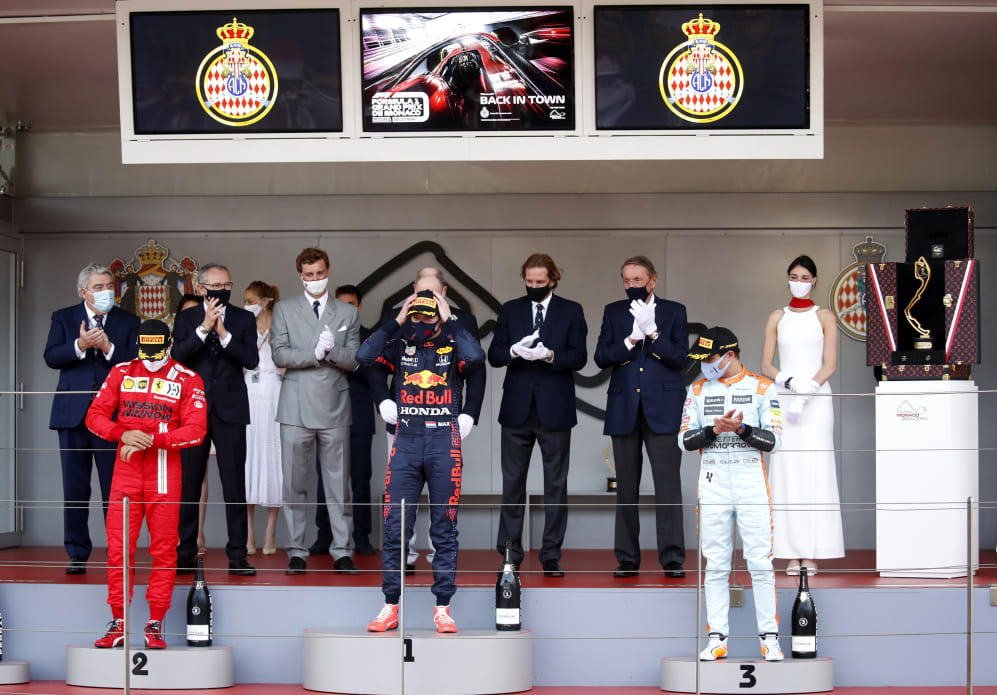 The key quotes
"It's of course so special around here to win and also for me the first time on the podium here, so an amazing race.
"You never know what's going to happen but it was all about looking after your tyres and finding a good stop gap. Of course, the others went earlier so that made it a bit easier for me. I was pretty much in control.
"You always want to win this Grand Prix. I remember when I was very little already watching this Grand Prix. Standing here I'm very proud but I'm also thinking ahead it's still a very long season. Of course, it's a great way to continue" – Max Verstappen, Red Bull
What's next?
It's from one city circuit to another, as F1 heads to Baku for the 2021 Azerbaijan Grand Prix. Mercedes' Valtteri Bottas took pole and the win back in 2019 when F1 last raced here – but who will triumph in 2021? Find out on June 4-6.