Verstappen explains why he lost out to Bottas at the start of the Sprint – and gives his take on €50,000 fine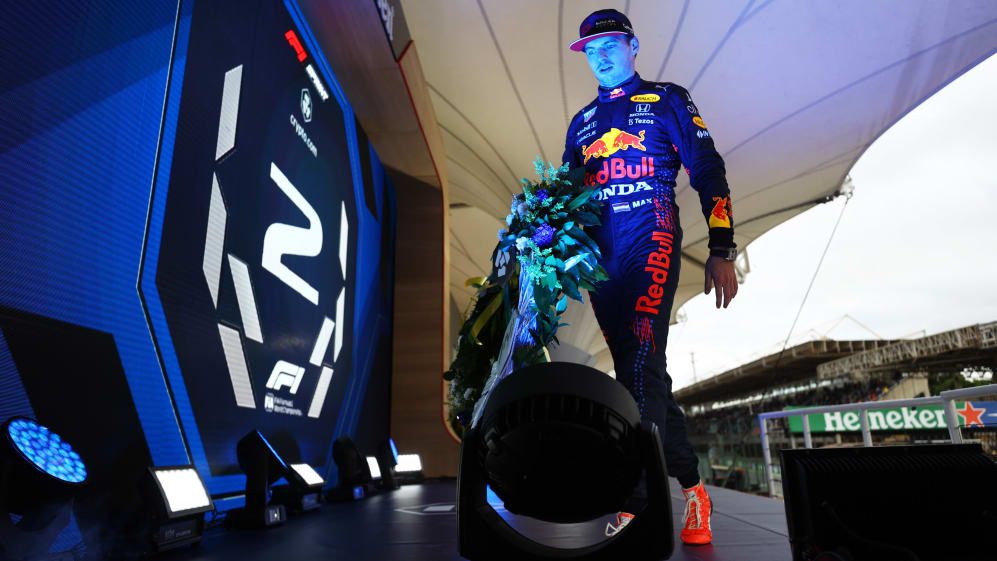 A slower start than Valtteri Bottas saw Max Verstappen lose his F1 Sprint lead to the Mercedes driver going into Turn 1. The Red Bull driver explained why he lost out – and also addressed the €50,000 penalty he received earlier on Saturday…
Verstappen started P1 for the Sprint on medium tyres after Lewis Hamilton was disqualified from qualifying with a DRS infringement on his Mercedes. That meant Bottas shared the front row on Saturday evening and the Finn enjoyed a searing start on soft tyres while Verstappen briefly fell to third having run wide on Lap 1. But he retook P2 off Ferrari's Carlos Sainz to ensure a front-row start for Sunday's Grand Prix.
READ MORE: Bottas wins F1 Sprint to claim pole for Sao Paulo GP as Hamilton fights back from last to P5
The championship leader explained why he had a slower start than Bottas as he recalled: "We started on the medium tyre, also I think the track [temperature] dropped a bit more than we would have liked, and then besides that I somehow lost all the gear sync so my start was already not as amazing on these tyres. But when we upshifted, we had a terrible shift. All in all, that didn't work out for me.
"Then, of course, I dropped to third on the first lap but after that I think the pace was fine but you can't overtake around here; the tyres very quickly overheat and then you're stuck. Especially when the cars are closely matched on pace, there's not much you can do in the Sprint without a pitstop so I just sat behind, basically."
Asked whether he had a chance of passing Bottas late in the race when the soft tyres began to degrade, Verstappen said there was little in the way of opportunity as he finished 1.1s behind as runner-up.
"Not really," replied the Dutchman. "When you are behind, [and you] you follow your tyres are even warmer because you're trying to get closer to get the DRS. It didn't really look like it was a concern for Valtteri in terms of how close I was."
Not only did Hamilton get disqualified from qualifying but Verstappen had a €50,000 fine to pay, as FIA stewards looked dimly upon his thorough inspection of the Mercedes' rear wing in Parc Ferme on Friday evening.
"It's quite a big fine," he said, "so I hope they have a nice dinner and a lot of wine. I hope good, expensive wine, that would be nice. They can invite me for dinner as well – I'll pay for that dinner too.
"I do have to pay, so that is a bit less FIFA points for me, then, on my laptop," he quipped.
Verstappen enters the Sao Paulo Grand Prix with a 21-point drivers' championship buffer over Hamilton, who starts the race from 10th.