Report
Bottas wins F1 Sprint to claim pole for Sao Paulo GP as Hamilton fights back from last to P5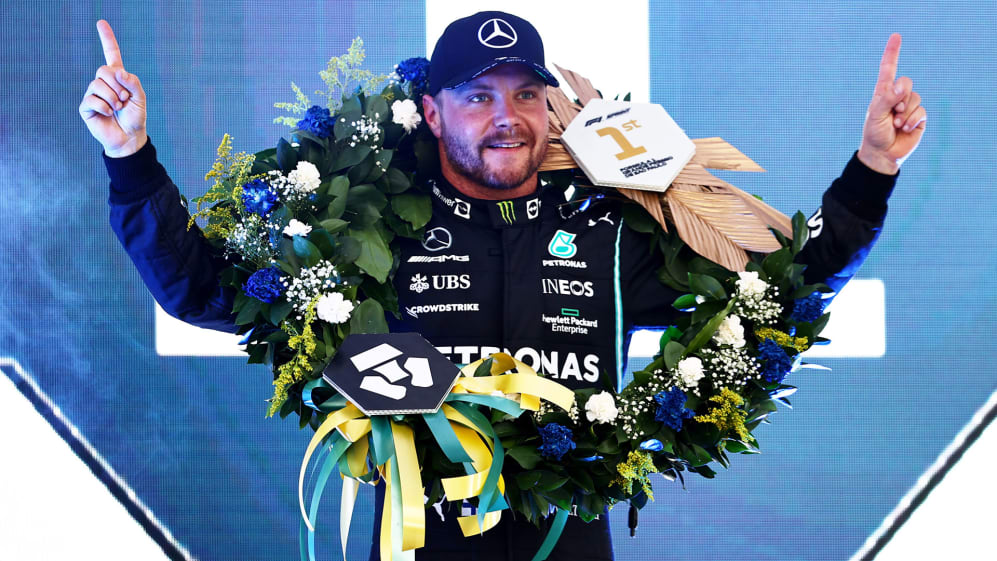 Valtteri Bottas won the Sprint in Brazil to take pole position for the Sao Paulo Grand Prix ahead of Max Verstappen and Carlos Sainz, as Lewis Hamilton recovered from last place to fifth with a scintillating drive.
Bottas, starting on soft tyres from P2, began with a huge launch off the line to pry the lead off medium-shod Verstappen, who went wide in the opening lap but rescued P2 by re-passing Sainz soon afterwards. As those soft tyres began to drop off, Verstappen closed in on Bottas but ended up 1.1s off the Finn for P2 at the flag. Sainz, meanwhile, held off Sergio Perez for the final point by a second.
There was plenty of drama well before the Sao Paulo Sprint with Verstappen €50,000 out of pocket for touching and examining Hamilton's wing in Parc Ferme – while the defending champion was disqualified from qualifying, relegating him from P1 the back of the grid. Mercedes later tweeted that they would not be appealing the decision, adding: "We want to win these World Championships on the race track."
READ MORE: Hamilton disqualified from Brazil qualifying after DRS infringement
And so attention turned from the stewards' office to the track on Saturday evening: 24 laps of Interlagos, with three world championship points on the line for the winner. Verstappen would lead the field, Valtteri Bottas starting from second, Sergio Perez third on medium tyres and Hamilton 20th and last on mediums for the final Sprint of 2021.
The lights went out and it was Bottas who had the advantage on his used soft tyres, Sainz storming from fifth to second on his used softs to push Verstappen out wide on Lap 1. The Dutchman – ruing a gear issue off the line – rejoined in third ahead of Perez. Further back, Hamilton had made it from last to 16th by the end of Lap 1 – taking P14 as Lap 2 began.
Would the soft tyres hang on for the next 22 laps? Bottas, with a then-two-second lead, prayed that was the case; Verstappen hoped otherwise, passing Sainz for P2 at the end of Lap 3 as Hamilton swept past Tsunoda in a similar DRS-assisted fashion for P13, taking P12 off Antonio Giovinazzi soon after. The seven-time champion was clearly on a mission, and that new Mercedes engine was certainly up to the task.
The caveat is that a five-place penalty awaits him for the Grand Prix on Sunday.
READ MORE: 'It's not over yet' vows fired-up Hamilton after storming drive from last to P5 in Brazil Sprint
FORMULA 1 HEINEKEN GRANDE PRÊMIO DE SÃO PAULO 2021
Brazil
2021
Sprint results
POSITION
TIME
POINTS

1

Valtteri

Bottas BOT

Mercedes

29:09.559

3

2

Max

Verstappen VER

Red Bull Racing

+1.170s

2

3

Carlos

Sainz SAI

Ferrari

+18.723s

1

4

Sergio

Perez PER

Red Bull Racing

+19.787s

0

5

Lewis

Hamilton HAM

Mercedes

+20.872s

0
Hamilton's scythe through the pack continued as he went wheel-to-wheel with Alpine's Fernando Alonso for P11 from Laps 6 to Lap 8 when he finally passed the two-time champion down the main straight, but Daniel Ricciardo proved a tougher obstacle.
It was on Lap 13 that he pried P10 off that McLaren on the straight, Sebastian Vettel's Aston Martin falling into his clutches in a carbon-copy-move on Lap 15. Esteban Ocon was next a lap later, then Pierre Gasly, as Hamilton was up in P7 behind Ferrari's Charles Leclerc, who was picked off into Turn 4 for P6 with four laps remaining. And on the final lap, Hamilton secured P5 off Lando Norris braking late into Turn 1 to cap off an unforgettable display. "It's not over yet," he said over the radio on the cool down lap.
READ MORE: Verstappen explains why he lost out to Bottas at the start of the Sprint – and gives his take on €50,000 fine
A little further up front, Sainz took the final point in P3 having withstood unrelenting pressure from Perez, who could not pass the Ferrari despite getting within a car's length into Turn 1 a couple of times, and the Mexican therefore starts fourth on Sunday.
Ferrari's Leclerc was up to P5 at the start but lost the place to McLaren's Norris, who passed him in a stunning battle through the esses that culminated tn the straight up to Turn 4 on Lap 9. Leclerc finished seventh at the end, Norris sixth.
Pierre Gasly started fourth but fell to seventh on his brand-new medium compounds at the start, losing another place to Hamilton for P8 overall.
Esteban Ocon finished ninth for Alpine having made it to eighth from 10th on Lap 1 with his new soft tyres, while Sebastian Vettel rounded out the Top 10. He kept McLaren's Ricciardo behind in P11 while Fernando Alonso fell from P9 to P12.
READ MORE: Bottas reveals late tyre call was key to F1 Sprint win in Brazil
Alfa Romeo's Kimi Raikkonen started on a new set of softs but lost his advantage, spinning after contact with fellow soft-shod team mate Antonio Giovinazzi, who finished 13th, at Turn 1 on Lap 2. The Finn soon passed Haas's Nikita Mazepin (P20) for 19th then the other Haas of Mick Schumacher (P19) as he settled for 18th.
Lance Stroll finished 14th from 15th for Aston Martin, while AlphaTauri's Tsunoda couldn't make use of his new soft compounds and fell three places in the Sprint.
Behind Tsunoda were the Williams, Nicholas Latifi ahead of George Russell as the Canadian outqualified his team mate for the first time on Friday.
The key quote
"I think today the start was the key thing for me, to have a good start and we gambled a little bit with the soft tyre; we knew that it would be a benefit for the start, and it worked. And then it was all about trying to survive until the end. It was quite tricky at the end, but Max still struggled to follow in some of the corners, so I'm glad it worked out perfectly." – Valtteri Bottas, Mercedes
The key moments
Bottas's brilliant start off the line that saw Verstappen lose his lead. Of course, the Dutchman did a stellar job in keeping his cool and rescuing P2 in the Sprint after running wide on Lap 1 and dropping behind Carlos Sainz.
And then there was the masterclass that Hamilton put on to finish fifth from 20th in the Sprint, every pass pitch-perfect as he gave himself a fighting chance in this epic championship fight.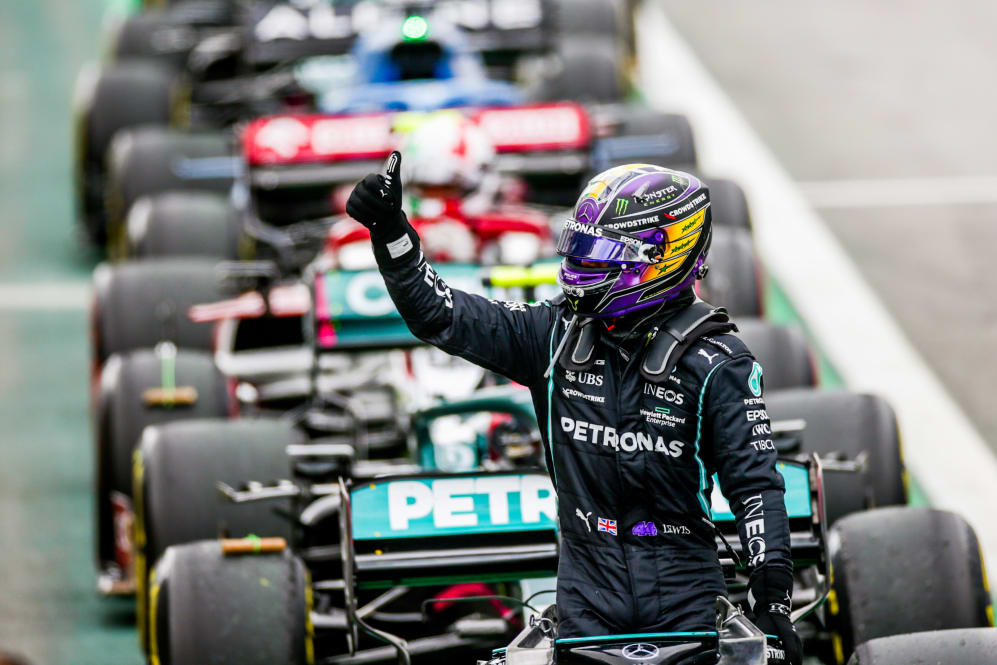 Biggest movers
Hamilton pulled off 15 on-track passes to surge from 20th to fifth and was the biggest mover in the Sprint while Sainz made up two places to finish third.
On the other hand, Raikkonen fell to P18 from P13, Gasly lost four places overall to finish eighth, Ricciardo dropped three places from eighth to 11th, Alonso finished P12 having started ninth, and Tsunoda finished 15th from 12th.
What's next?
With that brilliant start, Bottas secured pole position for the Sao Paulo Grand Prix ahead of Verstappen, while Hamilton will start 10th having finished fifth – thanks to his grid penalty – in the Sprint. The Grand Prix kicks off 1400 local time on Sunday.
Verstappen has a 21-point lead over Hamilton in the standings while Mercedes hang on to their constructors' championship lead after the Sprint result, which is now just two points.