Verstappen hails 'incredible' victory at Silverstone, saying 'I didn't see it coming!'
Max Verstappen broke a streak of four Mercedes wins this season at Formula 1's 70th Anniversary Grand Prix in a race that defied expectation – not just for fans watching at home but the Red Bull driver himself.
Starting on hard tyres, Verstappen was on an opposite strategy to the medium-shod Mercedes of Lewis Hamilton and polesitter Valtteri Bottas, who had locked out the front row.
READ MORE: Max Verstappen defeats Mercedes duo to seal brilliant Silverstone win
On Saturday, the Dutchman had said his hopes of taking advantage of that tyre difference rested on him making a good getaway, and that's just what he did as he picked off Racing Point's Nico Hulkenberg for third through Turn 1.
From there he pressured the Mercedes duo heavily in the first stint of the race – even being told to hold off by his engineer Gianpiero Lambiase, before replying on the radio: "Mate, this is the only chance of being close to a Mercedes, I'm not just sitting around like a grandma!"
That pressure ultimately paid off, as the Mercedes duo blistered their tyres badly trying to keep a high pace, allowing Verstappen - his tyres holding up well - to take advantage and seal Red Bull's first Silverstone win since 2012.
"I didn't see it coming!" said an excited Verstappen afterwards. "But after the first stint, it seemed like we were really good on tyres. Of course, then there was a question mark: 'How are Mercedes going to go on that hard tyre?'
"But we had a lot of pace in the car, I didn't really have a lot of tyre issues, we just kept pushing. An incredible result to win here, we had a great day, everything worked out well, we had the right strategy, everything was running smooth and I'm incredibly happy to win," he said.
The hard tyres that Verstappen started on allowed him to pit on Lap 26 – from the lead – after Bottas swapped to hards on Lap 13 and Hamilton on Lap 14 of 52. But rather than attempt a one-stopper, as many had speculated, Verstappen instead ran a flat-out eight-lap middle stint on the medium rubber.
HIGHLIGHTS: Watch the key moments from Verstappen's brilliant surprise win at Silverstone
"So basically we're just going to fully send it?" asked Verstappen over the radio - and that's just what he did.
On Lap 26, the Red Bull man emerged from the pits on the faster, fresher, medium tyre just behind Bottas before taking the lead with a fantastic move at Luffield. From there he was never threatened, pitting with Bottas on Lap 32 and then taking the lead back from Hamilton when the championship-leader made a late final stop on Lap 41.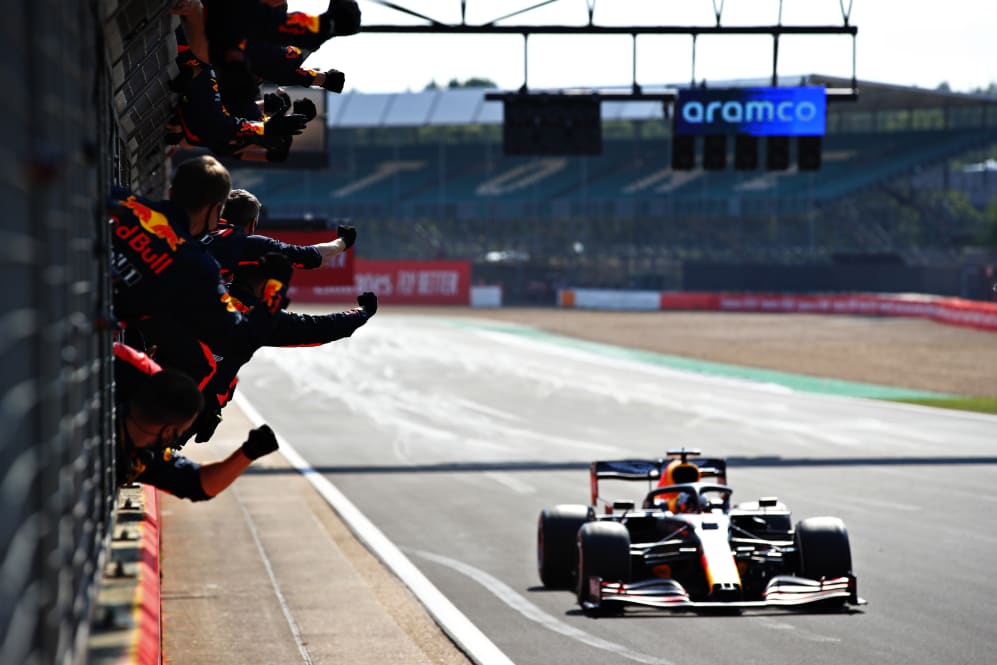 It means that Verstappen has now taken three of his nine career F1 victories from P4 on the grid – perhaps a testament to Red Bull's excellent strategy and his own determination, which were evident this Sunday afternoon.
With the Spanish Grand Prix at Barcelona coming up next weekend, will Verstappen be able to repeat this feat and win a second race of the season?
"Let's just enjoy today and see again in Barcelona where we are," he concluded, eager to celebrate his first-ever Grand Prix victory at Silverstone.
DRIVER OF THE DAY: Unexpected Verstappen victory a fan favourite
The Dutchman is now second in the drivers' championship, 30 points behind Hamilton.