Verstappen hopes Alonso can join the F1 title fight as he says race wins are 'definitely on the table' for Aston Martin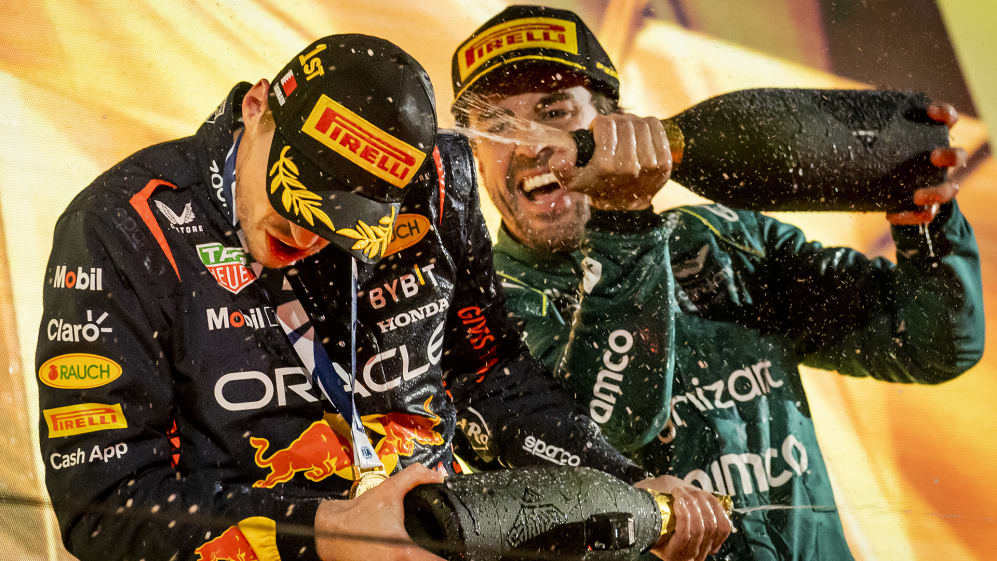 Max Verstappen has welcomed a potential championship challenge from Fernando Alonso and Aston Martin in 2023 after their impressive display at the season opening Bahrain Grand Prix.
Alonso built on his and the team's encouraging pre-season performance to secure fifth on the grid in Sakhir – behind only the Red Bull and Ferrari machines – before rising to the podium on race day via some spectacular overtakes.
READ MORE: Alonso says Bahrain podium 'a perfect start' to Aston Martin project as he recounts breathtaking moves on Hamilton and Sainz
While Red Bull cruised to a comfortable one-two result, Verstappen described the Aston Martin AMR23 as "a really strong package" and has not ruled out the Spaniard being involved in this year's title fight.
Asked if he thinks Alonso could be a contender after Sunday's race, Verstappen said: "I hope so, for Fernando as well. He has had a few years where there was not really a possibility to fight at the front, so I'm happy to see him sitting here already in race one.
"I think I mentioned it before but at Aston Martin I think they really have the spirit and drive. They want to win and they've hired a lot of good people, so I guess it can only get better for them.
"I think for this year, it's difficult to say if they are going to challenge for the championship, but race wins are definitely on the table. I've been in the same position where in some races I'm finishing 20 to 40 seconds behind the winners and you still win two or three races a year.
"Sometimes there are some tracks which really suit your car and everything just comes together, and you can win a race, with maybe sometimes a bit of help or luck."
STRATEGY UNPACKED: How Alonso and Aston Martin charged their way to the podium in Bahrain
Sitting alongside his team mate in the post-race press conference, Sergio Perez agreed that Alonso and Aston Martin appear to be a genuine threat for the campaign ahead.
"I'm first of all very happy to see Aston and Fernando up here. I think it's been a tremendous effort, and it's great to see Fernando in his first race for the team on the podium," he said.
"I think they certainly have a very good car, they will be a contender, for sure, in a few tracks. You know that these seasons in F1 are extremely long, so anything can happen."