Verstappen names team who will be biggest threat to Red Bull in 2023 as he targets third title
This season Max Verstappen aims to become only the fifth driver in Formula 1 history to win three drivers' championship on the bounce, while Red Bull look to become the sixth team to claim six constructors' title – but can they do it? The Dutchman weighed up his team's chances at the launch of the Red Bull RB19 in New York.
Not only did Red Bull unveil the livery of their brand-new F1 contender on Friday in Manhattan, but the reigning champions revealed that Ford would be coming on board as engine partners in 2026 – before Verstappen, his team mate Sergio Perez, reserve driver Daniel Ricciardo and Team Principal Christian Horner addressed fans and the media.
FIRST LOOK: Red Bull reveal 2023 RB19 during spectacular New York launch event
The 25-year-old two-time champion said he wasn't thinking about a third title just yet.
"We work hard as a team to try and make sure that we have a chance to fight for it again but only time will tell, right? I'm not even thinking about these things at the moment – because it's more important to focus on just having a competitive car, and if we have a competitive car these things can happen.
"But it's more important to make sure the car is running well, has no issues, and is quick at the end of the day."
Verstappen added that he hasn't seen the form of the actual RB19 that will take to the track in testing and in the opening race in Bahrain, with the car shown off in New York a temporary 'launch' version designed mainly to show off the livery.
"To be honest, I haven't seen it," he said. "I've only spoken about the performance upgrades in terms of lap time of the car – but I haven't seen any pictures or renders. I'm not interested in these kinds of things; I only want a fast car, and it doesn't matter how it looks like to me."
LISTEN: Ferrari fire up 2023 challenger at Maranello headquarters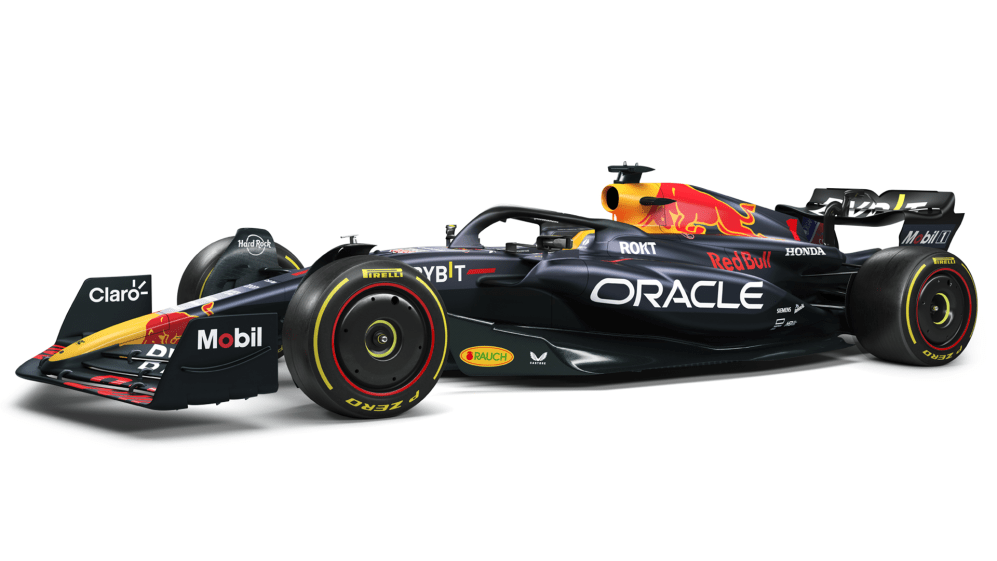 While the Dutchman took a record 15 wins and 454 points over the 2022 season, he was asked whether his main competition will come from Mercedes – who took just one win in 2022 but showed significant improvement over the season – or Ferrari, whose early form last year was then overshadowed by the dominant Red Bulls.
"I think even at the end of the year it looked like sometimes they [Mercedes] had it together, and sometimes not. So, from my side, it's difficult to say because I'm not part of the team, but I guess we'll find out this year. If they fully understand everything they wanted to improve on the car, of course, they will be our main rival," said Verstappen of the Silver Arrows.
WATCH: Red Bull launch their 2023 season with New York car reveal
"But I think Ferrari will be strong – but how strong is difficult to say. But Mercedes have shown of course over the last few years that they've been really, really, really strong, but they have a good group of people as well.
"But I trust in my people at Milton Keynes that they can build a very strong car together with an engine as well. I hope that we again have a strong package against them."