Verstappen says 'anything is possible' from front row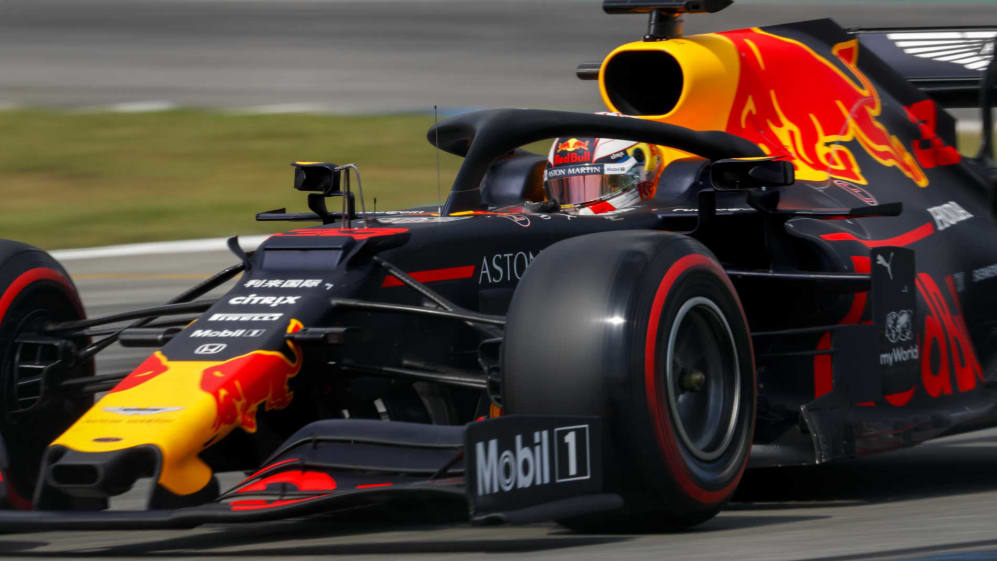 Max Verstappen had not expected to find himself on the front row in Hockenheim, but now he's there he believes a number of factors could give him a shot at victory on Sunday – among them Ferrari's qualifying slip-up, Red Bull's tyre strategy, and even the fickle German weather.
Ferrari had dominated throughout practice, but technical problems meant an early bath for Sebastian Vettel and Charles Leclerc, leaving Verstappen free to take the fight to Mercedes. He successfully split the silver cars, losing out on pole to Lewis Hamilton by three-tenths of a second.
"To be on the front row is good," said the Dutchman with a word of caution. "Of course you have to be realistic that Ferrari didn't really participate in Q3 – they would definitely have had a good shot at it as well. At least it's good to start second for tomorrow."
While conceding that Mercedes are likely to have the edge on race pace, Verstappen starting on the soft tyre – Hamilton and team mate Valtteri Bottas will be on the mediums at lights-out – could play to his advantage, as could the possibility of showers.
"We are on a different strategy, of course," he continued. "I still think even with the other tyres we can take the fight to them. Rain hopefully will come at some point in the race – I think it just makes it a little more interesting, you know anything can happen.
"I think we do [have a shot] against Mercedes. If Ferrari had been first they are a little bit harder to beat, also with their top speed, but we'll see how it goes tomorrow."
Verstappen will be looking out for a flying Leclerc in his mirrors on Sunday – the Ferrari driver starts 10th – but he does have the benefit of team mate Pierre Gasly riding shotgun, the Frenchman having recovered well from his Friday crash to qualify right behind him in fourth.
"It was good, especially after all the guys in the garage had quite a long night working flat out," he said. It is never nice to see them working as much on a Friday night, so happy to qualify on the second row and thanks to them."
Gasly's initial Q3 time had all but matched Verstappen's, but he had it disallowed for exceeding track limits. Fortunately his next-best effort was good enough to retain his P4 grid slot.
"I think things are coming together, which is good," he added. "It's not perfect and I feel there is margin to improve, so we need to keep pushing to find these last few hundredths and tenths."