Verstappen and Hamilton at odds over whether they made contact in crucial start of Imola race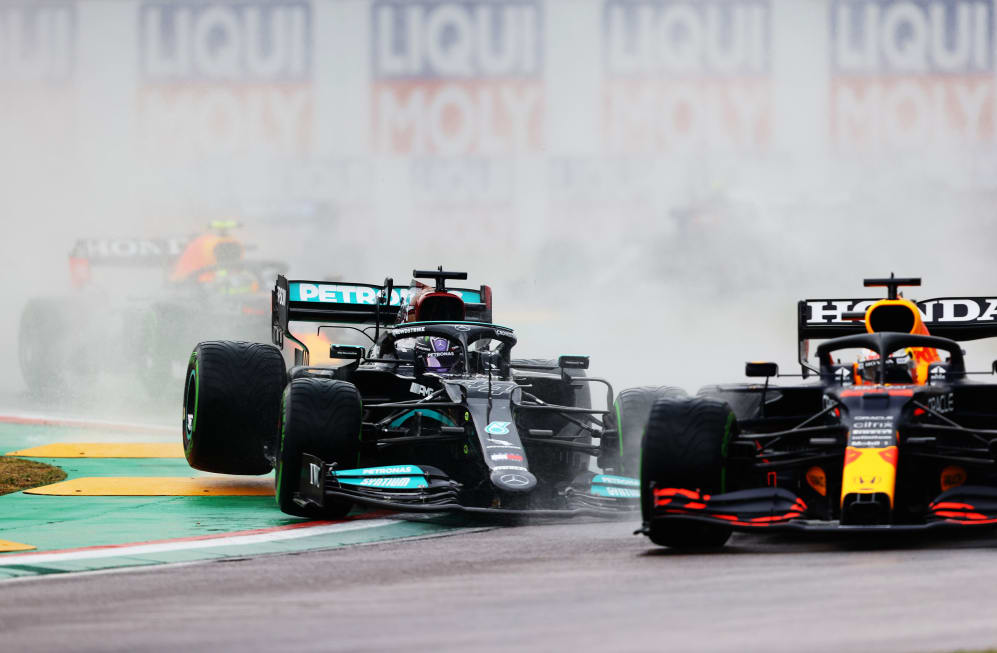 When Max Verstappen wrestled P1 off Lewis Hamilton at the start of the Emilia Romagna Grand Prix, did the pair make contact? Neither of the frontrunners could agree after the stunning contest at Imola…
Hamilton's pole position was undone by Verstappen almost instantly, as the Red Bull driver leapt off the line from third, going wheel-to-wheel with Hamilton through the first chicane and sending the Briton over the sausage kerbs, leaving the Mercedes with front wing damage in the process. But, when asked to recount the start after the race, the leaders had differing viewpoints.
READ MORE: Verstappen takes victory from Hamilton and Norris in action-packed Grand Prix at Imola
"I don't think we touched," said Verstappen after the race.
"We did, we did" replied Hamilton.
"We touched?" asked Verstappen, almost incredulous. "I need to see the video then."
Hamilton retorted: "My endplate got damaged, I don't know exactly…"
While Verstappen maintained: "I don't think we touched! I have to watch the video again."
"I didn't get a good start," Hamilton continued. "Max got a better start than me and I think I was slightly ahead going into Turn 2 but I was basically avoiding us coming together. Max was just coming… across, so we had that touch and I had to use the exit, take those big kerbs, but I'm grateful I just got through it and didn't damage much more than the endplate."
Regardless, it was Verstappen who won by a 22-second margin and the Dutchman - who cleverly started the race in slippery conditions in second gear to aid his launch - admitted that he didn't expect to enjoy such a rapid launch off the line as the lights went out.
READ MORE: Russell accuses Bottas of breaking 'gentleman's agreement' over crash, as Finn says Briton's move made no sense
"The key, I think, is to have that good launch, which was also a bit of a surprise to me," he said. "After last year where we always struggled in the wet, I think over the winter and beginning of the year we definitely made some improvements to that and today that was very good."
The Dutchman added that his team then made the right call at the right time to switch from intermediate tyres to medium tyres as the track dried. Verstappen pitted on Lap 27, which was one lap before Hamilton swapped for medium tyres. After that sequence of stops, Verstappen retained his lead over the pole-sitter.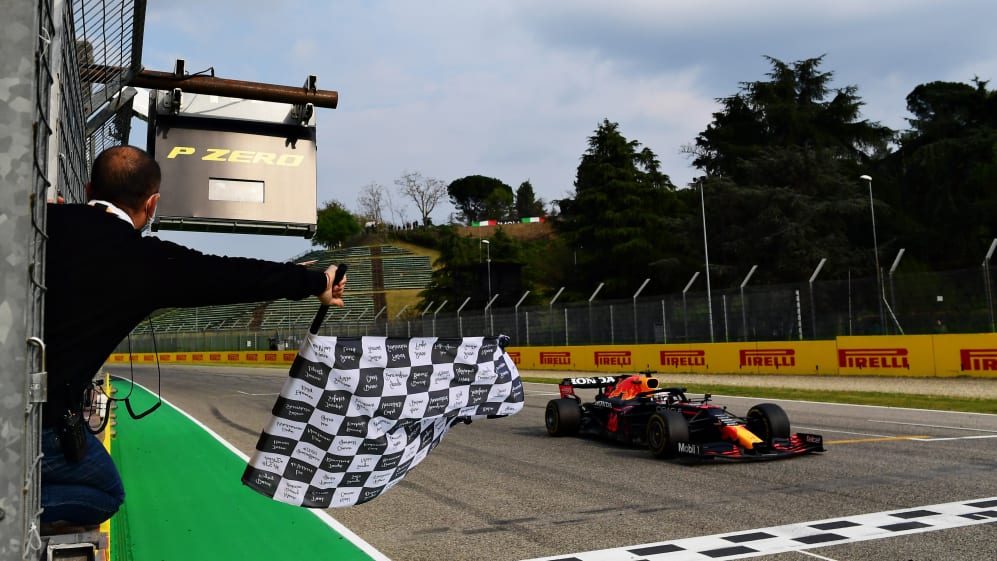 "To make the right call from inters to slicks was not easy because I saw a few guys ahead of me with slick tyres, but they were struggling a lot," explained Verstappen. "But even on the intermediates, they were finished, so to keep on going was difficult – a lot of sliding around – and if you went a few metres or centimetres off line you could lose the car.
"So, not easy out there, but once we put on the slicks it was all fine," he surmised.
Verstappen leaves Imola and prepares for the Portuguese Grand Prix, round three of the season, just one point behind Hamilton in the standings as the 2021 World Championship has begun with a bang.
READ MORE: Emilia Romagna GP Facts & Stats: Hamilton and Norris make it 700 British podiums