Verstappen to take 'Spec 4' Honda PU and start from the back of the grid at Monza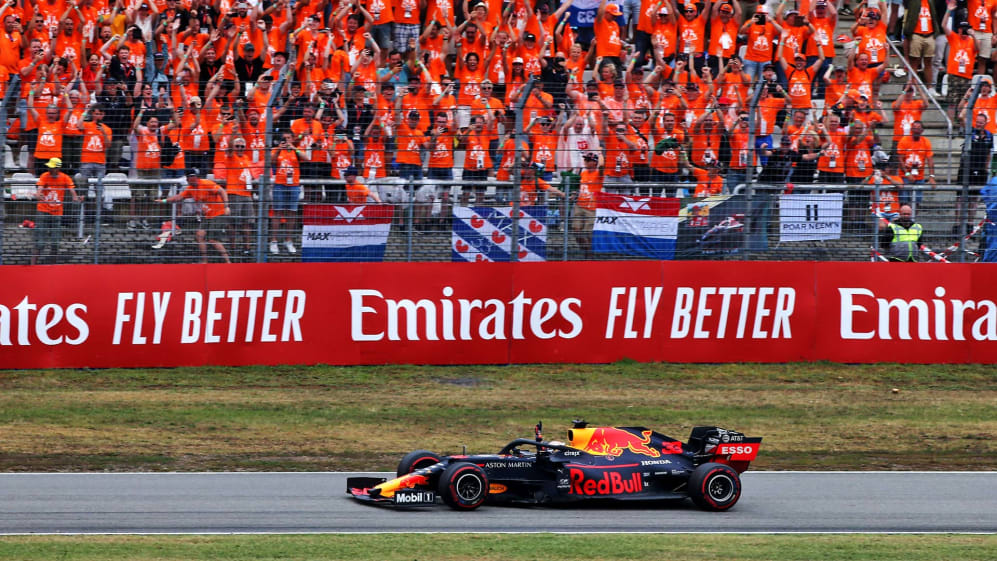 The sea of oranje at Monza will watch Max Verstappen climb his way from the back of the pack at the Italian circuit, with the Red Bull driver set to take the 'Spec 4' Honda power unit for the race. Pierre Gasly will do the same in his Toro Rosso, also taking grid penalties for the Italian Grand Prix.
It's the turn of Verstappen and Gasly to take the new Honda power units for Italy, after Red Bull's Alex Albon (who later reverted to an older spec unit for the race itself) and Toro Rosso's Daniil Kvyat had them in Belgium, explained Honda Technical Director Toyoharu Tanabe.
"From a PU point of view, the main development is that we plan to run the Spec 4 PU with all four drivers for the first time, after just Albon and Kvyat ran it in Belgium.
"For their first race with Spec 4, Gasly and Verstappen will therefore take grid penalties and start from the back of grid, but we believe they can still race strongly on Sunday. We gathered useful data in Spa, which we have used to make changes to PU settings and calibration in preparation for this race. We will try to maximise the potential of Spec 4 and hope to get another positive result, maintaining the momentum we gained in Spa."
Honda aren't the only ones to implement new power units for Italy, Ferrari, Renault and Mercedes also doing so. Alfa Romeo, Haas, Racing Point, Williams, McLaren were among the teams to take grid penalties at Spa-Francorchamps.
On his return to Toro Rosso for the Belgian Grand Prix, Gasly started 13th and finished ninth. He said: "My race might be quite exciting, as I will have grid penalties because of taking on the latest specification Honda PU, so I will be trying to fight my way up the order from the back of the grid.
"That means qualifying will be less important for me and, with my engineers, we can focus fully on the race itself, trying to make up places and using the power of the new engine."
Verstappen retired from the Belgian Grand Prix on the opening lap after colliding with Kimi Raikkonen, but he hopes to see the orange army out in force at Monza, a ciruit on which he hasn't had a better finish than fifth.
"Monza is super-fast which makes it great fun to drive but it can also be a challenge for us and like Spa, it isn't our strongest circuit on the calendar. For me, the best parts are the high-speed sections and to nail the last corner is not easy but when you do it feels really nice," he said.
So, just as in Belgium, expect the Italian Grand Prix grid to be muddled after penalties are applied at the Temple of Speed.