Verstappen's Silverstone crash power unit given the all-clear by Honda after Friday running in Hungary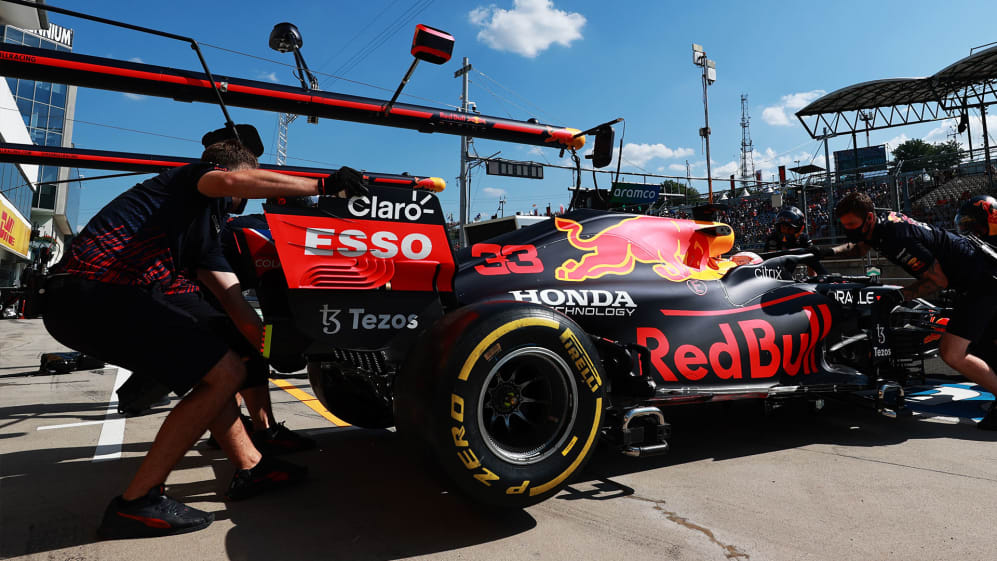 Red Bull could breathe a sigh of relief at the end of Friday practice for the Hungarian Grand Prix, after Max Verstappen's power unit – the same one that was powering the Dutchman's car during his 51G shunt with Lewis Hamilton at Silverstone – was given the all-clear by Honda.
Red Bull announced ahead of the Hungarian Grand Prix weekend that they would use Friday to assess the raceability of Verstappen's power unit – featuring his second internal combustion engine of the year, the same as Hamilton – after it was involved Verstappen's massive Silverstone crash, which Red Bull said had resulted in an estimated $1.8 million worth of damage.
But with Verstappen having gone fastest in Free Practice 1 at the Hungaroring, followed by P3 in FP2, Honda's F1 Technical Director Toyoharu Tanabe declared himself satisfied with his unit's performance.
READ MORE: Verstappen says Red Bull have 'a lot to look into' after ending Friday three-tenths off Mercedes
"It was good to see that Max is not suffering any ill effects from the Silverstone crash and we were able to check that the PU that he used in the British GP weekend is working as normal," said Tanabe, with Honda having also carried out an assessment on the power unit back at their Sakura factory in Japan.
"However, generally, there is still a lot of room for improvement and that's what we will be working on now," Tanabe went on. "Qualifying has been very close at most circuits this year and, as is always the case on a short track like the Hungaroring, the lap times will be even closer than usual, so we can expect a very tight battle for qualifying tomorrow."
As of Friday evening, Honda and Red Bull had not yet decided whether they would continue to use the engine for the remainder of the weekend, despite the all-clear.
But following internal discussions, Honda told F1.com that Verstappen will keep the Silverstone power unit in his RB16 for qualifying and the race.
READ MORE: Gasly relieved with strong Friday performance at Hungaroring after Silverstone struggles
It was a strong day Friday at the Hungaroring for both Honda-powered teams, meanwhile, with Pierre Gasly putting his AlphaTauri P5 and P6 in FP1 and FP2 – although team mate Yuki Tsunoda was limited to just one flying lap in FP2, following repairs to his car after crashing into the Turn 4 wall in Friday morning's session.