Red Bull estimate damage to Verstappen's car from Hamilton collision will cost them $1.8 million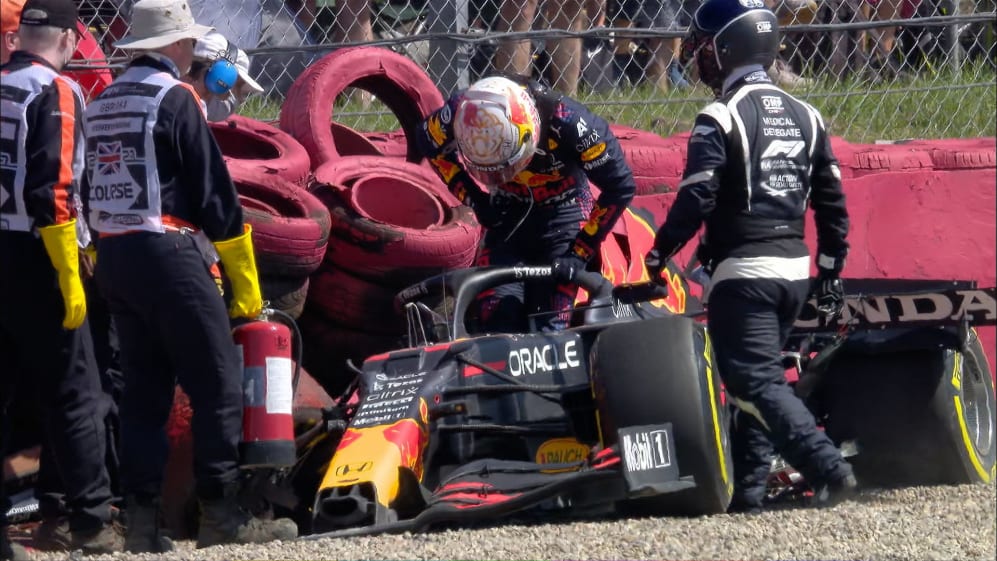 1.8 million dollars - that's the value of the damage to Max Verstappen's car following his controversial collision with Lewis Hamilton at the British Grand Prix, estimates Red Bull Team Principal Christian Horner.
The two title protagonists made contact at 180mph at Silverstone's Copse Corner, which sent Verstappen hurtling into the barriers with an impact of 51G and caused significant damage to his RB16B.
With a budget cap in place this year for the first time, currently set at $145 million annually, Horner says this damage bill will have "massive ramifications".
READ MORE: Allison reveals what Mercedes were so keen to show FIA stewards in aftermath of Hamilton-Verstappen crash
The top teams including Red Bull have faced a challenge to come down to the cap, having previously spent much more, and therefore such a big financial hit for damage could have an impact on their development plan for the remainder of the season.
After checks at a local hospital, Verstappen returned to his home in Monaco to rest. Horner said when he spoke to him on Monday morning, the championship leader said he "felt like he'd done a few rounds with Tyson Fury".
He added that he is confident Verstappen will put the incident behind him and focus on getting his championship fight back on track, after his lead was slashed to eight points, starting with the upcoming race in Hungary.
"Despite being battered and bruised, he will be more motivated on-track and the positives we can take from the weekend are that last year, we qualified a second off Mercedes," said Horner, who was speaking in a column on Red Bull's website.
"This year, we were within a tenth. We had a faster race car and we were able to beat them in the Sprint Race which shows that the team's monumental effort with the support of Honda, has allowed us to close the gap to the seven-time world champions and the pressure is on them.
"Hungary will be a different challenge for the car and the team and we will all be fully motivated to retain our championship lead. Max won't dwell on anything from Silverstone and wants to do his talking on-track. He is determined to put this incident behind him and use it as added motivation for the rest of the season, as are we."
READ MORE: David Tremayne on Hamilton and Verstappen – and when the gloves come off in F1 rivalries
Horner says he has not changed his mind regarding his belief Hamilton's 10-second penalty was lenient with the seven-time world champion going on to win the race, and says Red Bull are considering their next steps, which includes potentially requesting a review of the sanction.
"It is no secret that we felt at the time, and still feel, that Hamilton was given a light penalty for this type of incident," he said. "Given the severity of the incident and the lenient penalty, we are reviewing all data and have the right to request a review. We are therefore still looking at the evidence and considering all of our sporting options."