'Very little' chance of Red Bull avoiding engine penalties after 'brutal' run of crashes, says Horner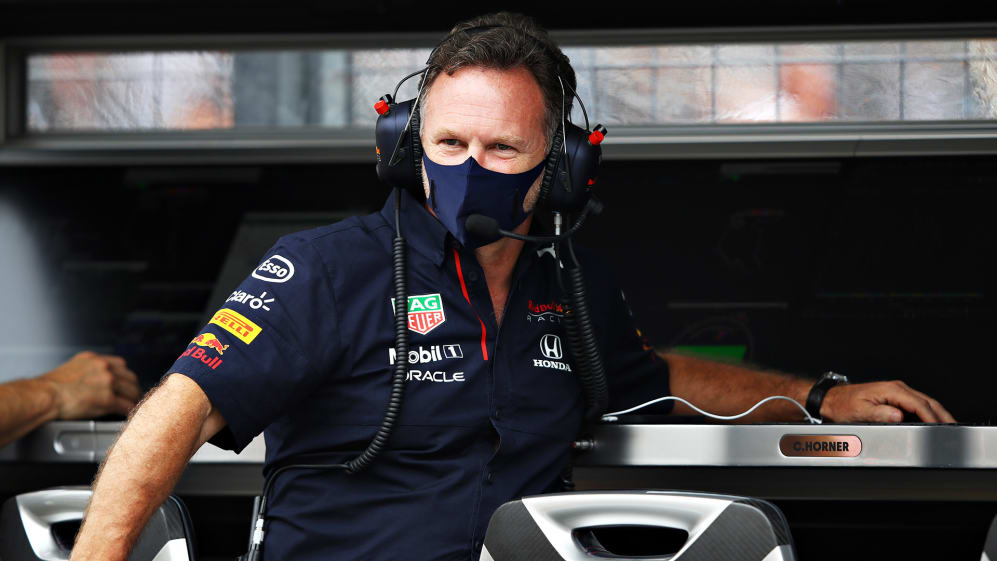 Red Bull Team Principal has detailed the scale of the damage to Sergio Perez's Honda engine after that Lap 1 crash in Hungary, and added that he expects Red Bull to take engine penalties this season as a result of that, and Max Verstappen's crash in Silverstone.
Perez's car was an unfortunate casualty of a Turn 1 melee at the Hungaroring that was sparked by a late-braking Valtteri Bottas, who careered into Lando Norris and then Perez – causing both to retire from the Grand Prix – on the very first lap of the race, before also hitting Verstappen, though he was able to continue, albeit with significant damage to his car.
READ MORE: Ferrari braced for grid penalties after confirming Leclerc's engine 'irreparably damaged' in Hungary crash
It's the second race in a row that Red Bull have had cars involved in costly crashes, after Max Verstappen's heavy impact at the British Grand Prix, which, it was revealed on Sunday, had likely caused the damage that forced Honda to change the power unit in the car before the race at the Hungaroring.
Asked about the chance of Red Bull getting to the end of the season without having to incur engine penalties for using more than the allowed three units per year, Horner replied: "Very little I'm afraid, and that is hugely frustrating for Honda as it's not due to reliability; it's due to accidents that we haven't caused so they are feeling the brunt of this as we are on the chassis-side and it's not to be underestimated on the cost cap side.
"It does need to be looked at because in a cost cap environment, it's brutal the incidents we've had in the last couple of weeks.
"It's lost all of its water immediately," he added, talking about Perez's engine. "So, you know, we'll have to look into more detail but the initial reports are it will no longer be in service," he added.
Heading into the summer break 12 points behind Mercedes, Red Bull have it all to do to win their first championship since 2013. Horner added that his team have been intensely unfortunate this season with expensive crashes at the last two events, but insists they will keep battling with all they've got once the action resumes in Belgium at the end of August.
WATCH: Hamilton vs Alonso, Russell's pit lane pass and Lap 1 mayhem – top 10 onboards from Hungary
"We've got a shed-load of accident damage, and potentially two engines that we've lost due to the result of actions of other drivers," he said after the race at the Hungaroring. "So yeah very frustrating, but you know what, we're within the difference of a first and second place in points difference as we go into the summer break.
"We've had some hugely bad luck in the last couple of races, it's been pretty brutal in parts, in damage, in engines but you know we'll brush ourselves down and we'll come out fighting in the second half of the championship because obviously it's been a tough couple of weekends but things can turn around very quickly as you've just seen and there's a long way to go in this championship."