Vettel 'a little bit happier' after ending 15-race streak without making Q3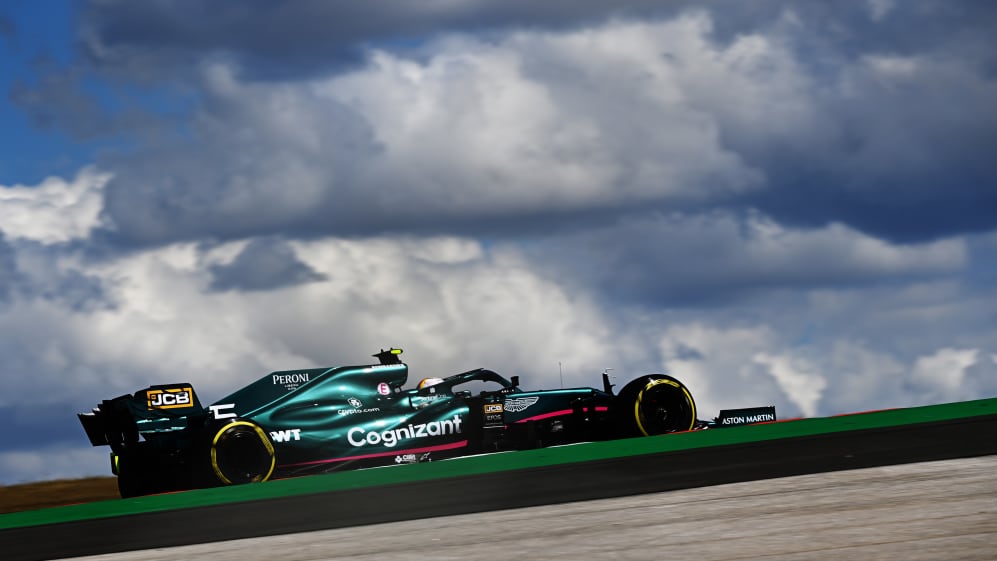 Before Saturday you had to go back to last season's British Grand Prix to find the last time Sebastian Vettel made it into the Q3 top 10 shootout segment of qualifying. In Portugal he put that right, and afterwards professed himself "a little bit happier" as a result.
As with many drivers who have switched teams for 2021, Vettel has struggled to feel at one with his new car, having been outqualified by Aston Martin team mate Lance Stroll in both of the opening races. But at Portimao the four-time world champion will line up P10, with Stroll back in P17, after an ultra-tight qualifying session.
READ MORE: A look at the ingenious floor evolutions the teams have brought to Portimao
"It was better today for us, so a little bit happier obviously than the first two sessions," said Vettel. "It was good to be in the car for an hour and not just for a couple of minutes, so I enjoyed that part.
"The final lap I lost it a little bit – the wind changed again and it was a bit more tricky than I thought.
"Overall I think we had a better day and it was coming a little more natural my way. But still there are a lot of things that I need to think about in qualifying which is not ideal because ultimately you just want it to happen, so still a way to go."
Asked if he was pleased to beat Stroll, given the Canadian was running several updates on his car, Vettel was diplomatic.
READ MORE: 'Not a result I feel good about at all' – Ricciardo at a loss to explain 'grim' Q1 exit in Portugal
"I think the updates probably didn't make a big difference, first of all," he reasoned. "Secondly, I don't know what happened but it's a shame obviously that we are quite far apart – I think it's always better if we are closer to each other.
"We still have to work on that ideal result to get both cars in Q3. But at least on my side it was a little bit better."
Vettel is yet to score for Aston Martin in his two outings to date, so does he think Sunday could be the day?
HIGHLIGHTS: All the action from qualifying as Bottas grabs pole in Portimao
"Tomorrow it will be a very close and hard-fought race, so we'll see what we can do," he said. "I think it's going to be very tight in the midfield, so small things can make a big difference."
Last year the German finished the Portuguese Grand Prix where he starts on Sunday: In P10.