Vettel - Adrenaline meant neck pain was no issue on path to victory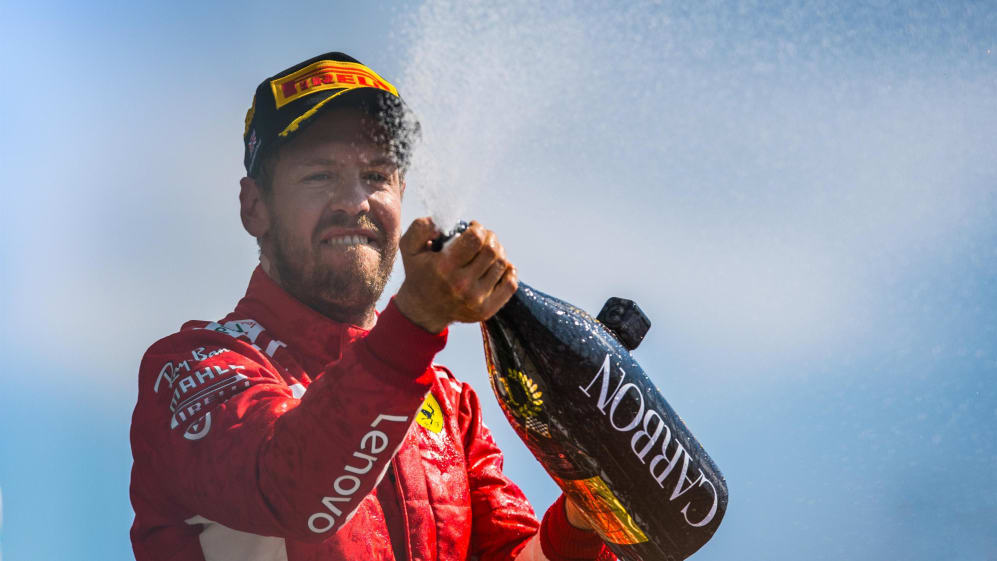 Sebastian Vettel has earned himself a well-deserved rest. Having revealed on Saturday that he feared a neck complaint would force him to miss qualifying, the Ferrari star overcame his ailment in Sunday's British Grand Prix as he romped to a superb victory. And after further extending his lead in the title race over rival Lewis Hamilton, Vettel admitted it was adrenaline that had helped get him over the line…
Vettel's issue became evident in final practice when he was just eight laps of running. It was touch and go whether he'd take part in qualifying, but the German ultimately featured and narrowly missed out on pole position to Hamilton.
Asked if he was concerned the issue would come back to bite him in the Grand Prix, he said: "Well I was going into the race, but it was fine. I think with all the adrenaline going, probably I will feel a little bit tonight but yeah, it doesn't matter. The tape held up and the race was fantastic."
Vettel's headrest was fitted with extra padding in a bid to ensure the injury didn't worsen during the race, and he appreciates it played a key role in helping him win today.
"It felt good on the grid so I took some off (the padding). Obviously yesterday was a different day. Qualifying wasn't very enjoyable. I did as little runs as possible.
"I had the padding just to support in the corners, like Turn 8, where it's flat out. So I was resting my head yesterday. Today it wasn't necessary. I had a good feeling and the race was no problem."
In securing victory, Vettel had to twice overcome Mercedes. First, he turned second into first off the line as he beat Hamilton into Turn 1. Then, having pitted for fresh rubber under the late Safety Car and surrendered the lead to Valtteri Bottas, he brilliantly worked his way past the Finn into the tight left hander at Brooklands.
"The safety car spiced it up," said Vettel. "It was a nice time because Valtteri was pushing like crazy. I had the advantage on tyres but it was not so easy to find a way through but then I surprised him.
"I wasn't sure I'd make the corner but I did, so it worked really and very, very happy. Great thanks to the team supporting me and the people in the background because yesterday I was a bit damaged but much better shape today."