Ferrari did not stick to Monza qualifying gameplan, says Vettel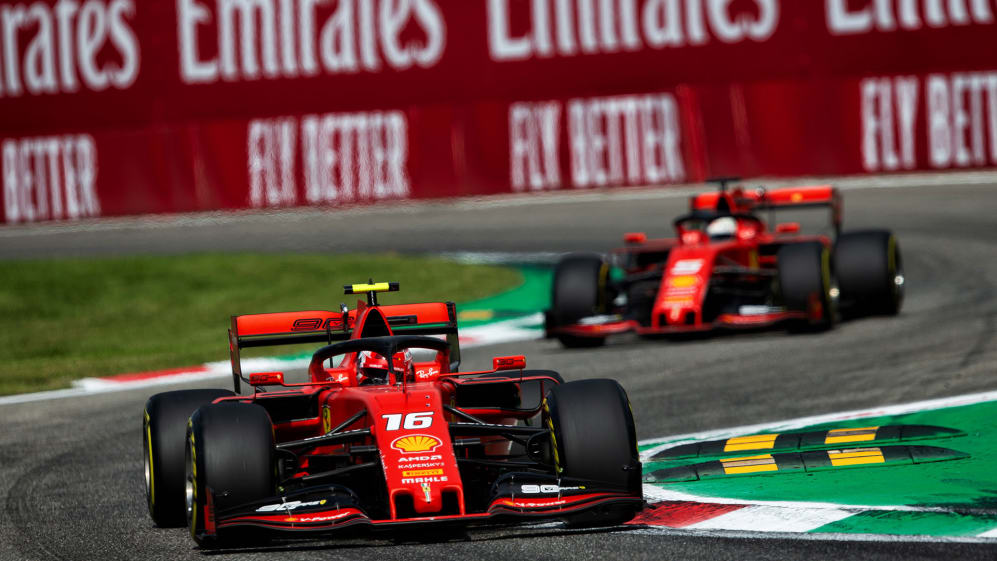 Sebastian Vettel was left feeling deflated after qualifying in Monza, believing Ferrari and his team mate Charles Leclerc, the eventual pole-winner, did not follow their pre-session gameplan in their final runs...
The final minutes of qualifying witnessed a bizarre situation, as the drivers lapped Monza slowly, no one wanting to lead the pack and miss out on the chance of a tow – only for seven of the nine remaining drivers to end up misjudging the cut-off time and failing to set a second qualifying effort.
READ MORE: Pole-sitter Leclerc calls Monza qualifying 'a big mess' as several drivers time out
At Ferrari, Vettel had towed Leclerc to provisional pole at the start of Q3. The German said the plan was then for Leclerc to return the favour for the second runs. But as the field slowing and jostling for position, Leclerc didn't even take his position in front of Vettel until the final straight. By then, it was clear it was going to be tight for either to make it across the line in time to do another lap. Leclerc managed it, Vettel did not.
I thought it was clear what we communicated beforehand
"I thought we had spoken about it," said Vettel after the session. "I definitely listened to what we intended to do. I think it was clear what will happen in the last bit of qualifying, I think we were foreseeing exactly what happened, but we weren't doing what we were supposed to do and that's why it was a mess and I didn't get a run in the end. Not happy with that, but obviously a good result for the team, which in this country, in Italy, is important.
"But as I said, not entirely happy because I thought it was clear what we communicated beforehand."
Mercedes' Lewis Hamilton suggested after qualifying that Ferrari had perhaps deliberately held up the pack, having already secured pole with Leclerc, to force their rivals to be timed out of qualifying. And asked whether there'd been any game-playing going on, Vettel replied: "Not from my side.
"I was the one trying to indicate 'Get out of the way' because it was clear that I should be the one second [behind Leclerc] in the second run getting a tow, because I was the first one in the first run. People were slowing down, Charles was slowing down and in the end I didn't get across the line, nor did I have a good tow. So not a good outcome.
"Anyways, happy with the car," concluded Vettel, who'd led the final free practice session ahead of qualifying. "The qualifying was good, the car was very good. Had a really good lap, I just had no tow. That was the difference between pole and not pole today."
READ MORE: Mercedes can fight Ferrari for Monza win, says Hamilton
The result meant that Vettel was outqualified by Leclerc for the seventh time in as many races, and comes after events 12 months ago, when Vettel felt, pole-winner Kimi Raikkonen had failed to offer him a tow, compromising him in his bid to defeat Lewis Hamilton for that year's championship.
Late on Saturday, Vettel appeared in front of the stewards on Saturday evening over an alleged incident of leaving the track and gaining a lasting advantage during qualifying. However, following discussions with the driver and examination of the footage, they deemed that no further action was necessary.