Vettel channelled David Coulthard for home podium comeback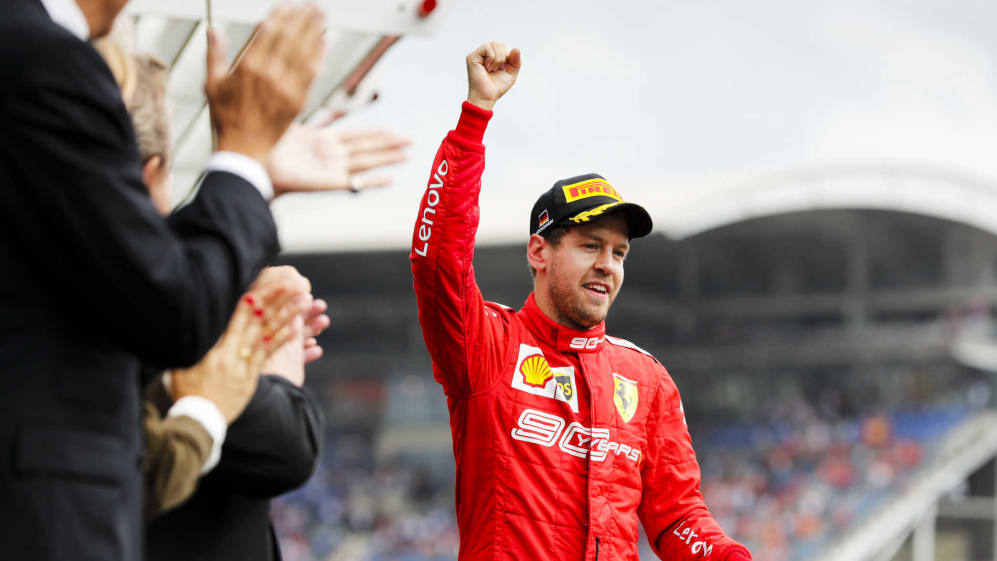 Sebastian Vettel's unlikely inspiration for an incredible German Grand Prix performance was none other than former Red Bull Formula 1 driver David Coulthard, as the German took second place from 20th on the grid at a sodden Hockenheimring.
Coulthard won 13 Grands Prix in his 14-year-long F1 career, driving for Red Bull in his final year of F1 – 2008 – when Vettel was racing for Toro Rosso. That year at Monza, Vettel took his first win, from pole position for Toro Rosso, before he replaced Coulthard in 2009. And after his unlikely podium at Hockenheim on Sunday, Vettel revealed he'd adopted a "DC approach" to avoid the pitfalls many of his rivals had fallen into.
"To be honest, I was not so happy in the beginning. I was very happy with the first lap and then I was like 'come on, you need to make some progress here, otherwise the race is slipping out of hand'.
MORE: David Coulthard on the highs and lows of 26 years in the F1 fast lane
"But then… with all the Safety Cars and people flying off, I'm thinking: 'maybe you need a bit of a DC approach because he was the one. He was fast in these conditions but not so spectacular, then all of a sudden he was there in the end – most of the time."
So Vettel did exactly that, making his way up to P14 by lap two and then P7 on lap 22 and then thought: 'what would Coulthard do?'
The first corner was very tricky, a lot of people went off but I thought 'here is where I have to hammer it'
"Obviously it was about surviving and pushing at the right moment," explained Vettel. "In the end when it started to dry up in mixed conditions I really started to feel confident, the first corner was very tricky, a lot of people went off but I thought 'here is where I have to hammer it' because I felt good and I always managed to get good speed, get in the DRS, close the gap to the second corner and then get in range so I could pass on the back straight [up to the Turn 6 hairpin].
"It was quite straightforward to pass, I was very pleased with that. It was definitely a long race and a lot of decisions to make. I guess most of them were right, some a bit late but overall, very happy," he said.
Buoyed by his fans and racing just a few miles away from his home town of Heppenheim, Vettel had to make sure not to get carried away by the buzzing atmosphere.
"I could really feel the people," he said. "When I was passing, they were jumping up and I thought 'okay, keep your head down'… I was really enjoying it but it was a very long race. On a day like this I was looking down and it was two hours [remaining]. I was like, 'this is great!'
"I really enjoyed it and if you're making progress you're enjoying it, but if you're at the front you want it to end because you're happy where you are. I still felt there's more ground I could make up."
When the 64-lap epic ended, Vettel earned 18 more points and a reassuring performance after a run of disappointing finishes, stretching back to the Canadian Grand Prix. Perhaps the Coulthard approach will return at the Hungaroring...