Vettel: Collaboration with Leclerc key to overcoming Mercedes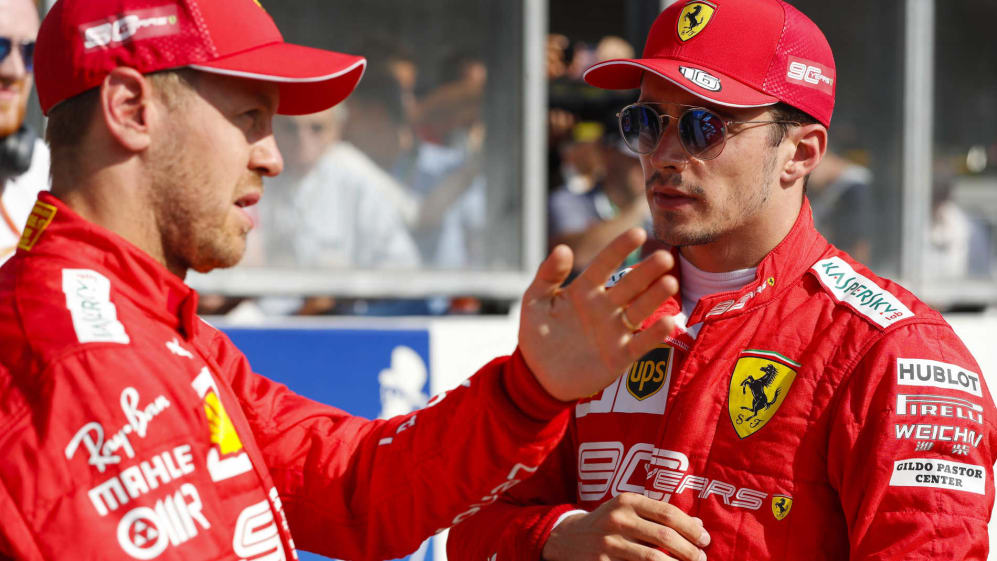 Historically, Sebastian Vettel's not always been the most cooperative of F1 team mates (just ask his old Red Bull sparring partner Mark Webber). But ahead of an Italian Grand Prix which Ferrari head into as favourites, the German driver underlined that close team work between him and Charles Leclerc was key to the Scuderia getting themselves on an even footing with Mercedes in 2019 and beyond.
Leclerc set a blistering qualifying pace in Belgium to out-qualify the Mercedes drivers by over 0.75s, before narrowly managing to convert that speed into his maiden F1 win in the face of some impressive race pace from Lewis Hamilton.
READ MORE: To win in Monza, Ferrari have to do 'everything perfect' - Binotto
With Ferrari's SF90 expected to be even better-suited to Monza than it was to Spa, there is reason for Vettel to be hopeful of a chance to win the Italian Grand Prix for the first time since 2013. But Ferrari, according to the four-time champion, have bigger fish to fry than simply chasing a Monza victory.
"Our car is not where we want it to be," said Vettel. "[We don't] have the car and ability to win every race so far and that is our objective, so I think it serves [Charles and I] if we push in the same direction, because I believe one day we will have that car and then we can fight it out.
"From a team point of view, I think the most important thing is that we work together, not against each other… Otherwise it would be a bit of a waste of energy.
"Obviously we've started off in a good place for the second half and hopefully we can keep that up. But we know also being realistic that Mercedes are the clear favourite. As I said, they've been in a position to win every race this year. That's something we haven't been, and we need to get there. That's the point."
I think we have to be carefully optimistic and realistic for Monza. Here is the time to over-deliver
Still, that Monza victory would be nice, especially given that a Ferrari hasn't won around la pista magica since 2010. So what does Vettel think his team's chances are this weekend?
READ MORE: Why Ferrari's SF90 is tailor-made for Spa and Monza
"We're not the clear favourites," he said. "There are signs that we are aware of and put us in a good position, but I think we have to be carefully optimistic and realistic. There are a lot of elements during a Grand Prix that can make a difference. One lap [in qualifying] is one thing, but obviously there are a lot of laps on Sunday, plus the weather, plus plus plus...
"It's difficult to predict but certainly I think here is the time to sort of over-deliver. It's a big weekend, so hopefully we can make it count this time. I think we have a good chance so we'll see. We're ready."
Ferrari outscoring Mercedes in Belgium, and for only the second time in 2019, meant they marginally shut down the gap to their rivals in the constructors' championship, the difference now standing at 145 points, with eight races – and 352 potential team points – left to score.