Vettel: Desire for P3 not about beating Leclerc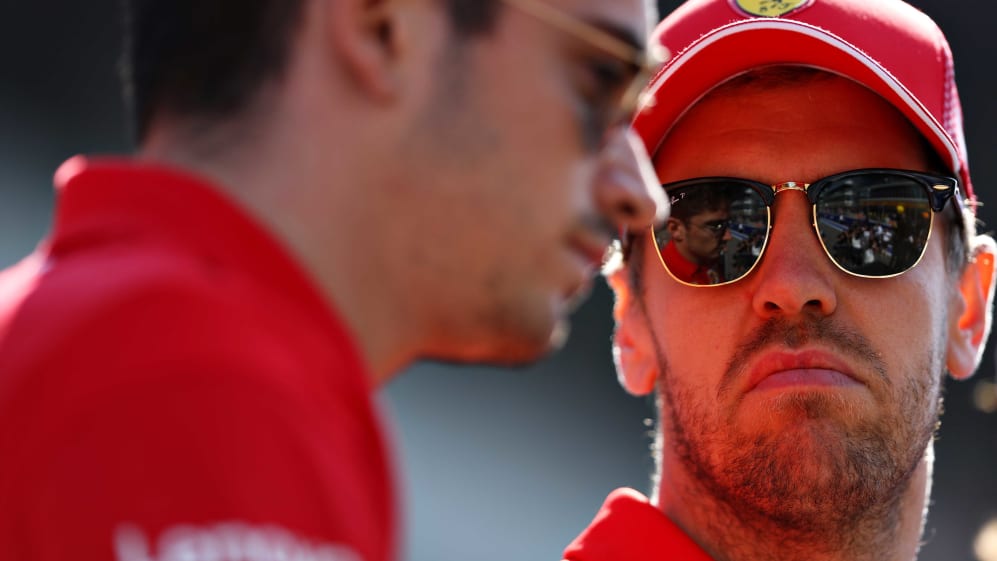 Sebastian Vettel has admitted in the run-up to the Brazilian Grand Prix that he's desperate to claim third place in the 2019 drivers' standings – but that that desire wasn't motivated by simply wanting to put some manners on his young team mate Charles Leclerc...
In his maiden season at Ferrari, Leclerc is the current holder of the P3 spot in the championship – helped by his having taken two wins to Vettel's one – with Max Verstappen fourth, 14 points behind, while Vettel sits a further five points back in fifth.
READ MORE: Fresh engine means Brazil grid penalty for Leclerc
Third place is what Charles, Max and myself are aiming for – so for me, it's quite important to make sure I score as many points as I can
But asked in Brazil how important it would be for him to finish the season ahead of Leclerc, Vettel replied: "Not so important to finish in front of Charles. It's important to finish as high up as you can.
"Place one and two are out of reach. Obviously the third [place] is the one, I guess [Charles], Max and myself were aiming for, so for me, quite important to make sure I score as many points as I need, or as many points as I can, and then see where I'm at.
"It's really just what the team deserves as well," he added, "to finish the season in style, and we try to have two great races from here onwards."
FORM GUIDE: The favourites for pole, points and victory in Brazil
Leclerc can lock down third in the drivers' championship in Brazil if he outscores Verstappen by eight points and Vettel by 13. That's set to be a tall order, given that the Monegasque will take a 10-place grid penalty for a power unit change ahead of the race, after suffering issues last time out at the United States Grand Prix.
But despite that, Leclerc was still optimistic about his chances of holding onto P3, believing that any disadvantage he suffered in Brazil would be made up for by having a fresher power unit in Abu Dhabi.
WATCH: Mick Schumacher drives dad Michael's soon-to-be-auctioned title-winning Ferrari
"Obviously this weekend won't be easy with the 10-place grid penalty," said Leclerc. "But I believe it was the best opportunity for us for the rest of the championship. So [I'll] try to limit the damage as much as possible this weekend and try to do the best result possible, and I'm pretty sure that then we'll see the advantages of changing the engine in Abu Dhabi."
2019
Drivers' standings pre-Brazil
POSITION
POINTS

1

Lewis

Hamilton

Mercedes

381

2

Valtteri

Bottas

Mercedes

314

3

Charles

Leclerc

Ferrari

249

4

Max

Verstappen

Red Bull Racing

235

5

Sebastian

Vettel

Ferrari

230

6

Alexander

Albon

Red Bull Racing

84