Feature
FORM GUIDE: The favourites for pole, points and victory in Brazil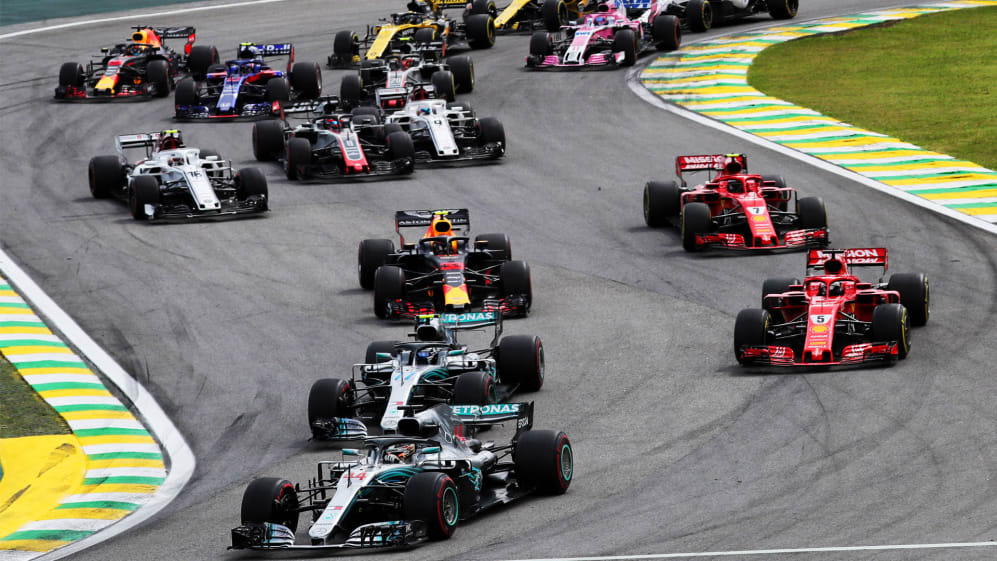 Formula 1 takes a trip to South America for the penultimate round of the 2019 season. Here's who current form and recent history suggests will go well around the historic Autodromo Jose Carlos Pace – or Interlagos, as the Sao Paulo track is more commonly known…
Who's the top tip for pole?
Interlagos might not be one of Lewis Hamilton's ultimate happy hunting grounds for poles (that would be Melbourne, where he has eight) but it's the pole-meister who leads the way in this category, with three poles in Sao Paulo, taken in 2012 (with McLaren), and 2016 and 2018 with Mercedes.
He leads Sebastian Vettel, who has two to his name but zero with Ferrari, having taken his last here with Red Bull in 2013, while Valtteri Bottas and Nico Hulkenberg (yes, really) both have solitary Brazilian poles to their name, Hulkenberg having scored his first and last pole for Williams in just his 18th career Grand Prix (he'll start his 176th this weekend).
So who's going to get it in 2019? Well the smart money says the rejuvenated Sebastian Vettel – who missed out on pole in Austin by just 0.012s. With his team mate Charles Leclerc set to be sidelined in qualifying with power unit-related grid penalties (a shame, given that he qualified and raced to a superb seventh for Sauber here last year) and the advantage of said very powerful power unit thrumming away in Vettel's Ferrari SF90, the German should have the advantage, especially in the blast up the hill in Interlagos' power-rewarding final sector.
READ MORE: Fresh engine means Brazil grid penalty for Leclerc
The same smart money speaks against a Red Bull pole, meanwhile, with no driver from the team having started higher than fourth here in the turbo-hybrid era. That, however, might speak more to the Renault power units they used to run - not their current Hondas.
Whatever happens though, the relative brevity of the Sao Paulo circuit means that qualifying is likely to be close, pole having been decided by less than one-tenth at four of the last five editions.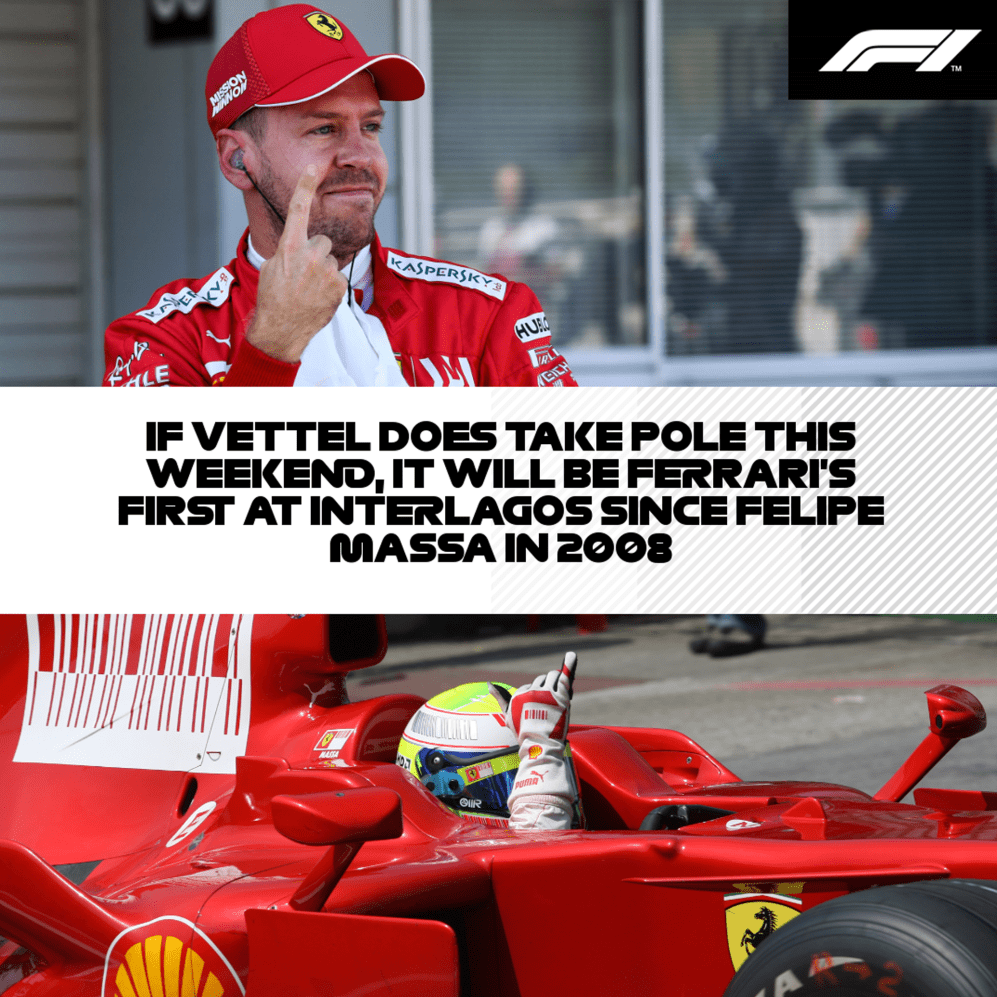 Who's looking good for the win?
In terms of previous form, it's advantage Vettel in the wins arena, the German holding three victories to Hamilton's two (and Kimi Raikkonen's one), the last of those taken when he bested Bottas in 2017. Vettel taking a win this year would be pretty special, too, meaning he'd match hero Michael Schumacher's four Interlagos victories in his 100th start for Ferrari.
But important to note here is the race pace of the Mercedes recently, which has led to them winning the last four races on the bounce (despite taking just one pole position in the same time period). That means both Hamilton and Bottas could be equally in with a shout on race day, even if Bottas has never led a lap around Interlagos.
READ MORE: Mercedes' Wolff to miss first Grand Prix since 2013 at Interlagos
Similarly, Max Verstappen showed devastating race day pace in Brazil last year, and would likely have taken a comfortable win if he hadn't had his little tiff with Esteban Ocon. He'll be keen to exact revenge this year – and should have the speed in his Red Bull RB15 to do so.
Another important factette to bear in mind: the winner has come from the front row at Interlagos in the last 11 Brazilian Grands Prix. And with rain currently predicted across the whole of Friday – and thus limiting the amount of time teams have to work on set-ups – it's the two drivers who can get on top of that uncertainty in qualifying and claim those crucial front row spots who'll stand the best chance of reaching the top step on Sunday.
Who's a podium outsider?
This looks to be the realm of Charles Leclerc and Alex Albon this weekend. Leclerc has that annoying grid penalty hanging over him – currently 10 places for fitting a new ICE, but potentially more if Ferrari start bolting on more fresh parts. But given that Hamilton recovered to fourth in 2017 after his Q1-exiting smash, a podium for the two-time race winner is not beyond the realms.
READ MORE: Why Red Bull have put their faith in Albon for 2020
Then there's Albon, still in search of his maiden F1 rostrum, but with a shiny 2020 Red Bull contract tucked away in his briefcase (or modern-day equivalent). That will do wonders for his confidence – although if that podium is going to manifest this weekend on Albon's first visit to Interlagos, he'll need to master this deceptively tricky, warpy-camber track, one which has been known to bite back over the years. Just ask Mark Webber…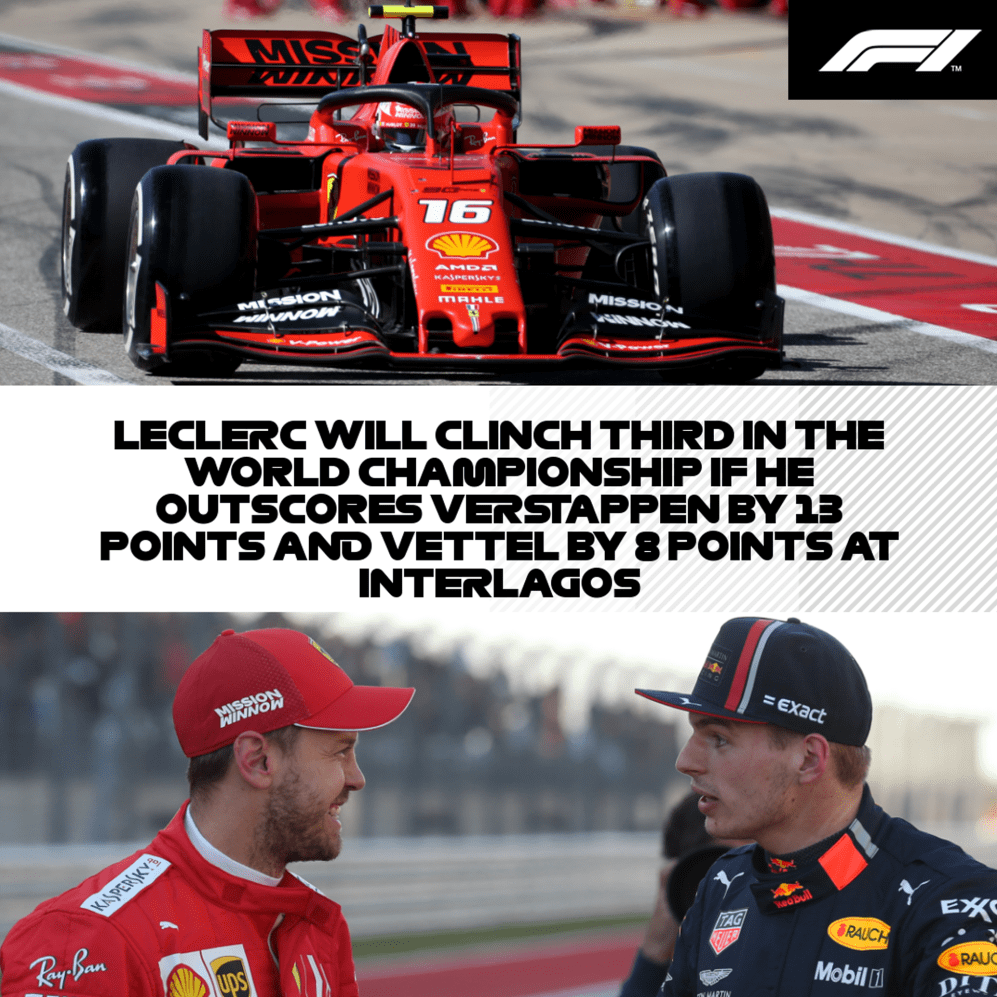 Who'll hoover up any points on offer?
Nico Hulkenberg has a superb record around this track, claiming that pole in 2010, while until his Renault overheated last year, he'd finished every Brazilian Grand Prix he'd started in the points. Team mate Daniel Ricciardo has had a less enjoyable time here, never having made the Brazilian Grand Prix podium, even in his time with Red Bull. But given how decent Renault have looked on Sundays recently, points should be within reach, as the team look to close out fifth place in the constructors'.
DRIVER MARKET: Reserve or development F1 role 'not an option' says Hulkenberg
We'll take a decent race day performance as read from the McLaren duo of Carlos Sainz and Lando Norris too, even if Norris only has a Free Practice 1 appearance here last year to his name.
Elsewhere, look out for Kimi Raikkonen and Sergio Perez. Raikkonen has been without points since the end of the summer break, but actually has the most podiums of any current driver on the grid around here (seven), and could take advantage of the weekend's dodgy-looking weather forecast to spring a surprise – while Perez finished fourth here in 2016, and is currently on a four-race streak of points in the improving Racing Point.