Vettel expecting tight top-three battle, with 'more to come' from Ferrari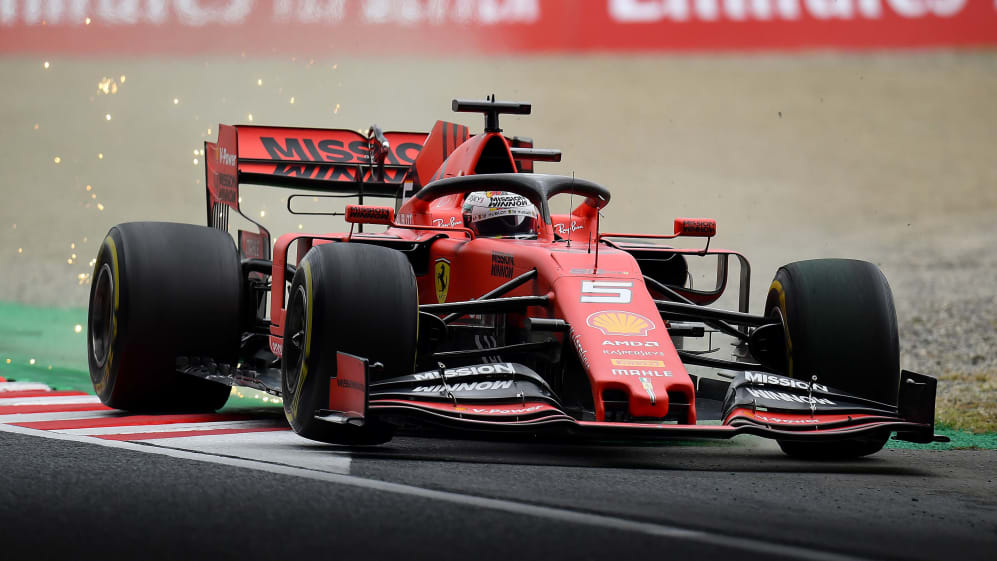 Mercedes' dominance at Suzuka was plain to see as they finished both Friday sessions with a one-two, but Sebastian Vettel says that Ferrari haven't yet reached their full potential ahead of Sunday's qualifying and race.
Ferrari will need to be on their toes for the postponed qualifying session if they are to prevent their run of four consecutive pole positions being halted by a resurgent Mercedes.
It was Valtteri Bottas who led FP1 and FP2 in Japan, and Vettel wasn't sure whether Ferrari have taken a step back, or Mercedes a step forwards.
READ MORE: The art of tackling Suzuka's Esses
"Maybe the other cars are different, maybe ours is the same - it depends from which way you look at it," he said, after ending FP2 in fifth place, half a second off Bottas. "For sure we saw today that Mercedes was very fast and feeling very comfortable straight away."
Either way, the German remains confident that he's not eked everything out of his SF90 machine just yet.
"Maybe they [Mercedes] did a step forward, maybe the track suits them more than [the others]. A lot of things might be the case. I think we can improve, though, so we see where we are on Sunday morning."
But with torrential rain from Typhoon Hagibis set to wash away any rubber and grip laid on the surface from Friday's running, the drivers will have to contend with a green track on Sunday.
Vettel called that the "biggest challenge" for race day, but could some of the valuable data Ferrari gleaned from their Friday running still help them usurp Mercedes to the Japanese GP throne?
"Hopefully more with skill and commitment rather than data and computers," replied the four-time champion. "As I said, I think there was a bit of margin, it was not a perfect day for us, so there's a bit more in the car," he reiterated.
READ MORE: Horner says Yamamoto 'doesn't fit Toro Rosso criteria at the moment
So although the consensus is that Mercedes have the upper hand, Vettel believes the battle between the top three teams could still be scintillatingly close come Sunday.
"You need to be honest, Mercedes were very quick - every time they went out on track. Plus it looked a bit more comfortable for Red Bull as well here, so it will be tight and I expect them both to be very strong on Sunday morning as well."