Vettel had 'no warning' before FP2 engine failure as Ferrari pace worries continue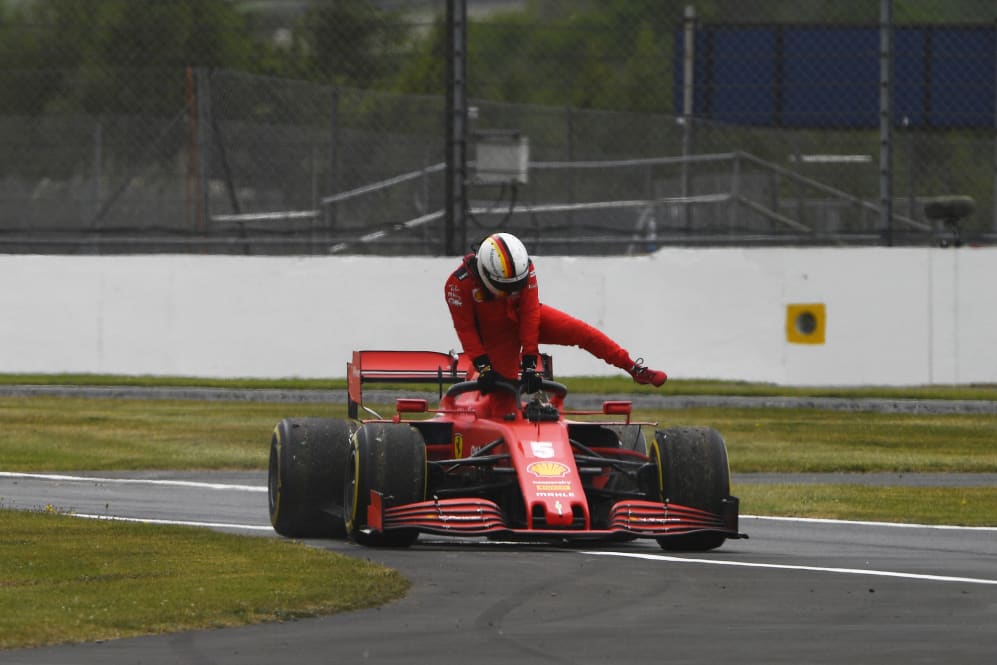 Sebastian Vettel's not been having a good time at Silverstone this past week or so – and Free Practice 2 for the 70th Anniversary Grand Prix didn't improve the situation for the German driver, after his Ferrari SF1000 ground to a halt with fluids streaming out of the bottom of the car five minutes from the end of the session.
Vettel had struggled in FP2, putting in the 14th fastest time, 1.592s down on Lewis Hamilton's best lap and around three-tenths away from team mate Charles Leclerc's P7 effort.
But then the four time champ, who finished last weekend's British Grand Prix in 10th place, was seen to run wide at Stowe, grounding out on a green kerb before being forced to pull up at Copse corner with fluid gushing from the underside of the Ferrari – which triggered a Virtual Safety Car.
FP2 REPORT: Hamilton leads Mercedes 1-2 ahead of Ricciardo as Vettel suffers engine failure
"[I had] no warning," said Vettel. "It was very sudden and obviously a failure so now we have to see what it is. But it will probably take a couple of days because the engine will get shipped back and analysed.
"We tried a couple of things," he added when asked about his day, "I think overall we were a little bit happier, but obviously not really any more competitive so we have to have a look… I think we can still try and improve the car from where it is now, but probably small things and hopefully we'll be a bit more competitive."
Leclerc finished FP2 last week with the fourth fastest time around Silverstone, but concerned by a Ferrari he described as "extremely hard to drive". And despite going on to finish third in the British Grand Prix, the Monegasque was again worried about the performance of his car, as he ended up 1.206s off Hamilton's time in seventh in FP2, having struggled on the medium C3 tyre.
DRIVER MARKET: Vettel tight-lipped on Racing Point links after being spotted with team boss
"[It was] a bit more difficult than last Friday to be honest, but we are still working quite hard to understand a bit more these tyres," said Leclerc. "We had quite a big step of grip between the medium and the soft, which is not the case for the others so we need to understand why we were a bit too slow on the medium.
"I think the lack of performance on the medium is where we need to work the most because it's going to be important. I think many cars will try to go through on Q2 with the medium tyres and we need to be competitive on these tyres to have a chance. So we need to put our effort into that."