Vettel happier in car but anticipating 'difficult' Emilia Romagna GP after P14 in qualifying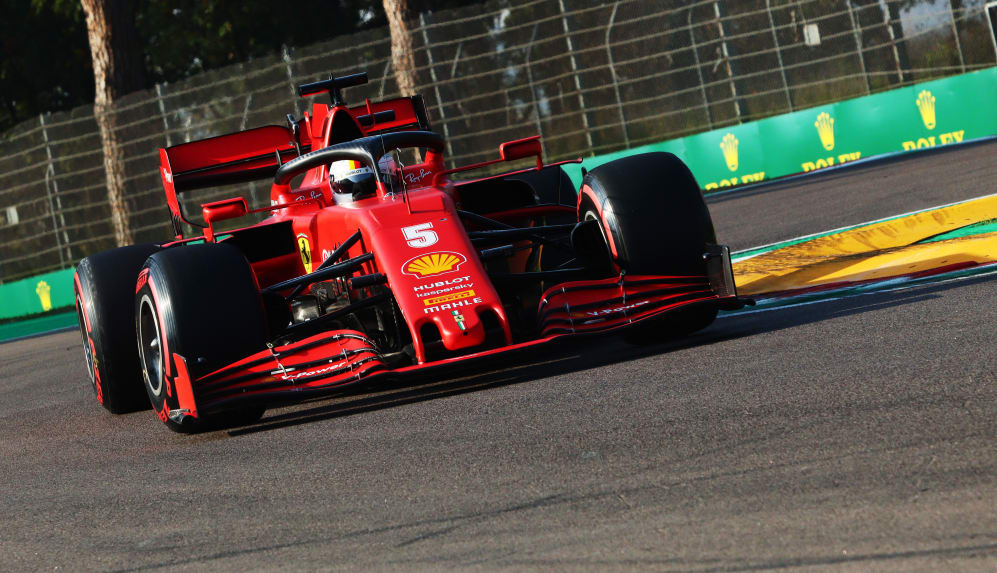 When asked what will make the difference in his race at Imola on Sunday, Sebastian Vettel smiled and said: "If everybody in front retires!". The German driver ended up 14th on the grid for what will be Ferrari's third home race of the year, and is anticipating a "difficult" afternoon ahead…
Charles Leclerc has had the better of team mate Vettel this year, the latter simply struggling to get comfortable with the car, which in turn makes it tricky for him to extract the maximum performance in the way his younger team mate has done.
READ MORE: Bottas beats Hamilton to take pole at Imola as Verstappen survives Q2 scare to take 3rd
At Imola, Vettel didn't have the pace in the weekend's only practice session of the weekend and though he felt better with the feel in qualifying, he couldn't transfer that into pure lap time, ending up one place behind the Williams of George Russell after having his best lap time deleted for track limits.
"It was a better qualifying session," he said. "I was happier with the feeling with the car, and I was a bit more comfortable, but it seems we are stuck in the position we are in at the moment and it didn't make a difference in terms of where we are compared to the others.
"That was a bit of a surprise, but I tried – I tried at the end as well to squeeze everything, taking more risks I went a bit wide in the chicane so in the end, we lost one position for track limit, but I think it's more important to try."
Overtaking is notoriously difficult at Imola, and being so far back in the pack, Vettel is anticipating a challenging afternoon behind the wheel of his Ferrari.
READ MORE: Bottas says he had 'the shakes' after risk-taking pole lap at Imola
"It's going to be difficult," admitted Vettel. "We're at the back and from there it's difficult to make up positions. Overtaking is not so easy. I hope we have a good car in the race tomorrow and that we look after the tyres. Let's see. It's a new circuit for all of us in terms of know how long the tyres will last, but I think it's going to be a one-stop, fairly straight forward, so we'll see."
This was the ninth consecutive race that Vettel failed to make Q3, a situation made more frustrating given his team mate Leclerc qualified a respectable seventh.