Vettel 'open-minded' about Hungary victory but Leclerc expects 'difficult weekend'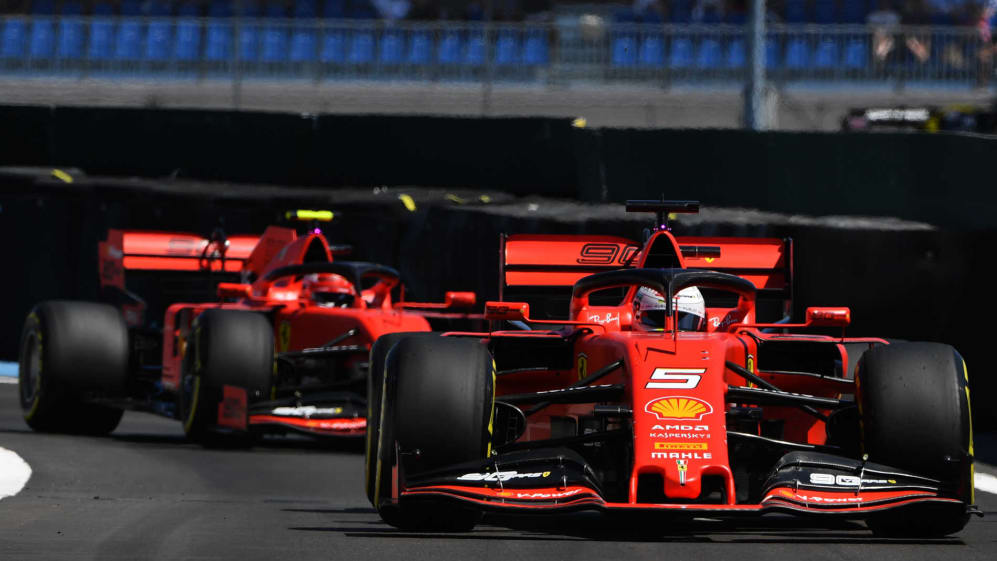 Ferrari's drivers appeared to be in two minds about their chances for victory in this weekend's Hungarian Grand Prix, Sebastian Vettel declaring that he was 'open-minded' about his prospects given the Scuderia's surprising turn of pace at some tracks this year, while Charles Leclerc confessed to being less optimistic.
Vettel was just one place away from making a perfect recovery in Germany, as he finished the race in second, having qualified 20th. But did he think he could really go one better at the Hungaroring, a track where he's won twice in the last four years?
"I'm fairly open-minded," he said. "I think on paper, maybe we don't look like the favourites, just because of the track characteristics.
"But you never know. I think we had the same thought maybe in other places and turned out to do quite well, so as I said, I'm fairly open-minded. I think we need to get our stuff together. We have some new bits that will hopefully give us some performance and a good direction for the next races waiting for us in the second half."
READ MORE: Can Hungary keep the momentum into F1's summer break?
Leclerc, who slid out of the German Grand Prix in horrible conditions – costing both himself and Ferrari a strong finish – praised his SF90's performance in Hockenheim, but admitted that he was not expecting it to be quite on the same level in Hungary.
"[In Germany] the car was very strong in the wet and also, actually, in the dry. That was good to see," he said.
The Hungaroring is not known for its long straights so I expect a difficult weekend
"Fortunately," he continued, "There was also Seb who had a great race [in Germany] and finished second, so that's good. Now we need to focus on here. It doesn't look as positive in terms of performance here as it was at Hockenheim, on paper.
"I think the strong point of our car is straight-line speed. The Hungaroring is not known for its long straights so I expect a difficult weekend," he explained.
Vettel admitted that a win in Hungary would be a welcome reward that would help Ferrari end the first half of the season – during which they've failed to win a race – on a high. But the German conceded that, nice as that would be for the team, Formula 1 was not a "kindergarten" where you could "pick the sweets you like"...
"Obviously the factory will be closed for a while [in the summer shutdown], but I think in our thoughts we'll all be trying to keep pushing and trying to come up with something that will help us in the future," he said.
"So it would be great, I think, to get some momentum but this is not a kindergarten and you can't just pick the sweets that you like – you usually get what you deserve on a Sunday and we will see what's left on the plate. If we're the first ones to arrive, then we can pick what we want. If not then, we'll see."
Now sitting 148 points behind Mercedes in the constructors' standings and trying to bat off a resurgent Red Bull, Ferrari will be hoping to find some happiness in Hungary – otherwise the summer break could begin on a sour note.