Vettel pleased to score points after dodging Lap 1 melee, as Stroll says 'we were on the back foot from the start'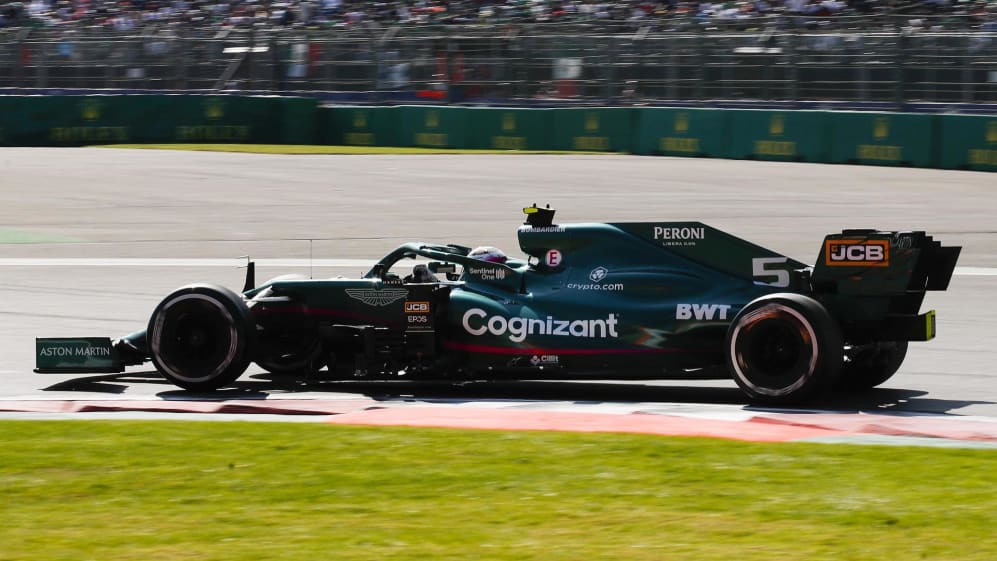 Sebastian Vettel took his first points in six Grands Prix with P7 in Mexico, and the Aston Martin driver said he was pleased to be back in the top 10 having dodged calamity at Turn 1.
Vettel managed to avoid Daniel Ricciardo and Valtteri Bottas's collision on the opening lap of the Mexico City Grand Prix, with the German going on to finish P7 having qualified ninth for Sunday's race.
READ MORE: Mexico polesitter Bottas laments 'very tricky' afternoon after race-ruining first lap contact with Ricciardo
"I was reasonably happy," he said afterwards. "We were on our own and we could, you know, swim with the field. The qualifying position and Lap 1 positioning was key and yes, we had a solid race.
"We obviously benefited from the spin for Valtteri [Bottas], although it actually held me up a bit, and the damage to Daniel's [Ricciardo] car, but we managed to recover a position from [Antonio] Giovinazzi using the strategy. After that, I was on my own for most of the race with decent pace. It was a solid weekend by the team and I am pleased we could score some good points," he explained.
As for team mate Lance Stroll (who crashed in Q1 on Saturday, above) he started at the back with a power unit and gearbox penalty, but could only make it up to 14th, taking a place off Williams' George Russell late on and finishing ahead of Mercedes' Valtteri Bottas – the polesitter having pitted twice to take fastest lap at the very end of the race.
"We did what we could from the back, but it was tricky today," said Stroll. "It is difficult to race from last place here because it is not easy to follow and overtake. The car felt good, but we were on the back foot from the start.
READ MORE: Hamilton says he 'gave it absolutely everything', but unable to explain loss of pace in Mexico defeat
"We were hoping things would happen in front of us to help us gain places, but we needed more to go our way. The highlight of my race was the move on George [Russell] late on, but there was not much more we could do today. Now we focus on Brazil and aim to fight for points there," he concluded.
Aston Martin are on 68 points – 40 behind AlphaTauri and Alpine – as they head for seventh in the constructors' championship with four races remaining.