Vettel reveals Red Bull return was not an option as he says Perez 'deserves to be in a great car'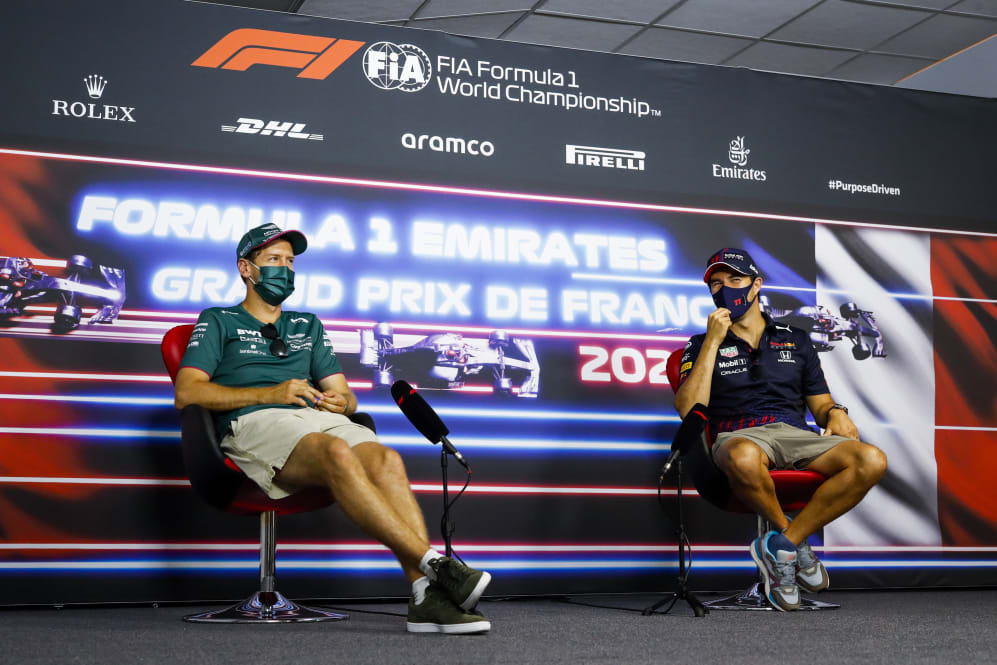 Once it was announced Sebastian Vettel would be leaving Ferrari at the end of last year, there was speculation that he might return to his former team Red Bull. In the end Vettel signed for Aston Martin and the Red Bull seat was filled by Sergio Perez, and in France, Vettel revealed a return to the team where he won his four world championship titles was never on the cards.
Vettel scored his first podium for new team Aston Martin in Azerbaijan while Perez took his first win for Red Bull, as the two new recruits seemed to have found their feet in that whirlwind race at Baku. Ahead of this weekend's French Grand Prix, with the two sitting side-by-side, Vettel was asked if he had regrets over not moving back to Red Bull from Ferrari for 2021.
READ MORE: Aston Martin hire new Engineering Director and promote Andrew Green in tech team reshuffle
"No I don't regret and I don't think it was an option," replied the four-time Champion. "Obviously I decided to go in a new direction and join a new team with Aston Martin on a new journey and I'm very happy about that.
"And in all honesty, and this I really mean from the heart, I'm very happy that Checo [Perez] got a great seat because he deserves it. He's shown it not just with a win but he's shown it with the last 10 years or something like that, that he's been in Formula 1, and he deserves to be in a great car."
It was with Red Bull, of course, that Vettel won his four titles from 2010-13, and the German also revealed his affinity for his former squad on Thursday at Paul Ricard.
"I'm happy that Red Bull have a great car for two reasons: one, I obviously know a big part of the team, but obviously for Checo that he gets to enjoy the fact that you go to a race and you know that you have a car that you can fight for the win with," he said.
F1 FANTASY: Tips for the French Grand Prix – should you include Perez in your squad?
"We all witnessed what happened in the past – he didn't have it [a winning car] in the past – so it's great for him."
Vettel managed two P5 finishes for Ferrari in the last two French Grands Prix, while Perez took P12 for Racing Point – now Aston Martin – here in 2019 as the two drivers prepare for Round 7 with their new teams.