Vettel rues lost time on Day 2 of testing after gearbox issue restricts him to just eight laps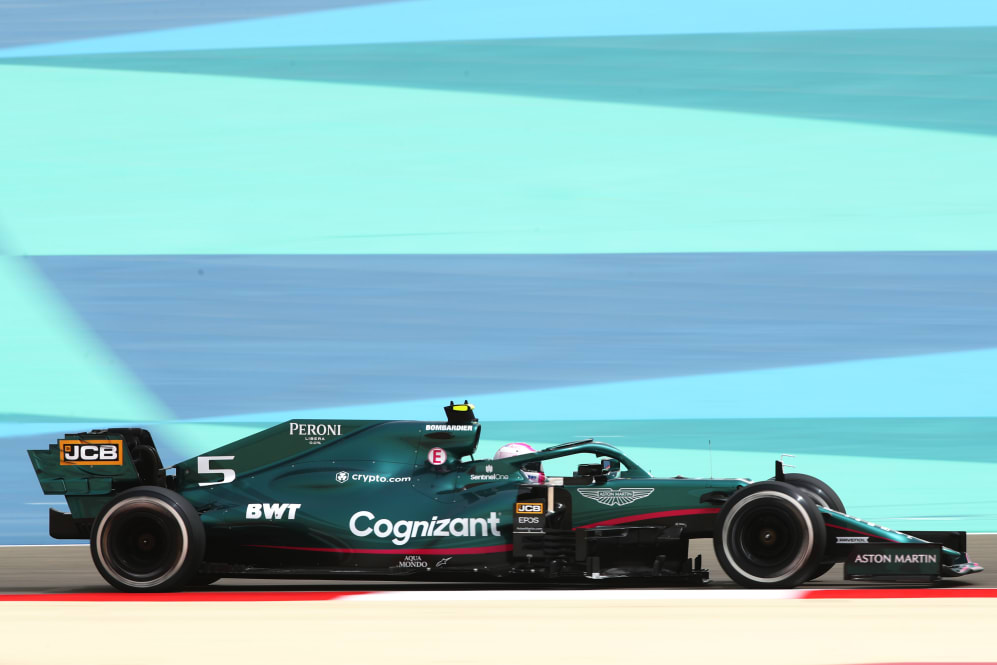 Sebastian Vettel was left to rue a largely wasted morning on the second day of pre-season testing in Bahrain, after a gearbox issue on his new Aston Martin AMR21 cut his running to just eight laps.
Vettel began day two for Aston Martin but managed just six laps before the gearbox problem confined him to the garage. He emerged at the very end of the session and completed a couple more laps, plus a practice start, before handing over to Lance Stroll for the afternoon session – and Vettel is hoping for more running on Sunday.
READ MORE: Morning report – Hamilton brings out red flags on Day 2 as Ricciardo and Alonso top the time sheets
"The last 24 hours have been certainly very busy for myself, for everyone in the garage, for the whole team," he said. "Unfortunately, we didn't have a very productive morning, we had an issue with the gearbox and had to change it and that cost quite a bit of time but that's what happened and unfortunately we didn't get a lot of laps in. So this morning was not of great use in terms of track time.
"Normally it doesn't matter," he explained. "Hopefully, we have a good afternoon now and a good day tomorrow to get some more information. We would have liked to have more data and more track time, but it is what it is, and we take it from here. It's a long year and a long season and I'm sure it will be alright."
Team boss Otmar Szafnauer added that Vettel needs seat time to get used to the workings of the AMR21, which is the first Mercedes-engined car that the German will have campaigned with in F1.
"We lost a significant amount of running time so now that we've fixed the problem I'm sure, [while] I'm here the engineers are rescheduling the run plans in order to get the most important work done such that that we understand the car going forward. That's first and foremost," he began.
READ MORE: 5 things we learned on Day 1 of pre-season testing in Bahrain
"Secondly, it will have an impact on Seb because he'll have less time in the car before the first race and what he really needs now is seat time in the car because, you know, we're a different team, it's a different car and different powertrain than he's been used to. We'll do the best we can with the time we have remaining," he concluded.
Just one more day remains of pre-season testing in Bahrain and Vettel takes over in the afternoon, with Stroll driving on Sunday morning. It hasn't been a complete write-off for the team, however, as they managed a decent 97 laps of running on day one.