Vettel says Leclerc's pace is currently in 'another league' after another Q2 exit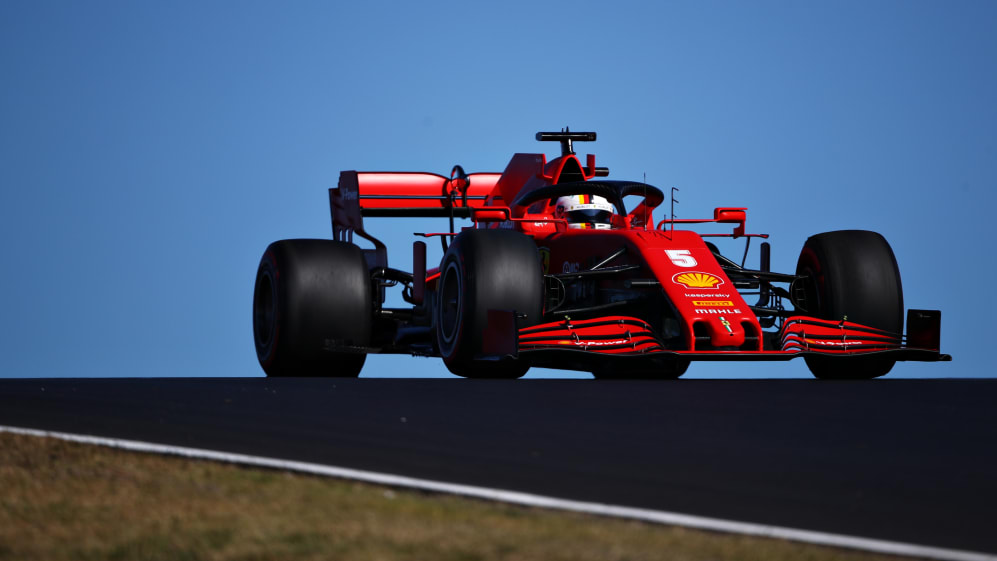 A downcast Sebastian Vettel admitted Ferrari team mate Charles Leclerc's current qualifying pace was "beyond me" and that the Monegasque is currently in "another league" after the German ended up 15th to Leclerc's fourth in Portuguese Grand Prix qualifying.
READ MORE: Hamilton beats Bottas to Portuguese GP pole with final charging run at Portimao
Vettel has had a difficult season, scoring just 17 points to leave him 46 behind Leclerc. On Saturday at Portimao, he couldn't get the medium tyres to work on his second run in Q2, meaning he ended up 15th, behind the Williams of George Russell.
In contrast, Leclerc was flying all the way through the session, easing into Q3 with the mediums to give him a strategic option in the race, and then qualifying a brilliant fourth for the second successive race, outqualifying Vettel for the ninth time in a row.
"At the moment it's beyond me," said Vettel to Sky Germany when reminded of the head-to-head record. "It's not just beating, it's like another league. Well, yeah, I try everything I can.
READ MORE: Hamilton 'had to drive the nuts off the car' to secure 97th pole at 'hardcore' Portimao
"I think the laps I make, which I am content with, are still too slow. At the moment there is nothing more I can do than just getting everything out of myself and the car."
Explaining the decision to run the mediums rather than the softs, Vettel said he was happy to do so, and was hopeful of making Q3 given the first set of mediums in Q2 felt OK.
"The whole weekend I was struggling a bit on the soft, for me the tyre was always washing out and we opened the tyres very quickly and suffered graining," he said.
READ MORE: Verstappen happy with P3 but 'confused' after struggling with grip in Portuguese GP qualifying
"The medium seemed to be resilient. I had a good feeling the first run, not so good laps, and then I thought easily I can do the time, but in the second run, I couldn't get the tyres to work and that was the end."
And Vettel was expecting a tough afternoon, starting deep in the pack, having struggled to make progress in the field last time out in Germany.
"The problem is we are stuck in traffic tomorrow for the whole race so it's going to be the same as the last races," he said.
"It's very difficult to feel the rhythm when it's different every time around, which is normally tyre temperature related, and seemed to make a big difference this weekend so far, so we'll see what we can do tomorrow."