Hamilton 'had to drive the nuts off the car' to secure 97th pole at 'hardcore' Portimao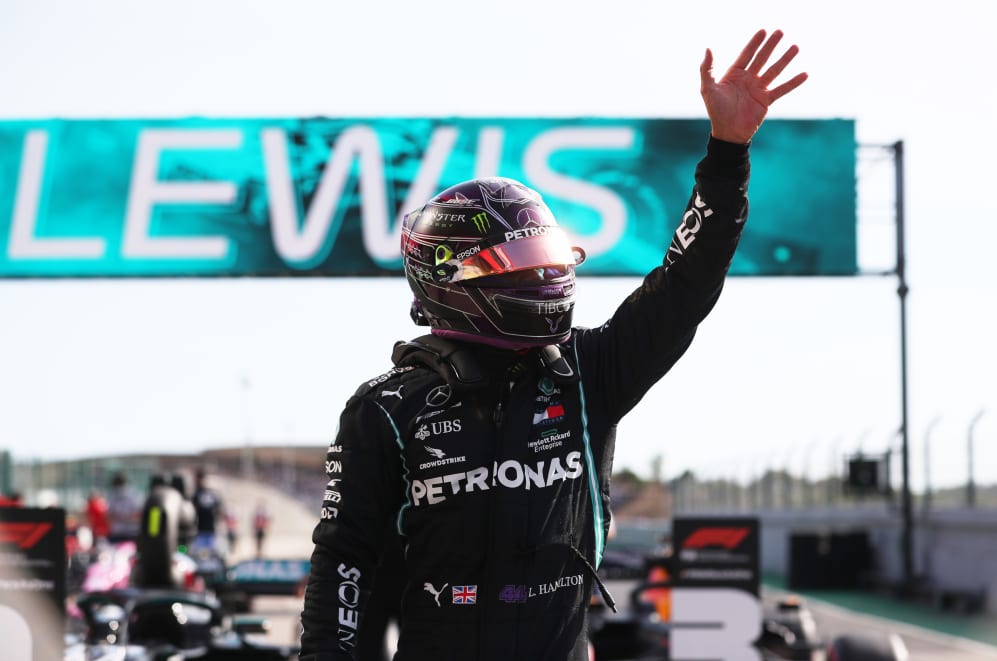 Having been outpaced by Mercedes team mate Valtteri Bottas across all three practice sessions for the Portuguese Grand Prix, Lewis Hamilton came from behind to secure a last-gasp pole position at Portimao. But the six-time champion said he'd had to dig very deep into his arsenal of skills to take his 97th career pole at a track he described after qualifying as "hardcore".
Bottas had led Free Practice 1, 2 and 3, as well as the penultimate segment of qualifying at Portimao, having looked instantly at home with the Portuguese circuit, while Hamilton had appeared to struggle, having run off the track in FP3 and only narrowly headed Q1 from Red Bull's Max Verstappen.
READ MORE: Hamilton beats Bottas to Portuguese GP pole with final charging run at Portimao
But a leftfield strategy from Mercedes to put Hamilton on the medium tyre and allow him three laps in the final part of Q3 – Bottas also taking the mediums but just going for one final timed run – was ultimately enough to give Hamilton pole by 0.102s from the Finn with a 1m 16.652s, while Verstappen claimed third.
"I can't tell you how hard that was today," said Hamilton, having climbed out of his Mercedes W11 and waved to the fans scattered in the grandstand. "Yes, we've got a great car, but you have to drive the nuts off of it to pull out the lap. Valtteri's been so quick this weekend, he's topped every session, so I've just been digging and digging and digging and trying to find that extra time.
"At the end there, I chose to do three laps to give me chance at having a stab at beating [Valtteri's] time," he added. "I think he decided to do one and I was like, this could give me an opportunity and it worked. That last lap, it got better and better as I went through it."
AS IT HAPPENED - Qualifying in Portugal
Having been on provisional pole as Hamilton was beginning his third and final lap, Bottas was left to rue his decision to just go for his own solitary final effort. But asked who had made the decision for Hamilton to do three laps, the Briton responded: "The team were communicating really well with us and they gave us the option, basically, to both of us.
"We had the choice of going onto the soft or going to the medium. We both chose to go to the medium, he chose to do one lap, I chose to do three because we had the time, so I got out there nice and early. The tyres are very hard here this weekend, we've got the hardest of the compounds, and getting them to work here, believe it or not, it's very, very difficult, so that's why I wanted to have an extra run, just in case the first run wasn't that great, and it worked perfectly."
Hamilton will now start the Portuguese Grand Prix from the clean side of the racetrack for good measure, as he goes in search of his record-breaking 92nd Formula 1 victory. But it will be a victory well-earned, according to Hamilton, who called the undulating, new-to-F1 Portimao one of the most challenging tracks he'd ever driven.
"It's hardcore," said Hamilton. "It's a really, really hardcore circuit, because you know… there's places where you can't see where you're going, you're looking at the sky for periods of time so understanding where your braking points are, there's no reference when you're looking at the sky and so it really is one of the most challenging circuits I think I've been to.
"And the surface is strange," he added. "This is a very closed, very smooth surface and it doesn't work the tyres the same as Barcelona, for example, so that's made it incredibly challenging to get, not only the front tyres in, but the rears in. We've had times through practice where the front tyres were working but the rears weren't, and then we've had times when none of the tyres were working. So today has been better."